Episode #3383
New Sounds of Bluegrass & Americana
Wednesday, September 26, 2012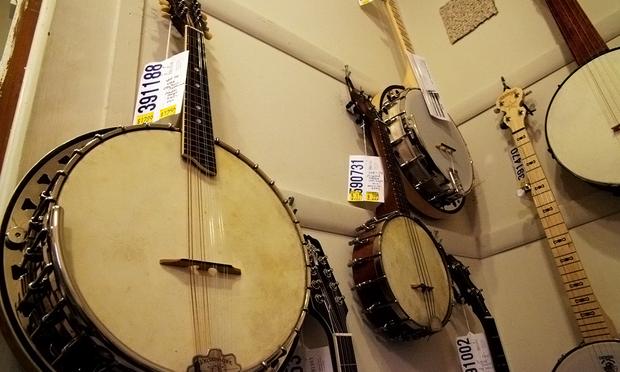 (Sarah Kate Kramer/WNYC)
Hear banjos, dulcimers, fiddles and other instruments used in traditional American string band music, New Sounds-style on this show.  There's music from Norwegian banjo player Stian Carstensen, hammered dulcimer player Dan Joseph, and the mandolin-guitar duo known as Prester John.  Plus, from the back wall of the New Sounds library, listen to the trio, Ellipsis (from the early 1980's, on Flying Fish Records), who combine bluegrassy and folk instrumentation with minimalism and Indonesian elements. 
PROGRAM #        3383, Echoes of Americana   (First aired on 9/26/2012)                                                 
ARTIST(S)

RECORDING

CUT(S)

SOURCE

Ry Cooder

Paris, Texas

She's Leaving The Bank, excerpt [1:17]

Warner Bros. #9362480892 (2001 reissue)
Available at Amazon.com
Download from iTunes, Amazon.com or Emusic.com

Ellipsis

Ellipsis

Lebadang [6:44]

Flying Fish  FF-339

Out of print.  Try auction sites

Dan Joseph Ensemble

tonalization (for the afterlife)

tonalization (for the afterlife), excerpt [8:47]

Mutable 17545
www.danjoseph.org
mutablemusic.com

Yo-Yo Ma, Edgar Meyer, Mark O'Connor

Appalachian Journey

Caprice for Three [3:48]

Sony Classical SK 66782
www.sonyclassical.com

Stian Carstensen

Backwards Into The Backwoods

Gyorgy's Appalachian Vacation [4:38]

Winter & Winter 910087
www.winterandwinter.com

Ry Cooder

Paris, Texas

Paris Texas [2:57] She's Leaving The Bank [6:02]
Houston In 2 Seconds [2:07]

See above.

Prester John

Desire for a Straight Line

The Favored Colour of Light [8:28]

Innova 774
www.innova.mu

Michael Masley

Mystery Repeats Itself

Still In All/Deep In Each [4:13]

Tonehenge Productions Happensdance Music
www.cdbaby.com

Airs 10/3 at 8PM, on the Q2 Stream —
For this show, the fourth in the John Cage: City Circus series, listen to music from a tribute double album collection of John Cage pieces performed by friends, colleagues, and admirers called, "A Chance Operation." Laurie Anderson tells Merce Cunningham tales, Percussionist/composer David Van Tieghem contributed "Living Room Music," and bass player Robert Black performs a work by Larry Austin.