At Clinton Gathering, Obama and Romney Highlight Very Different Priorities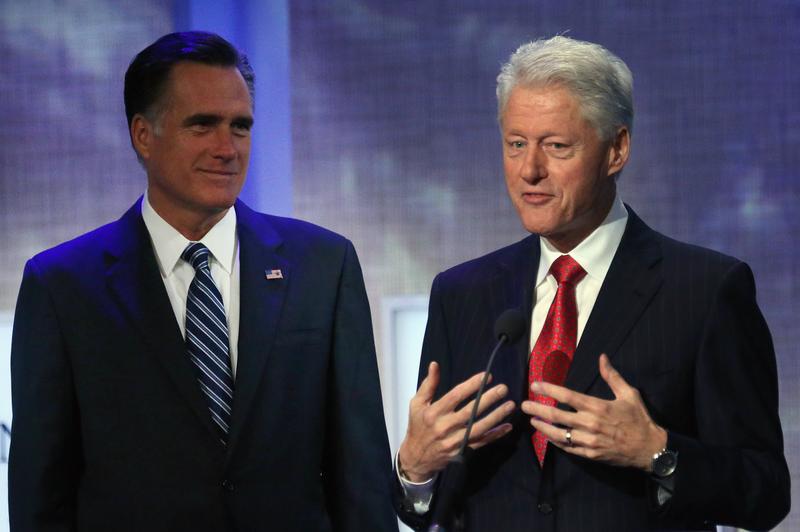 The different styles and policy approaches of President Barack Obama and Republican presidential nominee Mitt Romney were brought into stark relief in separate speeches at the Clinton Global Initiative in New York. The president advocated for a renewed focus on the elimination of human trafficking, while Romney called foreign aid to be redesigned and more closely linked with the expansion of free enterprise. 
Romney called for more closely linking foreign aid with the expansion of free trade and private enterprise. He said that too often, America's sense of compassion is tempered by concern that foreign aid goes to waste.
"Work. That has to be at the heart of our effort to help people build economies that can create jobs," Romney said. "We're going to couple aid with trade and private investment and partnerships to empower individuals, encourage innovators, and reward entrepreneurs." 
Obama spoke after addressing the UN General Assembly, in which he broadly laid out his Middle East policy. Before the assembled government, business and nonprofit leaders at the Clinton gathering, the president chose to highlight the persistence of human trafficking—in both global supply chains and in American communities. "Nations must speak with one voice. Our people and our children are not for sale," Obama said.
He announced tighter trafficking regulations for federal contractors, and urged Congress to reauthorize the Trafficking Victims Protection Act, first passed during the Clinton administration.
President Obama began his speech by noting that he's spoken to the Clinton gathering every year as president and addressed a myriad of issues. His decision to highlight the problem of trafficking clearly pleased former President Clinton, and Obama noted that many of his administration's efforts to crack down on human trafficking have been under the direction of Secretary of State Hillary Clinton.
"Our fight against human trafficking is one of the great human rights causes of our time and the United States will continue to lead it," the president said.  
Former President Bill Clinton warmly introduced both Obama and Romney. That prompted Romney to joke that in this election, a few words from Clinton "can do a man a lot of good" and he'd watch for the bump in the polls.