Watch Live | World Leaders Address the UN General Assembly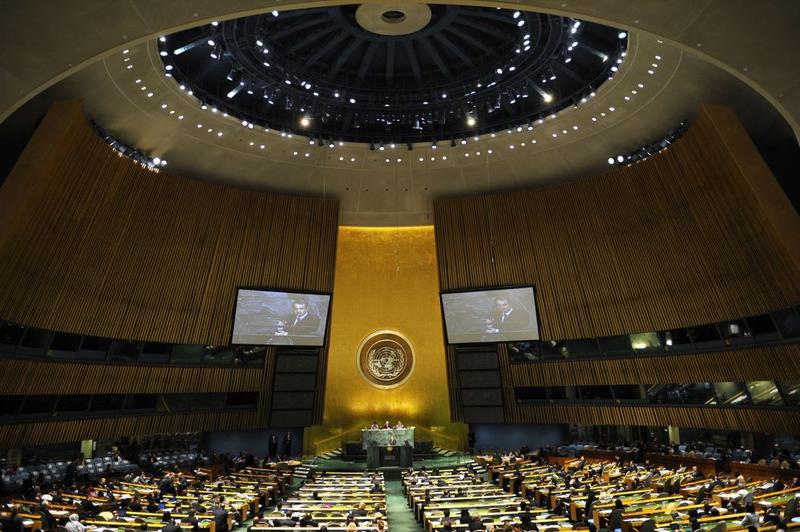 Opening the U.N. General Assembly's annual ministerial meeting, Secretary-General Ban Ki-moon said in his state of the world speech that he was sounding the alarm about widespread insecurity and injustice, inequality and intolerance in many countries.
Syria was one example that came up Tuesday. Ban demanded international action to stop the war in Syria, telling the gathering of world leaders the 18-month conflict had become "a regional calamity with global ramifications."
The U.N. chief said "the international community should not look the other way as violence spirals out of control."
Other topics leaders are expected to address over the next few days include Iran, the economic crisis and democratic transition.
Egypt's new President Mohammed Morsi made his debut at the U.N. on Wednesday with a speech that both condemned the U.S.-made video that denigrated the Prophet Muhammad and the violent protests that it sparked. Iran's President Mahmoud Ahmadinejad also addressed the General Assembly where he shared a vision of a new world order that did not include the "hegemony of arrogance."

The line-up of speakers on Wednesday is as follow:
Abdrabuh Mansour Hadi Mansour, President of the Republic of Yemen
Ellen Johnson-Sirleaf, President of the Republic of Liberia
Michael Chilufya Sata, President of the Republic of Zambia
His Royal Highness Grand Duke Henri of Luxembourg of the Grand Duchy of Luxembourg
Viktor Yanukovych, President of Ukraine
John Dramani Mahama, President of the Republic of Ghana
Mahmoud Ahmadinejad, President of the Islamic Republic of Iran
Mwai Kibaki, President of the Republic of Kenya
Bronisław Komorowski, President of the Republic of Poland
Mohammed Morsi, President of the Arab Republic of Egypt
Felipe Calderón Hinojosa, President of the United Mexican States
David Cameron, Prime Minister of the United Kingdom of Great Britain and Northern Ireland
Yoshihiko Noda, Prime Minister of Japan
Herman Van Rompuy, President of the European Council
Sheikh Jaber Al Mubarak Al Hamad Al Sabah, Prime Minister of the State of Kuwait
Mario Monti, Prime Minister of the Republic of Italy
Julia Gillard, Prime Minister of the Commonwealth of Australia
Juan Manuel Santos Calderón, President of the Republic of Colombia
His Majesty King Mswati III, Head of State of the Kingdom of Swaziland
Otto Fernando Pérez Molina, President of the Republic of Guatemala
Andry Nirina Rajoelina, President of the High Transitional Authority of the Republic of Madagascar
Nicolae Timofti, President of the Republic of Moldova
Toomas Hendrik Ilves, President of the Republic of Estonia
Joyce Hilda Mtila Banda, President of the Republic of Malawi
Anote Tong, President, Head of Government and Minister for Foreign Affairs of the Republic of Kiribati
Robert Mugabe, President of the Republic of Zimbabwe
Michel Joseph Martelly, President of the Republic of Haiti
Andris Bērziņš, President of the Republic of Latvia
Faure Essozimna Gnassingbé, President of the Togolese Republic
Evo Morales Ayma, Constitutional President of the Plurinational State of Bolivia
Address by Her Excellency Isatou Njie-Saidy, Vice-President and Minister for Women's Affairs of the Republic of the Gambia
Elio Di Rupo, Prime Minister of the Kingdom of Belgium
Cheick Modibo Diarra, Prime Minister of the Republic of Mali
With the Associated Press