Man's Best Friend Helps Soldiers in the Battlefield and at Home
When John Wallace, 43, of Babylon, N.Y., returned three years ago from his combat tour as an infantryman in Afghanistan, he felt content to be home.
But soon the divorced father of three began having nightmares. He was anxious and paranoid. He said he thought he had "intrusive thoughts" and felt like he was "legitimately crazy."
 "Something was wrong," he said, "No one knew how to help. Nobody knew – 'Should we even bring it up?' It was awkward there for awhile."
Wallace left the military in 2011 and was diagnosed with Post-Traumatic Stress Disorder, or PTSD.
Wallace received counseling at a veterans' center on Long Island, and underwent an intensive 90-day treatment program. Earlier this year, through a non-profit group called The Guardians of Rescue, he adopted a rambunctious dog named Tommy.
The Long Island-based animal rescue group is one of a handful that help bring back animals saved by soldiers in Afghanistan and Iraq as the military draws down its presence. But unlike others, this group has been focusing on pairing veterans or their families with the stray animals.
Tommy was rescued in Afghanistan and kept by an Explosive Ordinance Device Unit.
Wallace read about the program and decided right away to adopt.
"He's always here," Wallace said of the white-haired, tan-eared pooch that is just two years old. "[As] opposed to me sitting here in my apartment by myself caught up in my thoughts. Having Tommy here — we go out, we go walking, we go to the field and play. It just became a really big part of my life as well as the rest of my family."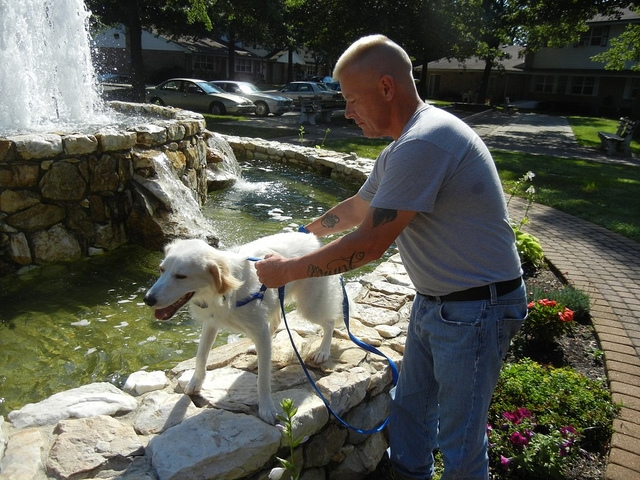 (Photo: Tommy plays with his new owner, John, a veteran who deployed to Afghanistan and was diagnosed with PTSD. Caitlyn Kim/WNYC)
Wallace, who is using the GI Bill to go to college as a full-time student, wants Tommy to be officially trained as a therapy dog, so that he can help other veterans suffering with post-traumatic stress disorder
He said that while deployed his unit had three puppies that were then cared for by the unit that replaced his even though General Order No. 1, among other things, prohibits the adoption, caring for or feeding of any type of domestic or wild animal.
The enforcement of the animal provision has varied from unit to unit.
The benefit that a dog — or any pet — provides to a person suffering PTSD is unknown.
The Department of Veterans Affairs began studying 17 pairs of dogs and soldiers to examine the potential therapeutic benefit of pets on those who suffered post-war trauma, but the study hit a snag when concerns were raised about the health of the dogs at the vendor's facility and other contract violations. 
"The health and well-being of veterans, their families, and service dogs involved in the research study remain VA's highest priority," a spokeswoman said. "The VA Office of Research and Development is developing a new plan to carry out this important research."
But bringing these so-called "battle buddy" dogs to the United States from Afghanistan has been something Meredith Festa, program director for The Guardians of Rescue, has been working on for about a year.
Last year, Festa said she received a call from a relative of a soldier who was meeting a lot of resistance in trying to bring his rescued Afghan dog, Savannah, to the U.S.
Savannah was later killed in Afghanistan, but the family requested that the funds raised for Savannah be used to help bring another soldier's dog, Trigger, to the U.S. They did, and since then the group has been flooded with request from soldiers — and sometimes even Embassy workers — in Afghanistan, and "Operation No Buddy Left Behind" began.
"It's about giving that solider the peace of mind of knowing his dog is safe and is not going to be used as a weapon or be killed, and it's going to have a loving family with a solider who understand how important the dog is," Festa said.
She works with the Nowzad Shelter in Afghanistan, which was founded by former Royal British Marine Pen Farthing, to bring rescued dogs to the U.S.
Though the dogs can be adopted by anyone, she has made an effort to pair the Afghan dogs with soldiers or soldiers' families if the service member who rescued the animal is unable to care for the pet stateside.
"That dog went through what [the soldier] went through," she said. "It's a different kind of relationship and it's a bond that only someone who served in battle could really understand, which is why we try to place their dogs with military families and veterans of war."
Festa and the group that has helped rescue 14 dogs and two cats from Afghanistan is in the midst of trying to bring another six dogs to New York.
Toby, rescued by a contractor from a burn pile in Afghanistan, is scheduled to leave Afghanistan on October 6.
A service woman currently in Afghanistan who asked her name not be used said in an email that Toby is "a bright spot and joy in a place far from anything familiar."
She plans on adopting Toby once she returns from Afghanistan.
UPDATE: Toby has arrived in Long Island, where he'll await his soldier's return in January.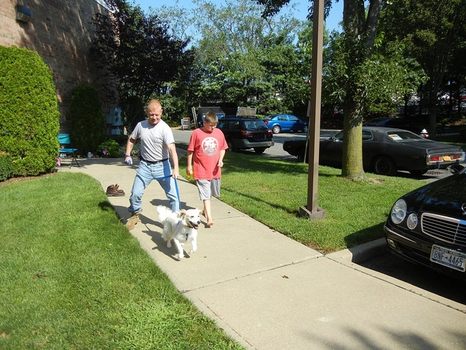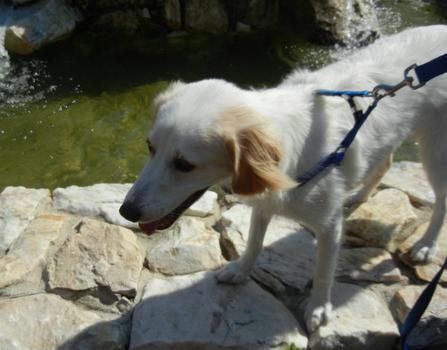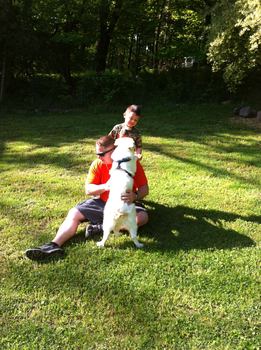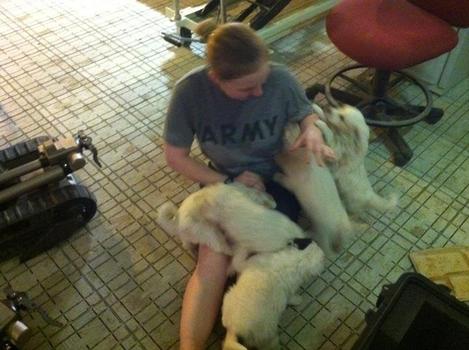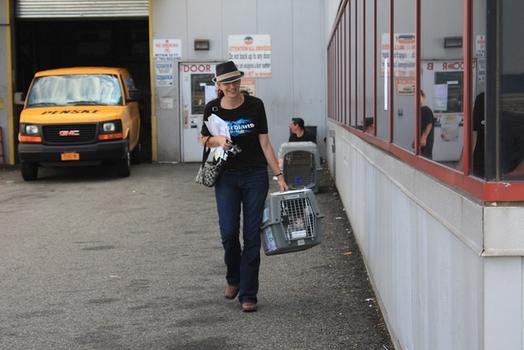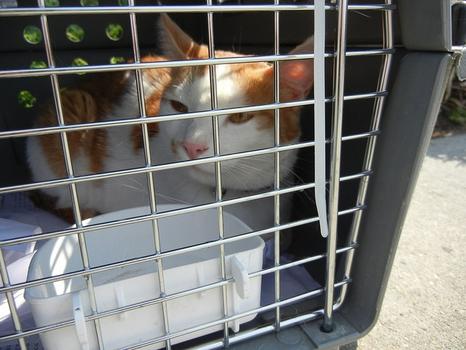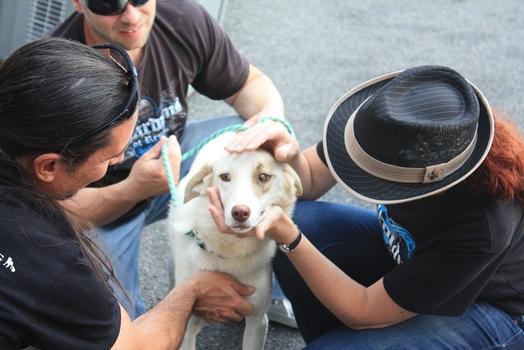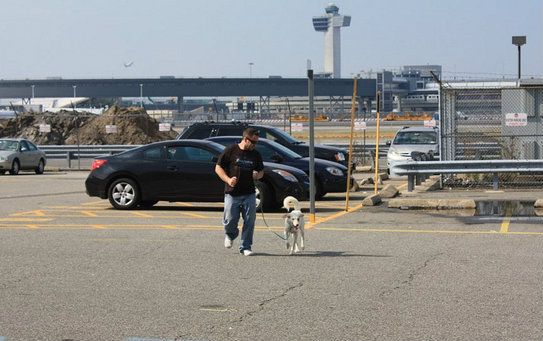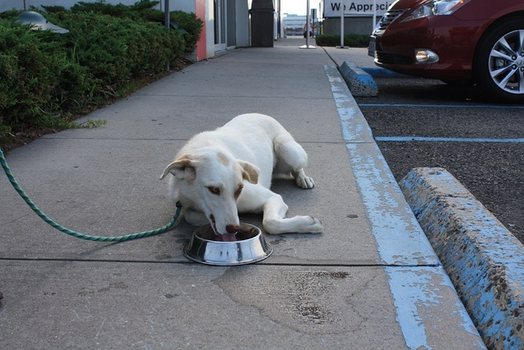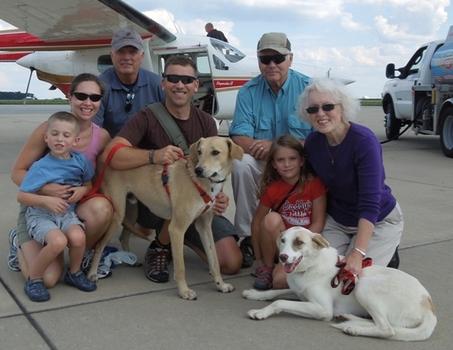 of