Decades Later, Brooklyn Has Its Own Pro Team Again
WNYC's Jim O'Grady was at the opening of the Barclays Center and spoke with WNYC's Amy Eddings about the space and the expected impact of the arena for Brooklyn. Listen above.
Officials have formally cut the ribbon and opened the arena that will house Brooklyn's first big-league sports team in decades.
Supporters cheered as the lights were turned on in the Barclays Center arena Friday.
The arena will be home to the NBA's Nets, who moved from New Jersey.
The Nets will be the borough's first big-time sports team since the Dodgers left for Los Angeles after the 1957 season.
"When the Dodgers left, it was another punch in the face to the fact that Brooklyn's best days may not be ahead, but may have been behind us," said Brooklyn Borough President Marty Markowitz, who was 12 years old at the time. "It was depressing."
Just as the Dodgers' departure was a harbinger of difficult times ahead, the opening of the Barclays Center is a symbol of Brooklyn's astonishing rise in recent years as a sought-after destination for people from all over the globe.
The austere-looking arena has all black seats and metal hanging lights. The polished wooden floor has a herringbone design with the Nets' new black and white logo in the middle.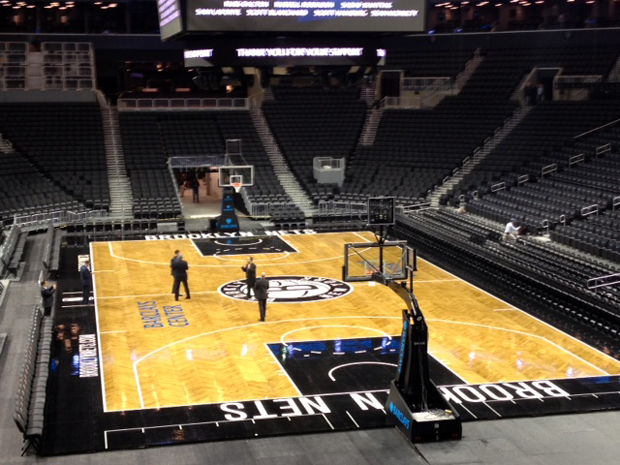 With its deliberately rusted steel exterior, the new arena looks like a spaceship that cruised in for a landing in Brooklyn's busiest transportation and shopping hub. There are chain stores galore. A Modell's sporting apparel store across the street is stocked with racks full of team apparel in the Nets' new black-and-white color scheme and the logo designed by Jay-Z himself. Rivalry-stirring T-shirts proclaim: "New York Divided."
Developer Bruce Ratner says he's glad the arena is finally open. Its completion was delayed by lawsuits and by the economic downturn.
Brooklyn Nets co-owner Jay-Z will christen the arena with a series of concerts starting Sept. 28.