To Give or Not to Give, That's the Question Facing Straphangers
On a nearly empty F train car hours after the morning rush, a handful of people were scattered throughout, immersed in magazines, iPods or their own thoughts when a sad song filled the train car. The singer, a stout woman with beads of sweat running down her forehead held a small piece of white cardboard that read: "I — have 3 kids. I — don't have work. Please help."
"This song is for my family," explained Aphrodita Chiciou, a Romanian immigrant with a deep, raspy voice. "For pay the bills, electricity I pay everything."  Chiciou is one of among hundreds of panhandlers and peddlers that rely on generous straphangers to get by.  She said she makes between $50 and $60 a day. Whether to give to Chiciou or other panhandlers is a decision riders must make on a regular basis.
As long as it's not aggressive, panhandling on the street is permitted. That's not true underground, where there's a captive audience. Riders are reminded of this several times a day. "Ladies and gentlemen soliciting money in the subway is illegal," an MTA announcement drones above the rumbling of the subway. "We ask you not to give. Please help us to maintain an orderly subway."
Albert Engel was oblivious to a panhandler as he rode a downtown F train. Originally from Congo, he has lived in the city for over a decade and said he never gives on the train.  "I give to foundations and organizations, but I don't give to individuals. I just don't trust it," he explained. "For all I know they could have money. They couldn't have money. They could get a job. They could get assistance."
Sitting across from Engel was Kenny Shevarev. He reached in his pocket and pulled out some money for a dark haired woman carrying a toddler and asking for help.  He had no doubt she was needy. Why else, he reasoned, would she be panhandling. "If she carried a child it's probably not a good time in her life," said Shevarev, a Russian immigrant who was on his way to work.
Several social service providers say whether to give to panhandlers is a personal decision, and there is no right or wrong.  Joel Berg, who runs the New York City Coalition Against Hunger, said it's probably the question he gets asked the most. 
"I would say definitely if it's a supposed organization asking for money, that is illegal and that is almost always a scam," Berg said. "But individual people asking for money, it's really up to your conscience in each situation."
The MTA said it frequently receives complaints about panhandling from customers. And while times are trying, the MTA notes there are other ways to help. "Poverty and hunger are vexing, stubborn problems and we urge our customers to give generously to their favorite and most trusted social service charity," MTA spokesman Aaron Donovan said in a written statement.
The Other Side of the Tin Can
As an E train rolled into the station at East 53rd Street, Jose from the Bronx, scanned the cars for the one with the fewest passengers because he needs space to maneuver his wheelchair. The panhandler holds a tin can on his lap and shakes it as he glides through car after car asking for help. "It's not very easy coming out here," he said. "Sometimes there's nasty people on the train."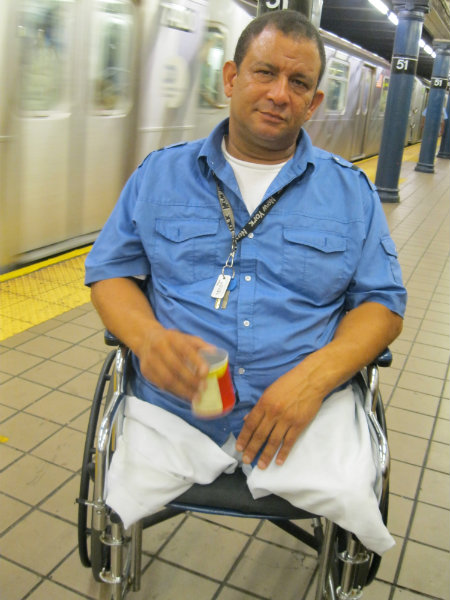 (Photo: Jose says he resorts to panhandling when his disability check runs out. Cindy Rodriguez/WNYC)
Jose said his legs were amputated when he was 3 years old because of a bone disease. He said he started panhandling when he was 13. Now 48, he rides the subway hoping for the charity of strangers only when his disability check runs out and he needs extra cash to buy food or pay for his cell phone. He didn't want to give his full name because he said he's not exactly proud of what he does.
"It's embarrassing sometimes. I've seen fellow co-workers that I've been working with," he said. "I can't say I'm not embarrassed but then again I shouldn't be. I'm unemployed right now."
The panhandler said he worked for many years taking complaints about school buses for the Department of Education, but lost his job a few years ago. The Education Department confirmed his employment. Prior to that, he said he spent three years in prison in the late '90's for selling crack. "But I learned my lesson and I'd rather stick to this," he said.
Jose is keenly aware that, for a panhandler, credibility is everything. That's why he always keeps himself well groomed and never gives speeches out of concern he won't be believed. "You know, if I say something they might ridicule me so I don't like to say anything," Jose explained.
Several straphangers made the decision to give to Jose. One of them was Raj Sundaram, an American Airlines flight attendant.
"I follow my intuition. I see some people…they look strong and healthy and I don't have the inclination," said Sundaram, who added that his Hindu upbringing also inspired his generosity. "I see somebody with a critical medical condition, obviously I'm very inclined [to give]."
After about 2 hours, Jose collected nearly $100. He called it a day — so as not to wear out the generosity of strangers.  "People do get sick of seeing you," he said.