More Than 180 Arrested Near Wall Street in OWS Protests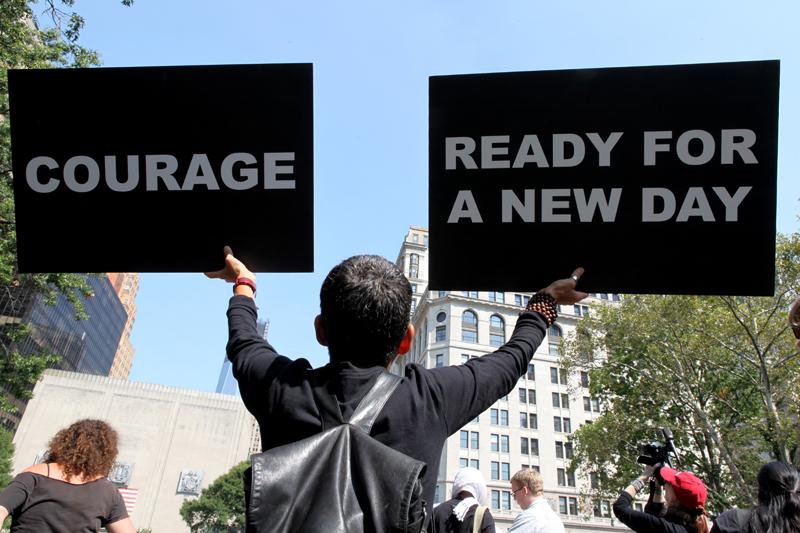 Occupy Wall Street protesters celebrated the movement's anniversary on Monday by clogging intersections in the city's financial district and marching to the beat of drums that were a familiar refrain last year.
They came bearing birthday balloons, confetti, and a slew of slogans excoriating everything from Wall Street bailouts and fracking to campaign finance laws and student debt.
The protesters had a hard time congregating into large groups in Lower Manhattan. Part of the problem was the topography of the area, which is lined with narrow streets and several small intersections. But the NYPD also efficiently broke up groups and ensured the flow of traffic along sidewalks.
Police said more than 180 people were arrested by Monday evening, mostly on disorderly conduct charges.
The protests caused some frustration for people who work in the area. Denise Stracuzza, a 33-year-old legal secretary in Lower Manhattan, had to choose a different route to and from work, and had little sympathy for the demonstrators.
"I think it's just a hot mess actually," she said. "I just had to come a different route and stuff 'cause I knew it was the year anniversary. And coming up Broadway was crazy with all the cops and crowds of people. It's just nuts."
The protests lacked the heft of last year's Occupy events, which involved thousands of protesters at times. The protests Monday morning involved a few hundred, although by evening several hundred people packed into Zuccotti Park for a General Assembly meeting.
But Steve Bachelor, 43, a history professor at Fairfield University in Conn., dismissed any notion that because there were few Occupy marches over the summer that the movement was weakening.
"There's no movement that has petered out, because there are no universal set of demands other than, 'Hey! Hello! We're here, pay attention. We want to be heard.'"
Despite the protesters' failed attempt to create a human chain around Wall Street Monday morning, the marches were considered successful by those, like Bachelor, who took part.
"I danced in the middle of Wall Street today, I don't typically dance in the middle of Wall Street, so any day in which I can dance in the middle of Wall Street, is a good day," Bachelor said.
During the evening, City Councilman Jumaane Williams refused to get down from a granite bench in Zuccotti Park and police knocked him off the bench, the New York Times reported.
Organizers are also planning what they call Free University, or free classes, in public spaces for the rest of the week.