More Than 100 OWS Protesters Arrested Near Stock Exchange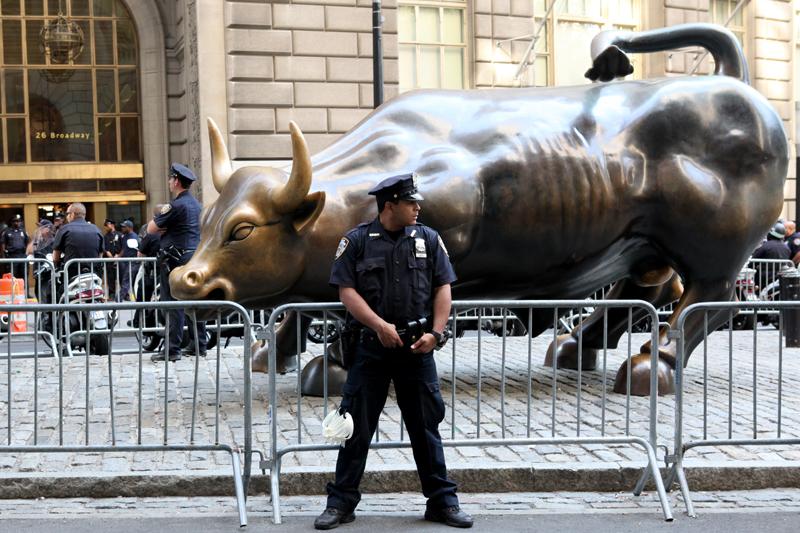 Police say 174 people have been arrested as Occupy Wall Street protesters march in small groups around Manhattan's financial district to mark the anniversary of the grass-roots movement.
They came bearing birthday balloons, confetti, and a slew of slogans excoriating everything from Wall Street bailouts and fracking to campaign finance laws and student debt.
The protesters had a hard time congregating into large groups in Lower Manhattan. Part of the problem was the topography of the area, which is lined with narrow streets and several small intersections. But the NYPD also efficiently broke up groups and ensured the flow of traffic along sidewalks.
After several attempts to gather at Broadway and Wall Street, where several protesters were arrested, most people headed to Battery Park, where demonstrators sprawled out in the sun on the grass. Many covered themselves with posters and napped, while others held a General Assembly and discussed the successes and disappointments of the morning. Several lamented the fact they blocked the way for "working class people" to get to work, while others celebrated the birthday of the movement.
Steve Bachelor, 43, a history professor at Fairfield University in Conn., said despite the protesters' failed attempt to create a human chain around Wall Street, the morning's marches were successful nonetheless. "I danced in the middle of Wall Street today, I don't typically dance in the middle of Wall Street, so any day in which I can dance in the middle of Wall Street, is a good day," Bachelor said.
The protest movement lost steam after its encampment at Zuccotti Park was cleared last November. But Bachelor dismissed any notion that because there were few Occupy marches over the summer that the movement was weakening.
"There's no movement that has petered out, because there are no universal set of demands other than, 'Hey! Hello! We're here, pay attention. We want to be heard.'"
Although some protesters anticipated getting arrested, not everyone will take the same approach.
"There are a bunch of other people who say, 'I don't believe in that tactic and I just want to have a big celebration, so I'm just going to parade around Wall Street,'" said a woman who only identified herself as Natasha S.
The protests lacked the heft of last year's Occupy events. Last year there were thousands of protesters. On Monday morning, there were a few hundred at most. A gathering is also planned Monday night in Manhattan's Foley Square. Organizers are also planning what they call Free University or free classes in public spaces for the rest of the week.
The gatherings and marches on Monday capped a weekend of events for the grass-roots movement. On Sunday, protesters gathered in Manhattan's Foley Square for a concert.  A march on Saturday led to about a dozen arrests, according to police.