Last Chance Foods: A Plethora of Peppers
Take a stalled construction site next to a restaurant, add 7,400 repurposed milk crates, throw in a couple of innovative restaurateurs and farmers and the result is Riverpark, a restaurant with a temporary farm on East 29th Street in Kips Bay.
Riverpark Farm got its start last year on 15,000 square feet that was originally designated to be the site of the Alexandria Center's west tower. Construction on the office building was put on hold indefinitely after the 2008 financial crisis and, soon enough, a temporary urban farm was born.
Now the farm grows more than 180 plants in stacked milk crates, providing Riverpark chef Sisha Ortúzar with a rotating bounty of fresh, seasonal produce. As to the crates, well he explained the inspiration forusing that specific container: "Milk crates are just really great containers because they stack, they're easy to carry."
That means when tropical storm Irene struck last fall, the plants were easily transported indoors for safekeeping. Also, when construction on the farm's site resumes, the farm can simply be moved elsewhere.
This year, Riverpark Farm's pepper plants really took to the crates and were particularly abundant. Farmer Zach Pickens said that plant grows particularly well in the cubic-foot crates.
"Mainly I've grown [peppers] in containers," he said. "I've grown peppers, especially small pepper plants, in as small as a two-gallon bucket."
The site has also helped the pepper pants thrive. Pickens explained that the farm's site experiences a "heat island" effect. That means, it's always a few degrees warmer there than at other farms outside of the city. The relatively dry season this summer has also aided the boon.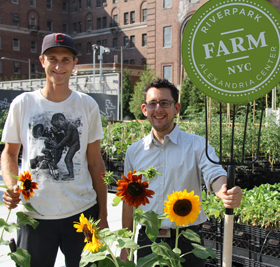 "The hot or sweet aspects of peppers is genetic," explained Pickens. "So hot peppers are genetically, you know, predisposed to being hot. Now it's a matter of degree [of spiciness], and typically when pepper plants are overwatered, they aren't quite as hot. So it's good to kind of shade toward underwatering."
(Photo: Zach Pickens and Sisha Ortúzar at Riverpark Farm/Ari Nuzzo)
When faced with a mountain of spicy peppers from the farm, Ortúzar doesn't quail. He uses some fresh, and then preserves the rest. "You don't have to dehydrate or make hot sauce," he said. "I mean, it can be a lot simpler. You can just slice them, cover them in vinegar, put them in a little jar in the refrigerator. And then, like, three months from now when you can't get your fresh peppers you might go in there and be like 'I'm glad to have that.'"
Ortúzar said that he'll often also drain the vinegar and cover the pickled peppers in oil, which he will also keep in the refrigerator.
But some peppers, like the long, red Cheyenne, he prefers to use in hot sauce.
Ortúzar's favorite pepper, though, is the Aji Verde, a thin-walled, bright green pepper often grown in his native Chile. Since it's not too spicy, he just slices it up and eats it with tomatoes. "It's not something that's traditionally grown here," Ortúzar said. "For me, it always just reminds me of summer."
Another deceptively less spicy pepper is the cachucha pepper. It's considered a seasoning pepper and often used in Caribbean dishes, according to Ortúzar. "It looks like a habanero or a scotch bonnet, and it has that same aroma," he said. While cachuchas have the unique flavor qualities of habaneros, there is one very important difference: "They have all that flavor without the heat," he said.
That makes for good material for a friendly prank, Ortúzar added with a chuckle. "They look like habaneros," he said, "so you can look really tough in front of your friends, just chewing on them."
For those with a variety of sweet and spicy peppers on hand, try Ortúzar's recipe for chilled spicy farm pepper soup, below.
Chilled Spicy Farm Pepper Soup
by Sisha Ortúzar 
Olive oil
1 small red onion, medium dice
3 red bell peppers, seeded with ribs removed, medium dice
1 Padron pepper, minced (if Padron peppers are not available, Serrano peppers are a fine substitute)
1 clove garlic, sliced
Kosher salt
5 sprigs of thyme, picked
1 bay leaf
Sherry vinegar (to taste, about 1 tablespoon)
Extra-virgin olive oil (to taste, about ¼ cup)
About 4 cups water 
To garnish:
1 small cucumber, small dice
¼ cup cilantro leaves
Charred Chile Sauce*
Over a low flame, heat enough olive oil to coat the bottom of a large soup pot until it moves easily across the bottom. Add the onion, peppers and garlic to the pot, season with salt and continue to cook slowly. When the onion starts to become translucent, add the thyme and bay leaf and continue to cook until their aromas bloom. Then, add the water and continue cooking until the peppers are fully cooked and soft, adding more water if needed.
Remove the bay leaf and transfer the remaining contents of the pot into a blender. Blend on a high setting until the soup is smooth.
Taste, then add extra-virgin olive oil and sherry vinegar to adjust the texture and acidity to your taste. Transfer the soup into a container and refrigerate until fully chilled.
To serve, pour the soup into a bowl, drizzle with about ½ tablespoon of Charred Chile Sauce and garnish with cucumber and cilantro.
*Charred Chile Sauce
8 dried chipotle chiles
2 dried ancho chiles
¾ cup grapeseed oil
2 tablespoons white wine vinegar
2 tablespoons sugar
1 tablespoon minced garlic
1 tablespoon kosher salt
Juice from ½ a lime
NOTE: Don't underestimate the need for proper ventilation when charring chiles. The fumes from the chiles can be very powerful.
Place an oven or cooling rack on top of a gas burner. Place the chiles on the rack and char over an open flame. Using tongs, turn the chiles as they char. Once the chiles puff up and turn completely black, remove from the heat and cool.
Discard the stems from all the chiles as well as the seeds from the anchos. Add the chiles and all the remaining ingredients into a food processor or blender and mix until fully incorporated. (Makes about 1 ¼ cups and any remaining sauce can be kept in a container and refrigerated for 2 to 4 weeks.)