What the 9/11 Memorial Says About Us: A Walking Tour of the Site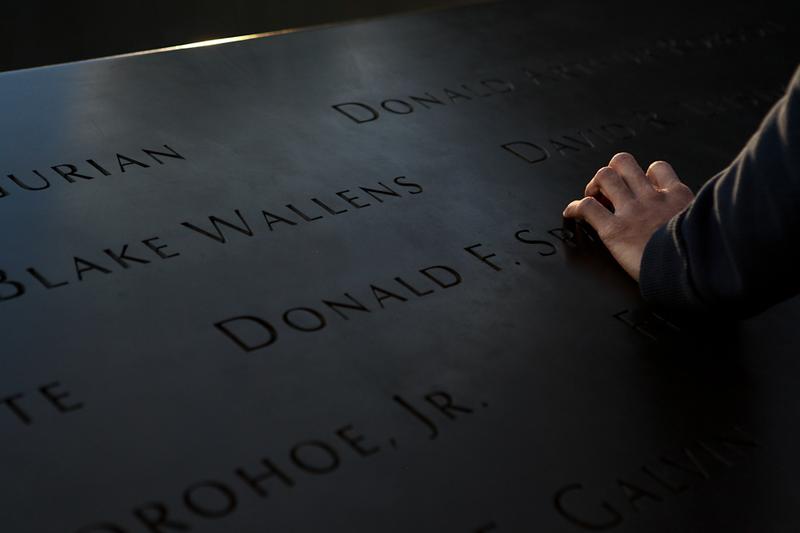 Since it opened on September 11 of last year, more than 4.5 million visitors have entered the National 9/11 Memorial to observe the reflecting pools in the footprint of the World Trade Center.
But what does the memorial say about us?
To find out, WNYC took a tour with Marita Sturken, a professor of Media, Culture and Communication at NYU and an author who has written about tourism and 9/11 in her book Tourists of History: Memory, Consumerism, and Kitsch in American Culture.
Entering the site is like a trip to the airport. After zig zagging through rope dividers at Albany and Greenwich Streets in Lower Manhattan and passing through a half-a-dozen ticket checks and one metal detector, visitors emerge at the south-western end of the World Trade Center site.
A sign reads, "Please be reminded that the 9/11 Memorial is a place of remembrance and quiet reflection."
The walkway is made of thin slices of granite, broken up by stretches of grass and oak trees planted in mulch.
Ahead is the South pool, a square, one-acre pool in the foot prints of the South Tower that pumps 52,000 gallons of water. It's the creation of architect Michael Arad, called Reflecting Absence. Water flows over the edges and twists in a mesmerizing waterfall, and then there's another smaller waterfall at the center of the pool.
The stillness there is broken by a backhoe digging up rocks where the spiny Calatrava transit hub hopes to service 250,000 commuters a day.
"I feel that the memorial struggles for intimacy, which should be one of its primary aims, because of this kind of scale," Sturken said, noting that about six of the Vietnam War memorial in Washington, D.C., could fit within one of Arad's pools.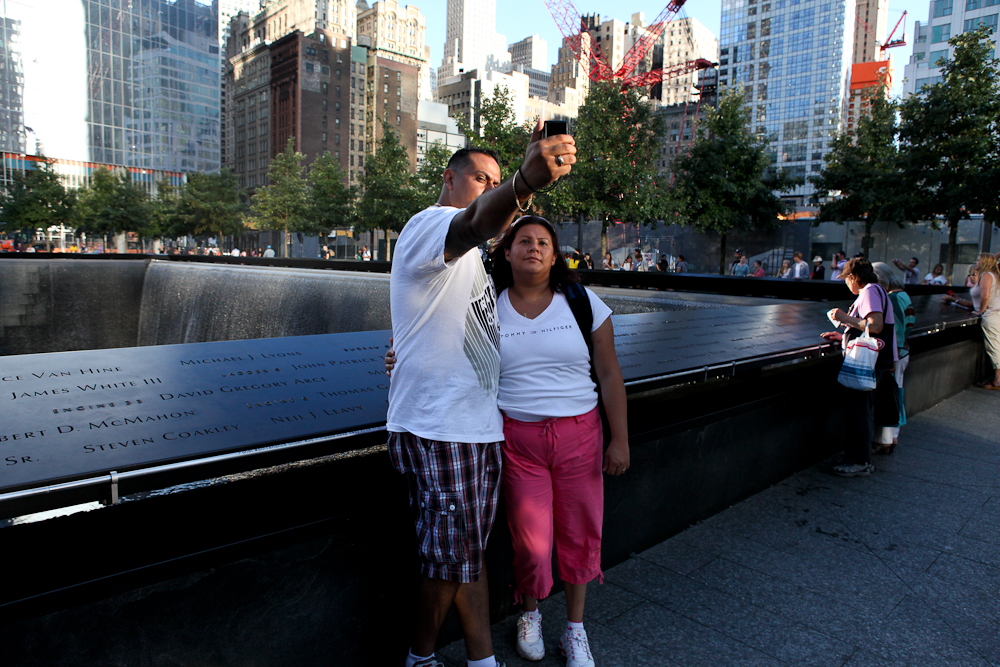 The pools are ringed by a bronze parapet inscribed with the nearly 3,000 names of those who died on September 11, 2001. Visitors trace their fingers along the carved names. Some place flowers inside the hollowed out letters.
Sturken admits there is an intimacy here in the attention to the names arranged in what designers call "meaningful adjacencies." Friends. Coworkers. Hometowns. Fire companies. Airplanes.
"In a certain sense, the specificity and intimacy of these names is in contrast to the immensity of the space we're standing next to," she said.
The experience of a memorial in the heart of an active construction site is "revealing," Sturken says, because it does not allow time for quiet reflection or rumination.
"We're clearly not there yet," she said.
Earlier this week, hundreds of visitors peered into the one-acre South pool, waving cell phone cameras and leaning against the bronze parapets for posed shots. Nearby a man sits on a granite block, holding his head.
"It's somewhat reminiscent of the old World Trade Center Plaza in its flatness, but there's lots of green here," Sturken said, "but right now it mostly feels like a tourist site, precisely because of the way in which we enter into it and like a security site."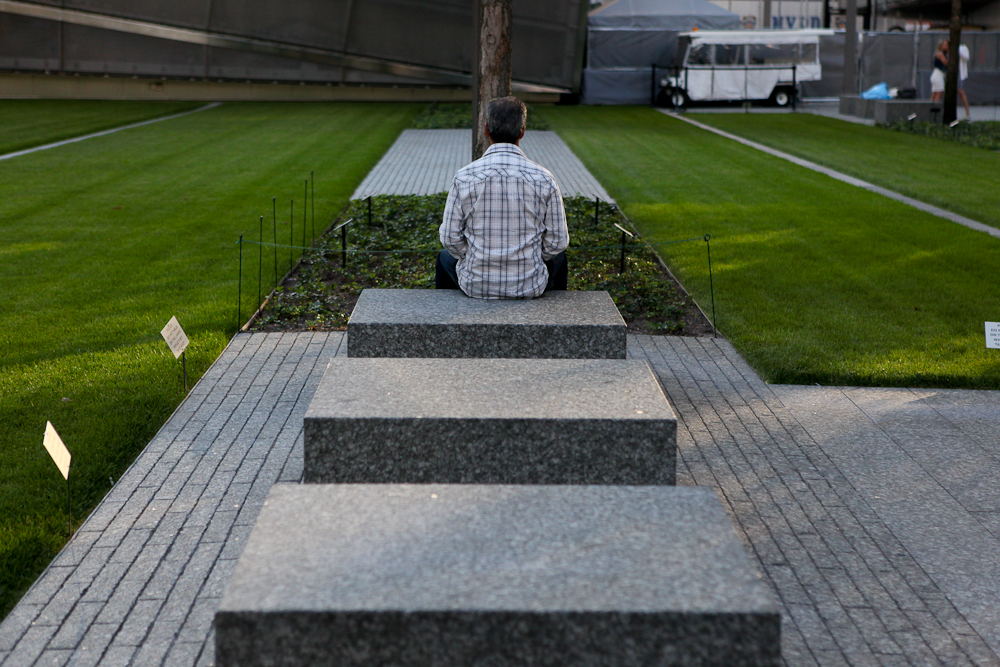 Heading north One World Trade Center suddenly comes into view and looms over the North pool at 104 stories.
So too does the stalled museum. It's been nearly a year since the Port Authority, which owns the land, has been locked in negotiations over funding with the museum. The two reached an agreement Monday, on the eve of the attack anniversary.
The struggle over ownership and defining the site says as much about society as it does the event it memorializes, Sturken said.
"It brings out the tensions in a society," she said. "Who are we? What are we as a nation? What is it we're memorializing? Whose lives do we value? Who can be memorialized, etc.?"
Exiting the site, and passing a box for donations, visitors are funneled into a gift shop where a 9/11 documentary is projected on the wall, and a white and chrome motorcycle, inspired by the architecture, is on display.
And 9/11 T-shirts, mugs, magnets and rescue dog stuffed animals are for sale. 
Sturken calls it the "kitchificscation of experience."
"They signal a kind of prescribed idea of how we're supposed to respond," she said. "We're supposed to respond with a certain kind of sentimentality, and sadness. We're not supposed to question too much, we're certainly not supposed to be angry when we go home with our FDNY teddy bear."  
But many people leave flowers at the site and are happy to go home with their own 9/11 remembrance.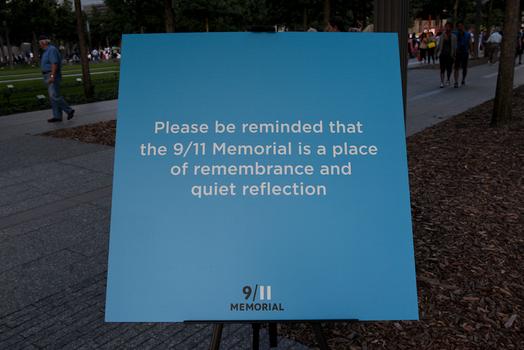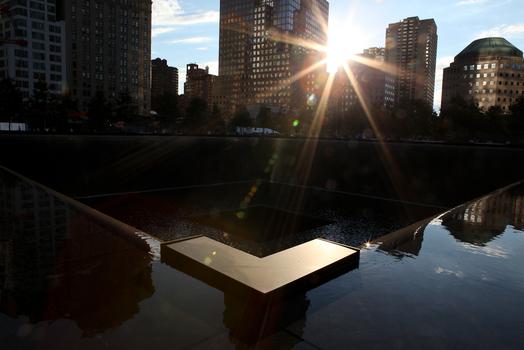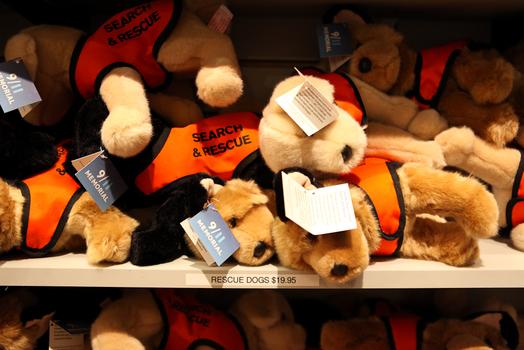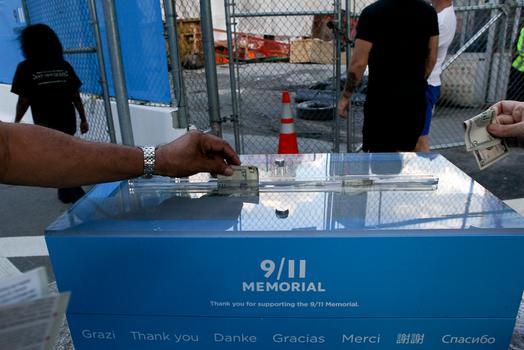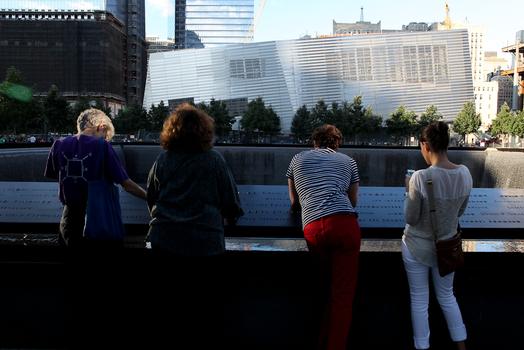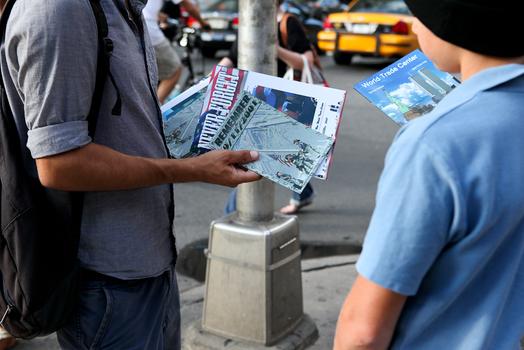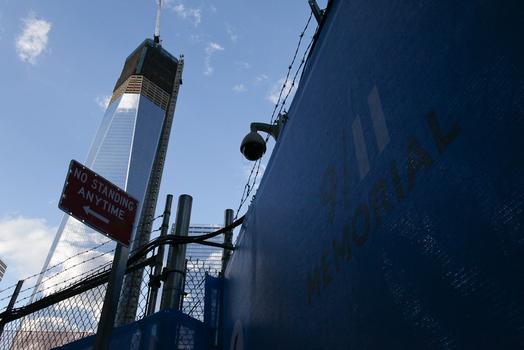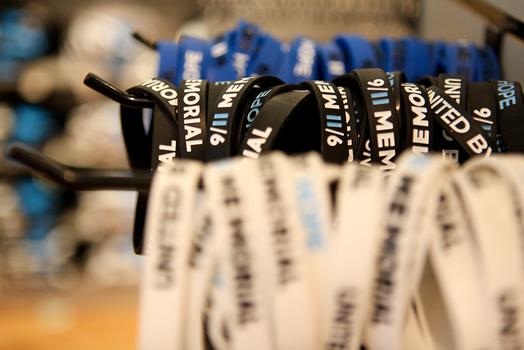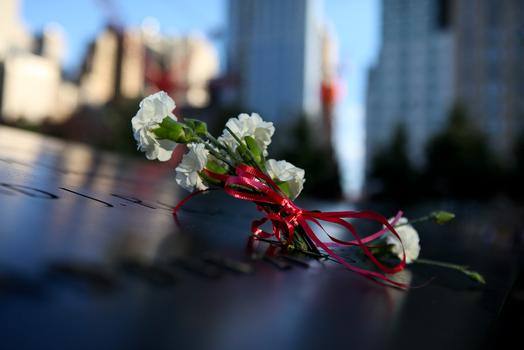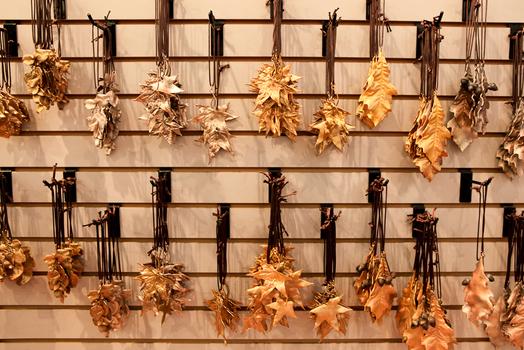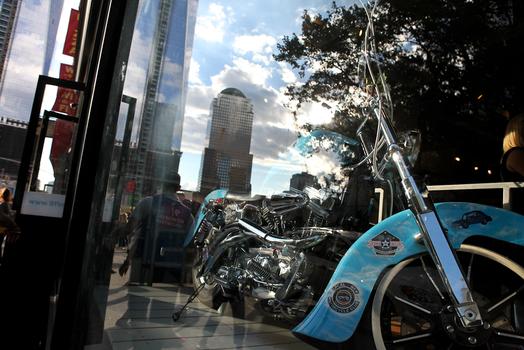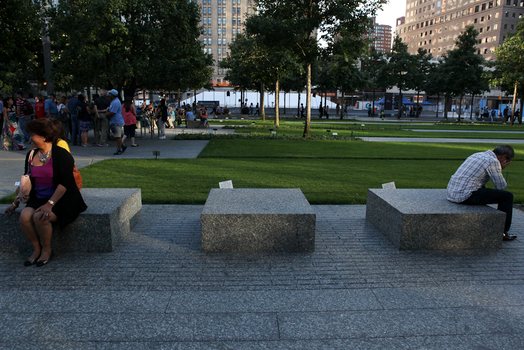 of