On September 10, 2012, Mayor Michael R. Bloomberg, Parks & Recreation Commissioner Veronica White, New York City Economic Development Corporation President Seth W. Pinsky, Brooklyn Borough President Marty Markowitz, Council Member Steve Levin and President & CEO of New York Public Radio Laura R. Walker took part in a ribbon cutting ceremony officially opening WNYC Transmitter Park in Greenpoint, Brooklyn.  The $12 million redevelopment of WNYC Transmitter Park includes an esplanade for passive recreation, and 1.6-acres of open space to provide residents and visitors with increased access to the Greenpoint waterfront.   Laura Walker spoke about the significance of the site during the ceremonies.  Below is a transcript of her remarks. 
Mayor Bloomberg, Commissioner White, thank you so much for asking me to take part in today's festivities.   It is a real honor to be here today.  The opening of WNYC Transmitter Park has both personal and professional significance for me.
My grandmother was born and grew up just a block away up Kent Street.  My great grandfather owned a pharmacy in the neighborhood.   In their day, this was an active ferry slip – a vibrant port connecting Greenpoint to the world beyond.  I love the idea that my kids can now enjoy this place that represents a part of our family's history. They already think Greenpoint is one of the coolest places on Earth!
For New York Public Radio, the opening of this park brings a lot of pride.   You see, this place is deeply connected to New York Public Radio's rich history of service in this city.  I am reminded of this connection every day at our studios.  We have two renderings of this site by architect Allan Gordon Lorimer prominently displayed – one in our green room, the other in a conference room on the 9th floor.  The renderings show the building and transmitter towers that were built here during Mayor La Guardia's administration to bring WNYC's signal with clarity and consistency to all of New York City.  In commemoration of today's opening,  we've put these images on our website -- wnyc.org.   
When Mayor La Guardia came into office in 1934, WNYC was just 10 years old.  It was being transmitted from the 25th floor of the Municipal Building in downtown Manhattan.  The Mayor, himself, described WNYC as "dilapidated—physically and morally."      The signal was pretty spotty and, well, that's not really what you want to be known for, if you are a radio station! 
So Mayor La Guardia set out to do something about that.   With the help of a $30,000 grant from the Federal Works Progress Administration and the allocation of this land by the city, plans to build a state-of-the-art radio transmission center took shape.   When it opened in 1937, the building displayed large WNYC call letters.  There were two 304-foot towers resembling the Eiffel Tower on either side and state-of-the-art micro-ray technology, that at the time was only in use at the Vatican.
New York Public Radio's Archivist Andy Lanset, who is with me today, actually found the architectural blueprints of this site.  Here they are!  He also found the audio recordings from the dedication ceremonies in 1937 when the transmitter site first opened—it's pretty cool to listen to Mayor La Guardia back then. You too can listen on our website!  On that day's opening ceremonies, Mayor La Guardia stood here and talked about the rejuvenation and revitalization of WNYC which he called "New York's OWN station."    It was with this new AM transmitter and from this destination that WNYC established itself as the voice of New York.  
Broadcasting from Greenpoint enabled WNYC to become a part of the fabric of this city.  When New Yorkers needed news or companionship, we were there and we still are today.  It's become a part of our mantra.  You've probably heard the spots voiced by Stanley Tucci on our air:  "WNYC. Never Turn it Off."  Well, the AM transmitter here helped us   "turn it on"  and it was used until 1990. 
Today, we transmit our terrestrial signal from New Jersey and digital capabilities enable us to reach audiences well beyond our physical borders.  More than 11.5 million people access our programming each month and today we're WNYC, WQXR, New Jersey Public Radio and The Jerome L. Greene Performance Space.
Despite our growth over the years, being New York's "own radio station" and serving the people of New York has always remained at our core and the significance of this place has never diminished in our hearts.  The fact that our city took the time and effort to restore WNYC Transmitter Park and has offered it back to the public -- is to me -- an elegant and fitting proposition.   Its legacy of public service lives on!
Thank you for restoring this special piece of New York history and thank you for giving it back to New Yorkers to enjoy.
(Delivered by Laura Walker at the ribbon cutting ceremony for WNYC Transmitter on September 10, 2012)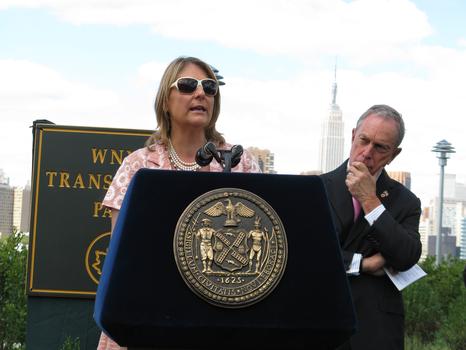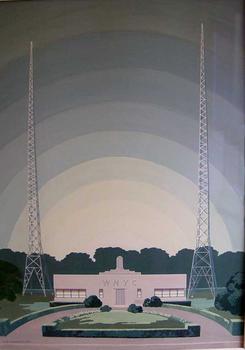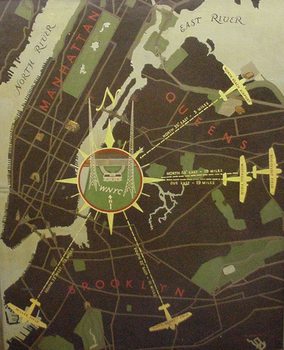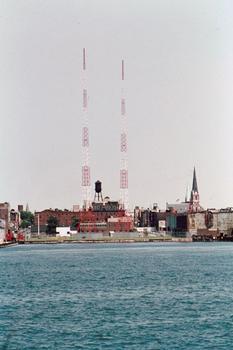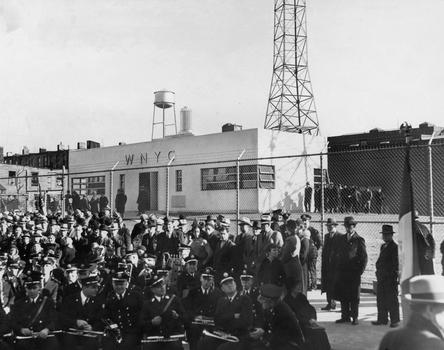 of