Opinion: In Iowa, Campaigns Tailor Messages for Swing Voters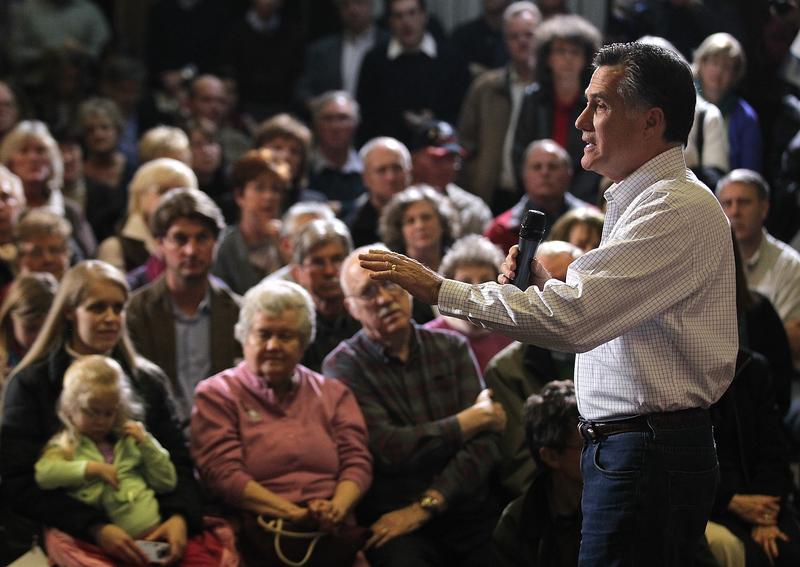 Now that the conventions are over, both campaigns will pivot to the swing states where they still need to make the case to crucial undecided voters. In my home state of Iowa, the campaigns are turning up the heat over every eligible pocket of the state.
First of all Republican/Libertarian and former New Mexico governor Gary Johnson made it on the Iowa ballot. Who will benefit the most Obama or Romney? Likely Obama, because the Paulistas in Iowa who were always in a bloody fight with Romney's delegates (and voted for Ron Paul at the Republican Convention) may be tempted to stick with the Libertarian Republican whoever he is and stick it to Romney.
Second, Obama is firing up the youth vote and has a great base in Iowa dating from 2008. I think he can mobilize part of that base which is still loyal but not excited. Romney does not have that base, so he's cherry picking conservative Christian schools in Iowa for the youth vote. Also students in general are not excited about Romney's student loan program. "Go borrow it from your parents and get a job," is what your grandma might say but it's not much of a realistic suggestion in a low job economy and at a time when parents are certainly financially pressed.
Third, if they hope to win, the Democrats need to hit much harder on GOP opposition to wind power tax breaks. Iowa is a huge player in this industry and about 7,000 jobs have been created so far.
Fifth, Democrats need to slam Republicans for letting ethanol subsidies expire. Hundreds of millions of dollars have been invested in ethanol plants and the entire attending infrastructure for shipping the product. Even Iowans who have nothing directly to do with the ethanol fuel have benefited from this new sector.
Of course there are several down sides to ethanol, including sucking corn out of the food chain, pumping up corn prices, stressing the water supply to make ethanol. However, you can't entice huge amounts of capital into a new industry and then yank the rug out from under it. Properly presented it could be a significant political issue for democrats in November.
Sixth, Democrats also need to be more aggressive on the languishing farm bill, which is VERY important not just for farmers but the agriculture implement, equipment, services, and supply industries, retail businesses in towns all over the state and in every one of the 99 counties, and is very important to Iowa tax revenues.
Seventh, Iowa has an unemployment rate 5.3 percent the lowest rate of any battleground state. Couldn't they make the case that Iowans are way better off today than during the Bush years? Yet, I have not heard any of the Dem candidates forcefully make that point. If the Democrats can close the deal on these issues, not get sucked into the general topic of jobs and the overall economy; they can probably do well in November.
Then there is Medicare! Sure there are lots of seniors in Florida. However, Iowa is something like number 3 or 4 in older folks among the 50 states. Older Iowans vote much more reliably than other age groups. I think the Dems have not "scared" or "informed" Iowans enough on the end and privatization of Medicare that Paul Ryan has promised.
However, the Democrats have shown themselves to be fairly politically inept. Just look at the Iowa legislature in which Republicans control the Iowa House with 60 seats over the Democrats 40. In the Senate Democrats hold a razor slim narrow edge of 26-24 over the Republicans. The Governor is Republican and most of the other statewide races also went Republican in 2010. There is a tangible enthusiasm gap among the Dems and only Barack Obama and Senator Tom Harkin seem energized. The Democrats have also fallen into third place after Independents and republicans in registered voters.  
So I believe 2012 is the Democrats to lose because many issues align better for them than for the GOP but they seem unsure of how to grab the golden rings.