Gabfest Radio
Gabfest Radio: The Vast Left-Wing Conspiracy Edition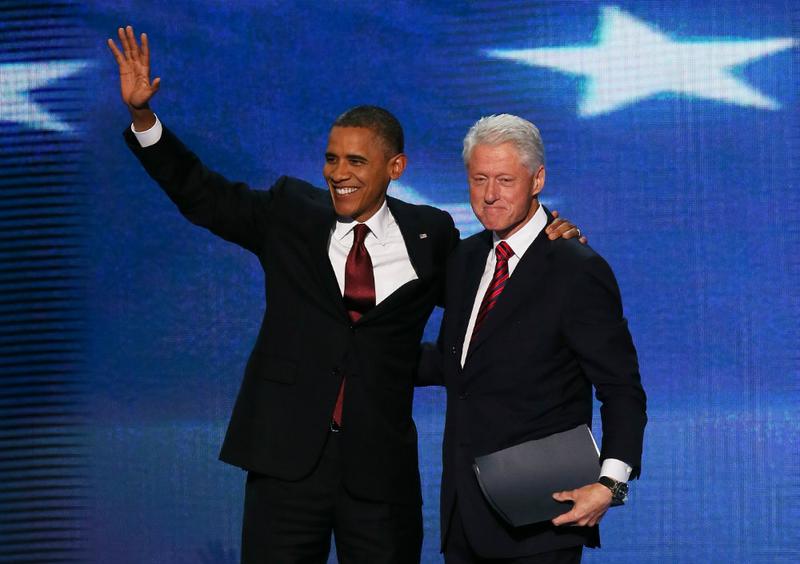 On this week's episode of Gabfest Radio from Slate and WNYC, Political Gabfest panelists Emily Bazelon, John Dickerson, and David Plotz discuss the Democratic National Convention, including speeches by Barack Obama, Michelle Obama, and Bill Clinton. They also debate whether either party convention will make a major difference in the overall campaign, and what impact Friday's weak jobs report will have.
Then on the Culture Gabfest portion of the show, panelists Stephen Metcalf, Dana Stevens, and Julia Turner discuss the start of the new fall TV season with Slate's June Thomas. They also debate whether Hollywood's reputation as a bastion of liberalism is exaggerated – or wholly earned. And they take a fresh look at The Norton Anthology of English Literature, which is celebrating its 50th anniversary this year.
Here are links to some of the items mentioned in this week's episode:
POLITICAL GABFEST (Click here for this week's individual episode at Slate):
Full texts of the speeches: President Obama, President Clinton, and Michelle Obama.
The Labor Department released their latest report during Gabfest taping; U.S. employers added 96,000 jobs last month – a weak figure, according to The Washington Post.
The New York Times' Nate Silver thinks the polling landscape now favors Obama; Gallup finds that the RNC had minimal impact on voting intentions, but notes the mixed predictive record of post convention bounces.
What is the enthusiasm gap facing Democrats? This report, from MSNBC First Read, describes an August 2012 NBC/WSJ poll that found significantly fewer Latino or under-35 voters expressing high interest in the 2012 election.
Emily asks John about the crowd response in Charlotte; in his full write-up, John finds a crowd "ready to be moved," but also a more "earthbound" Obama.
David references Sasha Issenberg's story about Milwaukee's disappearing black voters.
Cocktail Chatter:
Emily chatters about a takedown of Naomi Wolf by Ariel Levy in The New Yorker.
David chatters about a proposal: convention speeches should be more like TED Talks.
CULTURE GABFEST (Click here for this week's individual episode at Slate):
The Mindy Project pilot.
The New Normal pilot.
The Animal Practice pilot.
Jonathan Chait on "The Vast Left-Wing Conspiracy" in Hollywood.
Responses to Chait from Eric Alterman and Eric Lundegaard.
The Norton Anthology on Amazon.
Norton Anthology editors past and present talk to The New York Times.
Norton editor Stephen Greenblatt's Renaissance Self-Fashioning, which Steve calls a "masterpiece."
Endorsements:
Julia endorses corn pudding, and Dana adds a recommendation for Ina Garten's recipe.
Dana endorses the language podcast "A History of English," hosted by Kevin Stroud.
Steve endorses the 1980 Paul Schrader film American Gigolo, which launched Richard Gere's career and which Steve says is vastly underrated.