Police Accidentally Shoot Worker to Death
A 20-year-old Bronx bodega worker was shot dead by police as he tried to leave the building during an armed robbery Friday morning in what police said they believe was an accident, authorities said.
Reynaldo Cuevas, the owner's nephew, saw an opportunity to escape and fled through the back of Natalie Grocery Store on East 168th Street. Cuevas followed the store's night manager out of the building and ran "full speed" into a police officer who was waiting with his gun drawn, officers said.
"The two became entangled, at which point, we believe, the officer accidentally discharged his weapon," Police Commissioner Ray Kelly said.
Cuevas was shot in the left shoulder. He later died at the hospital.
Prosecutors said they have filed murder charges against the three men who took part in the armed robbery.
Family members described Cuevas as a quiet man who hoped to one day bring his daughter to the U.S. from the Dominican Republic.
"He worked to send money to the Dominican Republic," said his aunt, Maria Rodriguez, 49. "He was working to save money to send his daughter over here. He said, 'Ok, I wont go to school. I want to send my daughter to the United States.'"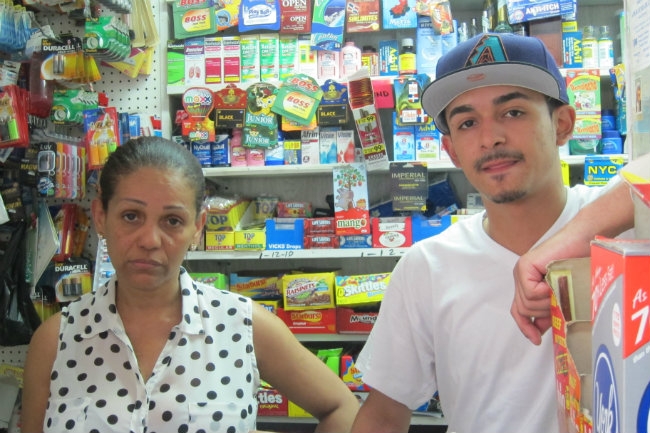 Rodriguez said she and her son run a store about a block away. She said she was stunned to hear the police were involved in her nephew's death.
(Photo: Reynaldo Cuevas, 20, was shot and killed by a police officer outside the bodega where he worked. His aunt, Maria Rodriguez, 49, and cousin, Mickey Rodriguez, 25, mourned his death. Kathleen Horan/WNYC)
"I have a lot of police friends who come here all the time, 'Hello. Give me a cup of coffee.' We had a good relationship between the police," she said, "and us and look now. They shot my nephew for nothing, no reason."
Cuevas' cousin, Mickey, 25, said he was with him all day yesterday until 10:30 p.m. The next time he saw him was at St. Barnabus Hospital – when his cousin was already dead.
"We always knew there was a risk of working late because there were a lot of criminals out there and stuff — but we never thought it would happen because it was right there on our block," he said. "Everybody knows us here, so who would want to do harm to us?"
David Boehm, COO of Security USA and a 20-year veteran of the NYPD, echoed the police commissioner's statement that the officer appeared to follow procedure based on surveillance video of the incident.
"People are calling for additional training for the police officers, there's really no way to train for this type of situation," he said. "Someone coming into you or running into you when you have your firearm out. It's just a horrible incident."
Morrisania residents spent much of the afternoon on Friday outside talking in small groups discussing the killing of their local clerk. A young man they said was well liked.
Deierdre Stokes, 50, stood on her apartment stoop located a half block away from where Cuevas was killed. She said she heard sirens last night but was shocked when she learned what actually happened.
"Officers are supposed to be protecting us and they are killing us — and how are you going to tell his mother that you're sorry?"
The shooting occurred at about 2 a.m. after officers received a report of a holdup. When they arrived, they spotted an armed man and two others holding the bodega's manager and the worker down on the floor at gunpoint, police said.
Two of the robbers, after realizing that police had arrived, fled to the back of the store, allowing the victims to break free, police said.
One of the suspects immediately surrendered.
The two others remained inside the store during a standoff with officers. One of the two emerged around 5 a.m., claiming to be a victim. Police found the second man tied up inside as part of the ruse, cops said.
A .32-caliber handgun, a backpack contained $700 in cash, cigarettes and scratch-off lottery tickets were found in the store.
A police vehicle responding to the situation was struck by a SUV a few blocks away. The officer had serious - but not life-threatening - injuries.
Luis Ducasse, executive director of the Bodega Association, said the police are supposed to protect workers and that they fear for their safety every day.
"Criminals kill bodega owners. We go to the police to get help," he said, "The people who are supposed to protect us are the police."
Javier Guzman contributed reporting