Last Chance Foods: McClure's Pickles
Yesterday, pickle-maker Bob McClure faced an enviable task: perfecting a Bloody Mary mixed using the brine from his great-grandmother's spicy garlic dill pickle recipe. It's tough job, but McClure felt up to the challenge—particularly by the afternoon, when testing could commence with the active ingredient, vodka.
Still a work-in-progress, the cocktail mix is just one aspect of McClure's Pickles, a family-run company that has long embraced pickling as a means of preserving fresh produce.
WNYC's Amy Eddings recently spoke with McClure about pickling, a practice used around the world and by almost every culture. Nearly everything—from carrots and radishes to eggs and pigs' feet—can be pickled using vinegar or a salt-and-water solution. In fact, McClure claims to know of a leather shoe that's undergone the process. Apples are the wildest thing he's thrown in brine, but he admits that the result was disappointingly mushy.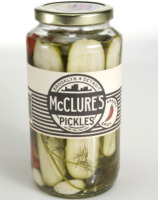 McClure teaches pickling classes at Brooklyn Kitchen's new location, The Meat Hook, and he shared a few pickling tips. "The best way to keep your cucumbers really crunchy is to, first, buy really fresh produce and, second, keep them really cold," he explained. "Keep them on ice for a while before you pickle to tighten up the cellular structure of the cucumber."
The Brooklyn-based McClure, whose brother Joe and parents Mike and Jenny operate in Detroit, says the company tries to source locally when the season permits. The original spicy garlic dill pickle recipe called for cayenne peppers, but McClure switched to using Habeneros because they are available year-round. For cucumbers, during the winter months, he works directly with farmers in Florida and Arizona.
The McClures started off by giving the pickles away as holidays gifts, before beginning the company in August of 2006. From the start, the family used produce that was available regionally.
"We only made pickles when the ingredients were totally in season," he recalls. "All the cucumbers and garlic were all local."

Below is McClure's recipe for pickled carrots.
"Refrigerator Pickles: Pickled Carrots"
by McClure's Pickles
Makes about 12 half-pints, 8 pints, or 4 quarts


4 lbs carrots, neatly pared to fit within your jar (leaving ¼-1/2" headspace)
4 cups distilled white vinegar, white wine vinegar, or apple cider vinegar
2 cups cold water
3 tablespoons Kosher salt
Spices (optional) per 1/2 pint:
¼ teaspoon cayenne pepper
- 1 teaspoon chopped Ginger
- 1 teaspoon brown sugar

• Buy only fresh produce. Keep all produce cool and refrigerated as long as you can before pickling. Discard any bad/discolored/old produce.
• Clean your work/cooking area and all equipment, including washing hands, apron/hat.

1. Fill a large pot with water so it covers your jars. Bring to boil. Sterilize jars for 3-5-minutes in boiling water (212 degrees).
2. In a separate pot, bring vinegar, water and salt mixture to a boil.
3. After jars have been sanitized and after brine is near boil, pack jars with spices first, then carrots. Make sure ¼-1/2 inches of headspace remains at the top of the jar. Near the end of the packing process, take your lids (usually a two-piece, continuous-thread lid) and sanitize lid in boiling water pot for about two minutes.
4. Carefully fill jars with boiling brine mixture, making sure the carrots are covered by the brine mixture.
5. Remove lids and seal jars, tightening firmly.
6. Turn jars over for 3-5 minutes to allow rubber ring on bottom of lid (plastisol lining) to loosen up.
7. Allow jars to cool down for a few hours. Once jars are cool, put your pickled carrots in the fridge.
8. Wait a few days and your carrots will be ready to eat.