60-Second Stir Fry: Sisha Ortuzar and Zach Pickens of Riverpark
September 14, 2012 —
The hot seat is the favorite place to be for my Last Chance Foods guests, Sisha Ortuzar, chef of Riverpark and partner of the sandwich shop, 'wichcraft, and Zach Pickens, manager of Riverpark's Farm at the Alexandria Center on Manhattan's East Side.  They are big hot pepper fans and brought a paper bag full of them to the WNYC's Studio 4.
Before our interview, I played "name that pepper" with Ortuzar and Pickens.  There were so many varieties, I had to make up a little chart.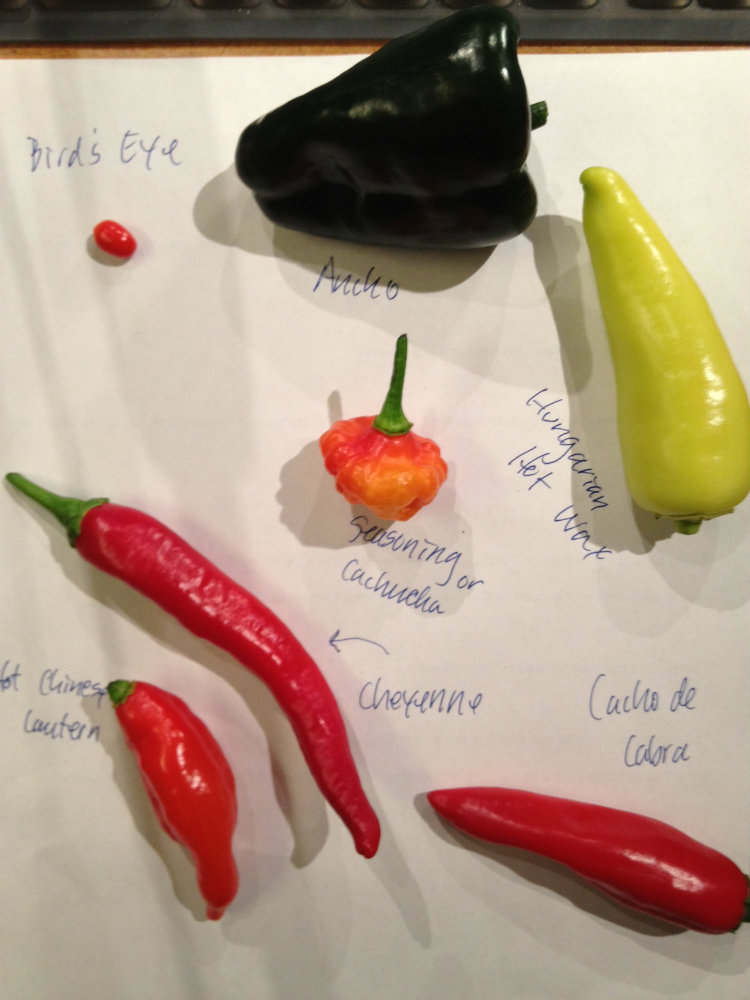 Thank God I wasn't the Stir Fry subject.  I'd fail the pepper quiz miserably, in part because I can't read my own handwriting.
Ortuzar gets props in my book for saying avocados are a comfort food for him.  How perfect!  Avocados are round and cute, like a Schmoo, and just as eager to please in salsa or shake or salad or spooned right out of their skins.  I concur, a perfect comfort food.  
On the other end of the feel-good spectrum, Pickens mentions Dunkin Donuts as his guilty pleasure, giving those round orbs of fried, sugary dough two consecutive weeks in the bad boy corner.  Thomas Wickham of Wickham's Fruit Farm was embarrassed to admit he ate them, too.  
Having blown the one-minute format for the last few Stir Fries, I was determined to keep this one under 60 seconds.  So Ortuzar didn't watch ALL the episodes of "Top Chef," featuring his former boss at Gramercy Tavern and Craft, Tom Colicchio? Okay, I'll move on! (Mine was Season Two, with cute Sam Talbot and foam king Marcel Vigneron.)  
I also didn't have Pickens weigh in on his favorite comfort food or Ortuzar tell me about his favorite pepper, happy to leave those preferences shrouded in mystery.  Tell me yours, though!  I'm especially curious to know if you have a favorite pepper.