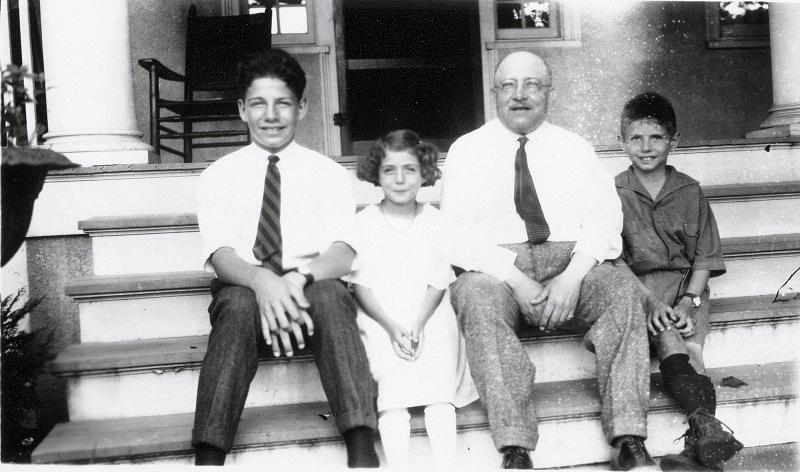 Between the summer of 1925 and spring 1932, Victor Harrison-Berlitz, the General Manager of 410 U.S. Berlitz language schools, taught French, Spanish, German and Italian over WNYC. The regular classes were a pioneering effort for American radio.

On February 16, 1925, The Niagara Falls Gazette reported Berlitz's classes had begun a few months earlier, although the paper did not say over what station these initial classes were broadcast. It did, however, elaborate on Berlitz's teaching philosophy and world view:
"His classes now meet once a week—at their receiving sets.  The scheme is a tremendous success.  Asked for particulars Mr. Berlitz said: 'I like to be a pioneer. I believe I have had the honor of inaugurating the most tremendous revolution in education that the world has ever known.' In France, the government's training school for the Ministry of Post, Telephone and Telegraph has been broadcasting English lessons for two years. Mr. Berlitz was asked to take charge of this work. It was a pioneer idea, but he reversed his application of it by teaching French by radio in the United States.  Listen to what this pioneer in languages predicts. It is marvelous. 'The results are already apparent to English speaking tourists in France, even in the rural districts. For the first time in the history of the French nation, the lower classes are interesting themselves in the acquiring of English. I forecast that radio will eventually make it possible for all peoples of all nations to speak together with[out] difficulty. I will go even further. I believe that radio will eventually teach a universal language.' "
The New York Times announced Berlitz's radio classes as a regular feature over WNYC starting June 24, 1925. At that time, beginning and advanced Spanish were on Wednesdays with elementary and advanced French on Fridays. Both broadcasts were held from 5 to 6 p.m. with 30 minutes per class. According to his grandson Robert B. Ostrom, the master linguist commuted to Manhattan by train every day from his home in Asbury Park, New Jersey.
Victor Harrison Berlitz was the son-in-law of Maximilian D. Berlitz (né Berlizheimer), the German-born founder of the Berlitz School of Languages. When V.H. married Maximilian's daughter Bertha in 1898 he adopted the Berlitz surname, and he became the manager of the U. S. based Berlitz schools and publishing business in 1921. V.H. Berlitz died on November 16, 1932 at the age of 69.
Note: The audio segment above is from December 3, 1931.  The audio was taken from uncoated 12-inch aluminum discs containing aircheck segments that I found in the FCC collection at the National Archives. As far as I know it is the only existing recording of V.H. Berlitz on WNYC. 
________________________________________________________
BROADCAST ON WNYC TODAY IN:
1925: Albert Firmin discusses how to prepare Jewish holiday cards.
1942: Mayor F. H. La Guardia talks about our enemies: "We are determined, as I see it…that we must continue to beat the Nazis, fascists and the Japs until they are thoroughly destroyed and not stop even if they shout "Uncle!"  He continues remarking on Mussolini and his "yellow dog fascists" and adds, |"I want to assure you here in America we are determined to make up for these two years by increased production, expenditures, supplies, ships, army and navy and air force.  So when we get into complete action it will be with such might and force and courage that all lost time will be wiped out…We must all have patience and fortitude.  Victory is ours.  We are confident of that.  But we must all work harder and longer.  Rid the world of the vermin of the Nazis, fascists and Japs."
1958: David Randolph presents a random sampling of folk music from different countries to get a feel for all the different styles on this edition of Music for the Connoisseur.
1978: Actor Yul Brynner is interviewed on this edition of Around New York.
1987: New Sounds Live from Merkin Concert Hall airs Richard Pierce Milner and the Daniel Lentz Ensemble.
1995: The Dick Katz Trio performs for Around New York.
2001
: Mayor Giuliani holds a late night press conference. Police Commissioner Kerik describes a rash of bomb threats.