Seeking Deferred Action, Young Immigrants With Blemished Records Give Pause
Dressed in matching grey vest and pants, his black hair neatly spiked, 24-year-old Cecilio set out in the West Village on a recent afternoon to find a job.
Cecilio, a college student who lives in Brooklyn, came to the U.S. from Mexico illegally when he was 13. He used a fake social security number to get a job at a fast food restaurant, where he worked for 10 years, rising up to assistant manager position. But during his recent job hunt, he didn't use that fake number.

"I just leave this one in blank," he said, pointing to the line reserved for a social security number on the application for any position at a juice specialty store on West 4th Street. "I don't put anything, because I don't have anything."

Cecilio, who asked WNYC not to use his last name because he still hasn't made his undocumented status known to the government, wants to apply for deferred action — a two year deportation deferral and work permit that would allow him to work legally for the first time. But he's worried his past actions could lead to his request being denied.
At the advice of his attorney he's stopped using the fake social. However, that's not his only cause for hesitation.
Cecilio was stopped by the Border Patrol when he first tried to come to the U.S. He was fingerprinted and sent back to Mexico. Cecilio slipped into the country on his second attempt, which came only a day after the first one.

The United States and Citizenship and Immigration Services (USCIS) agency, which will process requests for deferred action, hasn't yet spelled out what will happen with cases like his, which have what his attorney, Lauren Burke, describes as "light pink flags." Until there's more information she said she wants to wait to submit the request for deferred action.

"If we hear of cases that were granted with some of the issues that Cecilio's case has, then we'll go forward," Burke said. "I think it makes sense to pause a bit and see what the national climate is."
(Photo: Cecilio hunts for jobs in the West Village. He worked in a fast food restaurant for 10 years using a fake social security number. Mirela Iverac/WNYC)
Neither the repeated immigration violation nor the fake social disqualifies Cecilio from applying for deferred action, according to the guidelines from USCIS.  

He satisfies the criteria – he's younger than 31, came into the country before he turned 16, has been here for more than five years, has a GED and no criminal record. USCIS has said only those who were convicted of a felony, a significant misdemeanor, or three or more non-significant misdemeanors are not eligible for deferred action.

It's hard to estimate the number of young undocumenteds who have used fake social security numbers, but several attorneys said the issue has regularly come up during workshops on deferred action and legal clinics.

Currently 80,000 undocumented immigrants in New York State are eligible to apply for deferred action. An additional 30,000 will be able to do the same when they turn 15, the minimum age required to submit their request.

Young undocumented immigrants are asked to include all social security numbers they ever used when filling out the request for employment authorization. But lawyers and administration officials said they don't know at this point whether omitting a fake social security number that was used will constitute a fraud.

USCIS has said next to those who commit fraud in their application, applicants who have a criminal conviction or present a national security or public safety threat could end up in deportation proceedings.

Ben Winograd, attorney at the American Immigration Council in Washington, D.C., said he understands why this might lead some people to be cautious.

"No one is going to want to be the guinea pig," he said. "No one wants to bring a test case in a program like this that hasn't been implemented before. "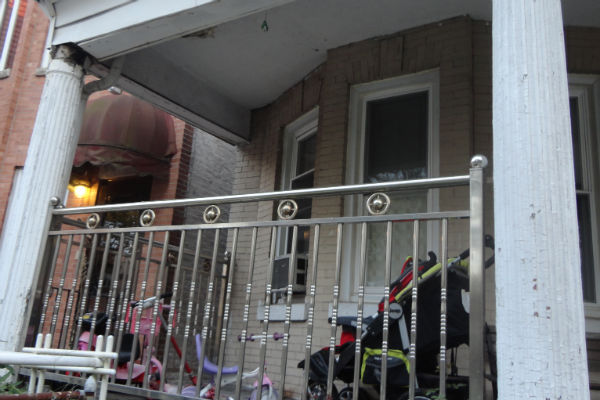 Meanwhile, in the family's home in Brooklyn, Cecilio's parents said they hoped their son would be granted deferred action, despite blemishes on his record.  

Cecillio's father, Daniel, 49, was the first to come to the U.S. He found a job at a bakery and after saving enough money, sent first for his wife and four children, including Cecilio. The youngest, a 10-year-old boy, was born in New York.
(Photo: The home Cecilio shares with his family in Brooklyn. Mirela Iverac/WNYC) 
Sitting next to a shrine to Virgin Mary, where red and pink roses were placed, Cecilio's mother, Cecilia, 45, a petite woman with rosy cheeks, said her son used a fake social out of necessity to work and provide for himself and help out the rest of the family, including his four siblings.
This week, Cecilio is back to studying at the Borough of Manhattan Community College, where he hopes to graduate from next spring with an Associate Degree in liberal arts.
After applying for five jobs that day in the West Village, Cecilio received two calls from potential employers, but after he told them he didn't have a social security number, he didn't get the positions.

His parents are for the first time helping out with the expenses in the hopes he'll be granted deferred action and eventually be able to apply for a job legally.

"That's one of my dreams," Cecilio said. "That I want to be legal in this country, even though I was not born in here."