At the GOP Convention in Tampa, New Jersey's Star Rises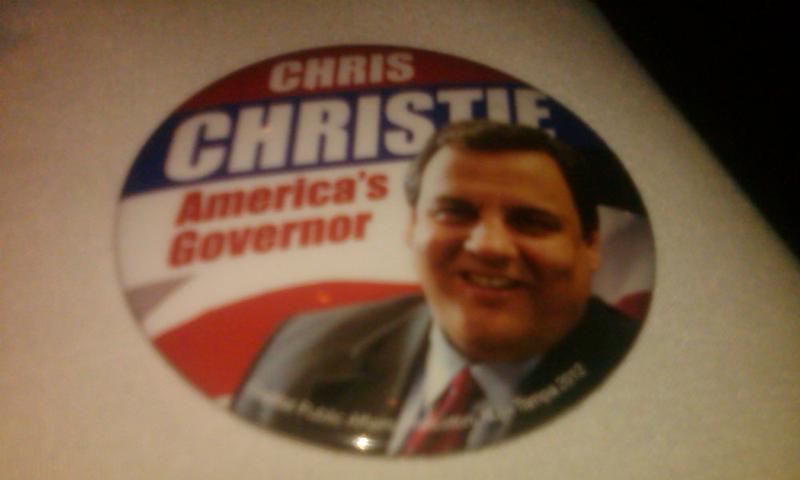 New Jersey is back on the map.  The state, which has not voted for a Republican for president since George Bush the elder, is suddenly important.  New Jersey's delegation has a coveted position close to the stage in the convention hall. Delegates are staying at a nice hotel, packed to bursting with lobbyists, delegates and their families. And the Governor, GOP keynoter Chris Christie, is besieged like a rock star by a never ending-stream of reporters.   
As Hurricane Isaac approaches, there's electricity of a different sort in the air around St. Pete Beach.  The atmosphere has that sense of an imminent significant storm event.   Outside, the tents have been taken down, loose items have been moved indoors, and the windows have been covered.

But inside the Sirata Beach Resort and conference center at St Pete beach, 40 miles southwest of Tampa, the partying goes on.

And Christie is playing to the crowd. 

Tanya Freeman is one of 500 honorary delegates who paid her own way down along with her mother and twin daughters to see Governor Christie give the keynote address Tuesday night.

Freeman is  African American, lives in West Orange and practices law with her husband in Jersey City. She's proud of the "ascension of a black man to the Presidency" and says it was a significant milestone the nation. But Freeman says the last four years have been economically hardest on African American households.

"But at the end of the day we have to look at the economics of our country" and the impact of the last four years on both the "unemployment rate and foreclosure rate among our people."

On Monday, Christie made the rounds – stopping by breakfasts at the North Carolina and California delegations.  At the California breakfast, he he had the crowd laughing with his polished stand up routine.

He did a pretty good imitation of former Governor Jon Corzine. He offered a behind the scenes account of how at a White House state dinner, a US Marine helped Governor Christie and his wife Mary Pat bounce Barbara Streisand and her husband James Brolin from the Christie's assigned seats.

But the crowd responded best when Governor Christie went after Democratic Governor Jerry Brown. "California made a bad choice by going with an old re-tread," Christie said. "Now I don't want to be insulting this morning because its early and I have plenty of time to be insulting the rest of the day. But Jerry Brown? Jerry Brown? He won the New Jersey Presidential primary over Jimmy Carter when I was 14 years old."

He chided Brown for leaving the question of raising taxes to California voters. "Now that's leadership!" Christie said mockingly.
 
Christie told the Golden State Republicans that they should not accept their blue state status as a fixed destiny and used his improbable win in 2009 that even in the bluest of states a Republican can prevail.

"And so I want 2012 to be a launching pad for California and California Republicans," Christie said. "Tons of people in New Jersey" didn't think the GOP  could win because "we hadn't elected any Republican state wide, any Republican in 12 years. We haven't elected a Republican to the United States Senate in 40 years."

The California event was sponsored by Hewlett Packer, Chevron, Pacific Electric and Gas and several others.

As the long list of corporate patrons was read aloud Christie was off for another appearance spreading the GOP gospel – all before lunch.
On Tuesday morning, the day of his keynote, he'll be on ABC's Good Morning America, CBS' This Morning, NBC's Today Show, and MSNBC's Morning Joe.