You may recall that back in July, we updated you about our listener Ted in Atlanta, who pledged to get busy in his design studio this summer as part of our Soundcheck Summer Resolutions project. His idea was to design a piece of furniture facilitating the "playing of, listening to, or storage of music or an instrument." Last month, he sent us his first batch of sketches, which included a music note-inspired chair, wire-welded music staffs, and a demisemiquaver shelving unit (amazing). 
Well, since then, Ted has been dreaming and sketching up a storm. And he's documented the whole thing on his website. Browsing through his ideas is a lot of fun: I especially liked his ideas for blowing up smaller objects to furniture size like a mega boombox that could serve as a dresser or storage unit, and oversized earbuds that hang from the ceiling holding speakers.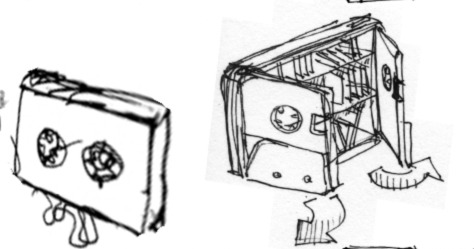 Ted says that he hopes to move forward with one of the designs soon -- most likely with the idea of creating a CD storage unit that, on the outside, looks like a big cassette. He's even tossing around the idea of letting consumers create their own label for their "tape." A
s long as you don't have to wind it up with a pencil, it sounds good to me.