Last Chance Foods: Cool Cukes
With farmers markets currently offering everything from lemon cucumbers to Asian cucumbers, author Mindy Fox said now is the time to try the different varieties. Cucumbers are at the peak of their season, and many types provide a welcome contrast to their conventional watery and waxy brethren.
"It's one of the most exciting veggies at the market," said Fox, the editor of La Cucina Italiana magazine and the author of Salads: Beyond the Bowl. "Even though we have corn and beets and all the summer peaches and everything, I go nuts for cucumbers." 
That's in part because cucumbers are so versatile, thanks to their subtle, grassy flavor, she explained. While the fruit (that's right, cucumbers are considered a fruit) can be a star player in any salad or cold dish, "they also are great equalizers for other ingredients," Fox said. "For example, if you make a cucumber and pineapple pico de gallo, they kind of counterbalance the sweetness of the pineapple, or you can use them with beets and they counterbalance the earthiness." 
Cutting cucumbers in different shapes also changes the texture and quality of the fruit. Fox particularly likes to use her mandolin to thinly slice cucumbers to make a vegetable-based carpaccio. Though cucumbers may not pack the same nutritional punch as other late summer fruits and vegetables, they do have a high water content that makes them refreshing on warm summer days.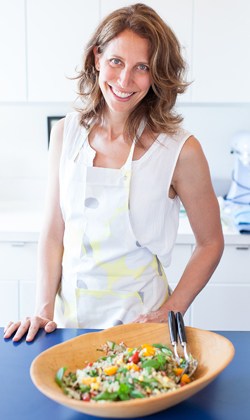 A fan of the popping crispness of cucumber seeds, Fox pointed out that lemon cucumbers have a particularly large seed pod. "When you cut open that one," she said, "you'll see and understand the relationship of cucumbers to melons, which they're actually in the same family."
(Photo: Mindy Fox)
Some people may prefer "burpless" cucumbers, like long, thin Asian cucumbers because they are nearly seedless. "[There are called burpless] because some people, as they digest a cucumber, they end up having a burping reaction, and that is because they're not digesting the seeds well," Fox explained. 
Asian cucumbers are about an inch in diameter and slightly curved. They are similar to the straight and uniform European cucumbers, also known as English cucumbers, which often come wrapped in cellophane at grocery stores. "Though they're not the same, they share that [burpless] property, too," Fox said.
Fox recommended making the most of this season's cucumbers with a salad recipe (below) that pairs them with heirloom tomatoes and fresh herbs. "[This recipe is] one of my favorites," she said. "It's really easy to do and it's super duper refreshing."
For those looking to add a little zing to their cukes, Fox also offered a recipe for Spicy Sesame Cucumbers.
Cucumber and Summer Tomato Salad with Fresh Herb Leaves and Barely Pickled Red Onion
By Mindy Fox
When summer tomatoes finally arrive, I keep a bowl of mixed varieties at the ready; they seem to make their way into nearly every meal of the day. Any type of good fresh tomato works well in this salad, and the same goes for the cuke, but when you can, use a mix of heirloom tomatoes—like teardrop, cherry, grape, or cocktail—and try an unusual cucumber—like the crunchy Armenian, the pale green, mild-tasting Persian or sweet, yellow lemon varieties—any of which might be found at a farmers' market or large supermarket. —MF
Serves 4 to 6
1 small red onion, halved and very thinly sliced
1 tablespoon red wine vinegar
Fine sea salt
2 1/2 pounds mixed tomatoes, cut into 1/4-inch wedges
1 medium cucumber, or 2 to 3 Persian or lemon cucumbers, very thinly sliced crosswise
1 cup loosely packed combination of mint, basil and tarragon leaves, large leaves torn
2 tablespoons snipped chives
Flaky coarse sea salt
Very good extra-virgin olive oil for drizzling
In a small bowl, toss together the onion, vinegar and 1/4 teaspoon salt. Let stand for 10 minutes, then drain, discarding the vinegar.
In a large serving bowl, arrange the tomatoes and cucumber. Scatter the marinated onion, herb leaves and chives over the salad. Crush several generous pinches of flaky coarse sea salt over the top then drizzle generously with oil.
Spicy Sesame Cucumbers
by Mindy Fox
Serves 3 to 4 as a side dish
These piquant cukes make a great accompaniment to any Asian meal; I serve them with Tea-Brined Five-Spice Roast Chicken from my cookbook, A Bird in the Oven and Then Some. They're also great with BBQ. Conventional, European or Middle Eastern (aka Persian) cucumbers all work well here.—MF
1 tablespoon sesame seeds
1 medium to large cucumber, preferably a skinny one, or 4 or 5 small Persian cucumbers
1/4 cup toasted sesame oil
1/4 teaspoon red pepper flakes plus more for serving
1/4 teaspoon fine sea salt plus more for serving
Pinch sugar
Heat the sesame seeds in a small skillet over low heat, shaking the pan back and forth occasionally, until the seeds turn a light golden brown, about 4 minutes. Remove the pan from the heat and let sit for a minute (the seeds will take on more color), then transfer the seeds to a plate to cool.
Trim the cucumber at each end, then peel lengthwise, leaving on thin strips of peel to create stripes. Cut the cucumber crosswise into 1/4-inch-thick rounds.
In a large bowl, whisk together the oil, red pepper flakes, salt, and sugar. Add the cucumber and toss evenly to coat. Use your hands to gently press each cucumber round into the pool of oil and spices in the bottom of the bowl so that each can pick up some of the salt. Transfer to a serving dish and use a spatula to drizzle all of the oil mixture over the cucumbers.
Using a mortar and pestle (or a spare spice or pepper grinder), finely grind the sesame seeds (seeds can be left whole, but have more flavor when ground). Sprinkle the seeds over the cucumbers, then sprinkle with additional salt and more red pepper flakes, if desired.