2 Dead in Empire State Building Shooting
A disgruntled former women's accessories designer shot a former colleague to death Friday and then was killed in a shootout with police near the Empire State Building that left nine others wounded, officials said.
Some victims in the shooting may have been hit by police bullets, officials said. The nine people wounded in the gunfire after 9 a.m. on the Fifth Avenue side of the building were expected to survive, police said.
Jeffrey Johnson, 58, was laid off about a year ago from Hazan Imports and targeted a 41-year-old former colleague, shooting the man in the head, Police Commissioner Raymond Kelly said.
The victim was identified as Steven Ercolino, a vice president at the company, according to authorities.
A man who answered the phone at Hazan Imports declined to comment. The company made headlines in 2003 when it was sued by Louis Vuitton for trademark infringement, Women's Wear Daily reports.
Nicholas D'Aurizio, a designer who works at Hazan, said Ercolino could be a bit "abrasive" and was a "hot head." He described it as a small office, of between five and 10 employees. He said he did not know the gunman.
A construction worker followed Johnson, tipped off police nearby. Johnson turned his .45-caliber pistol on officers and they returned fire, Kelly said. Johnson was shot and killed by police, who fired 16 rounds.
"These officers ... had absolutely no choice," Kelly said. "This individual took a gun out very close to them and perhaps fired at them."
It's not clear if Johnson opened fire on the officers, but Mayor Michael Bloomberg said some of the nine wounded may have been shot by police in the mayhem.
Kelly said investigators believe police may be responsible for some of the injuries, based on the gunman's weapon. Johnson's semi-automatic weapon, which was legally purchased in Florida in 1991, was equipped to fire at least eight rounds; at least one round was left in the clip, police said. Another loaded magazine was in his briefcase. 
Robert Asika, 23, was shot in the arm after he took off running from the location in front of the Empire State Building where he sells tickets for the City Sights a tourism company. He said Johnson pulled out a gun and pointed it at two officers. It was "crazy," he said, adding that he is convinced he and others were shot by police bullets.
"The way the guy was standing, there is no way it would have been the guy. It was the police officers who hit everybody that got hit," said Asika.
He added, "One of them shot me in the arm, and I fell. I didn't even know until I got to the end of the street and I saw the blood."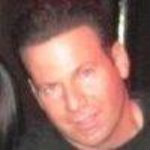 Erica Solar, 30, a married receptionist from the Bronx with two children was walking to Dunkin Donuts for a cup of coffee when she was shot in the left leg behind her knee, her brother said.
"She went to get a cup of coffee and that's when she heard the shots," her brother, Louis Lleras, 32, said outside Bellevue Hospital. Solar, who had an 10-year old and 13-year old, did not realize she was shot, he said.
(Photo: Steven Ercolino was shot dead Friday. Courtesy of Linkedin)
Media Rosario, 43, a secretary from Ridgewood, Queens, who works in Midtown, was walking to work when she was shot in the back of her right leg. Her sister-in-law said she was in stable condition at the hospital.
"She was walking across the street from her job. She said she heard a gun shot … By the time she turned around, she was hit," Auselis Rosario said outside Bellevue Hospital.
After the shootout, crowds of tourists and people on their way to work gathered along 34th Street, which was shut down by police. Police helicopters buzzed overhead and swarms of officers were gathered around the crime scene.
Gloria Walker, who was walking to her midtown office from Penn Station Friday morning, said she heard the "pop, pop, pop, pop" of gunfire and ducked into her office on 33rd Street and Madison. When she came back out, she saw a man who she described as the shooter lying on the ground.
"Then I saw the shooter laying over there in front of the Empire State Building," she said, describing the man as a white male with beige pants.
She said she also saw two others loaded into ambulances.
The surviving victims of the shooting were taken to two area hospitals, Bellevue and NY Presbyterian. Mayor Bloomberg visited Bellevue, where six of the victims were treated. According to the police, six of the nine bystanders were treated and released from the hospital Friday. Three were admitted for non-life threatening injuries.
Fred Mogul, Jim O'Grady, Yasmeen Khan and the Associated Press contributed reporting
The NYPD released video of the gunman's death. It contains some graphic material.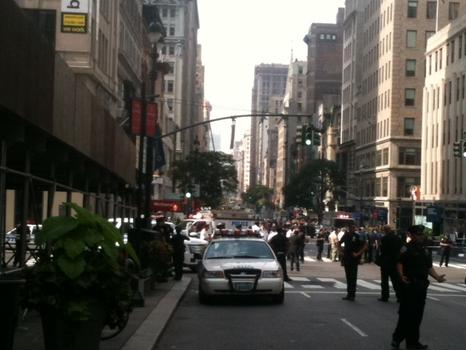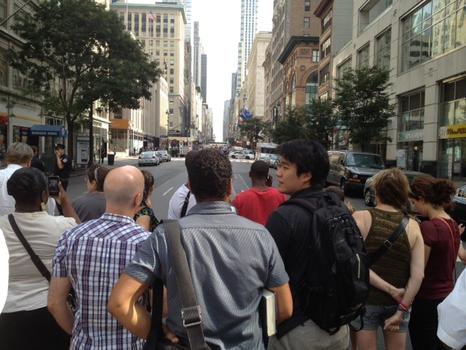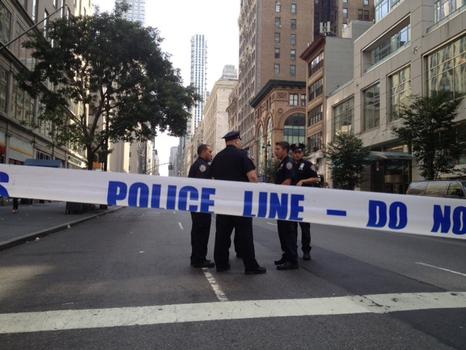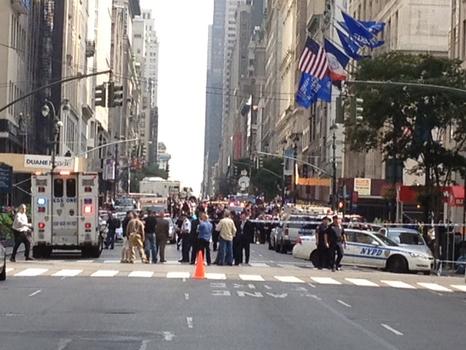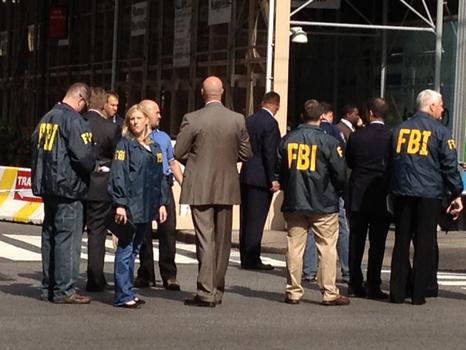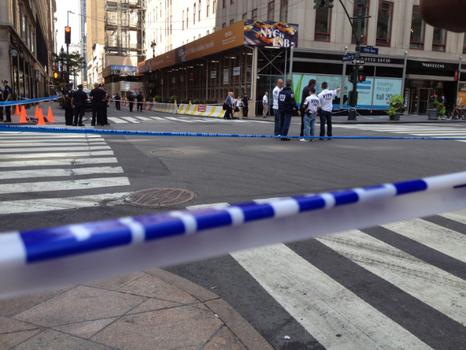 of