Fracking Opponents Crash Cuomo Event Ahead of State's Decision
A protest against the natural gas drilling technique of hydraulic fracturing disrupted a conference attended by Gov. Andrew Cuomo on Wednesday.
At the Sheraton Hotel in midtown Manhattan, men and women in business attire checked their Blackberries, schmoozed and listened to a panel discussion on clean technology, as over 100 protesters gathered outside. At same time, two protesters had slipped into the ballroom and planted themselves just tables away from Cuomo. The man and woman appeared to be attending the conference until they stood up and interrupted the discussion, unfurling a banner against the process commonly known as fracking.
The governor's security detail closed in on the couple, but not before the woman collapsed after pretending to drink a glass of poisoned water. The man was escorted out immediately.
After the event, Cuomo said there's a lot of emotion surrounding the issue of fracking in the state. "The demonstrations, we've seen them pro, and we've seen them con, all over the state," Cuomo said. "Let's make the decision on the facts. Let the science dictate the conclusion."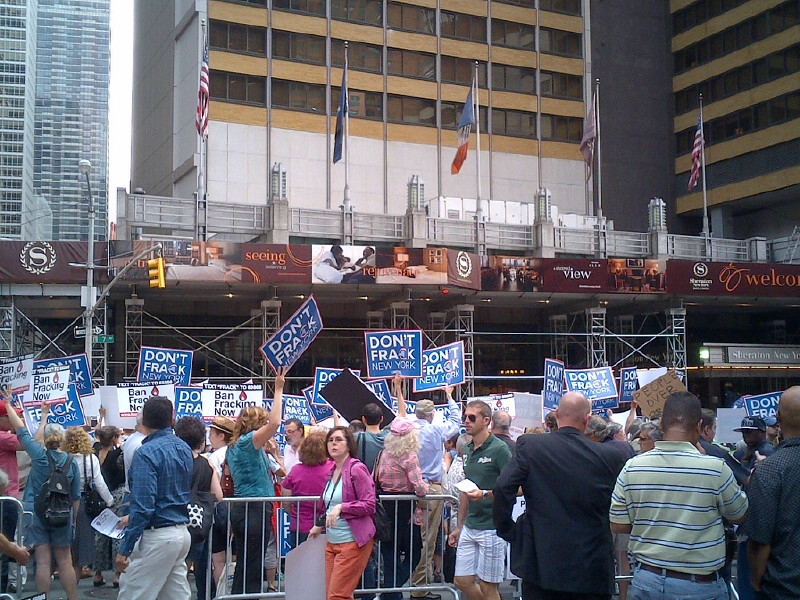 (Photo: Fracking opponents protested outside a Midtown Manhattan hotel where Gov. Cuomo was attending a conference. Brigid Bergin/WNYC)
The governor's environmental officials are expected to reveal their plans for limited fracking in New York communities after Labor Day. Both sides are gearing up for the announcement by running ads to try to sway the public to their point of view.
Industry and business groups that support fracking have been running advertisements for the past several weeks featuring real people who live in the Marcellus Shale region in New York's Southern Tier, and who say they want the natural gas drilling to begin.
"I support the safe and responsible development of shale gas because it will be good for my county," one woman in an ad said.
Cherie Messore, with the Independent Oil and Gas Association, a gas industry lobby group that is helping pay for the ads, said the comments in the ads are "sincere, unscripted, genuine comments."
Katherine Nadeau, with Environmental Advocates, has been fighting for greater health and safety protections if fracking is allowed in New York. She doubts New Yorkers are being swayed the industry ads.
"I don't think they're going to fall for glitzy ad campaigns and for rosy promises," Nadeau asserted. She counted in other states fracking has led to water contamination and other "serious community impacts."
Anti-fracking groups have begun running their own ads. One from the Washington, D.C. based Food and Water Watch features a man lighting the water from his kitchen faucet on fire. It also targets Governor Cuomo directly, and claims that 50 percent of gas wells fail eventually, causing potential environmental harm.
Both sides will face a challenge convincing New Yorkers of their point of view. Steve Greenberg, spokesman for Siena College polling, says the public is split on the issue, with 39 percent for fracking and 38 percent against it.  Greenberg says politically, it's a "lose- lose" situation for the governor.
"An elected official's worst nightmare is when the voters are evenly divided, and that official has to pick A or B," Greenberg said.
Cuomo said the views of localities who don't want fracking "should be taken into consideration."  The comment give weight to a scenario of permitting a limited number of wells at first, confined to communities who have expressed a desire to begin fracking.
Both pro- and anti-fracking groups are anxiously awaiting the state's decision, in the form of a final environmental impact statement from the Department of Environmental Conservation.