NBA Owners Mostly for Romney, but Ballers All About Obama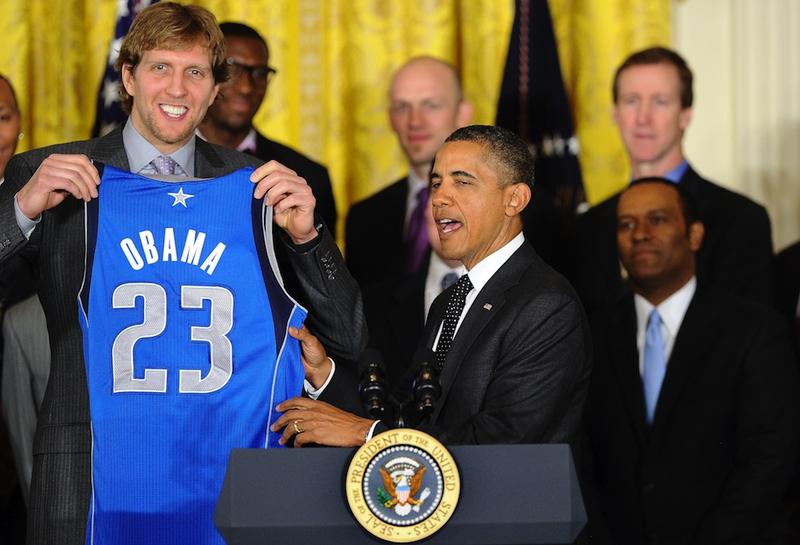 Owners of NBA teams may have given more money to Republican election efforts this year, but the players? That's a very different story.
After looking at which professional sports team owners were giving to which candidates in the 2012 presidential race, WNYC found that the fundraising enthusiasm gap between Obama and Romney was smallest among NBA owners – as in every other league, owners gave more to Romney, but the difference was just a little under $50,000.
When you include money donated by NBA players, Obama takes the lead.
Active players including Carmelo Anthony and Baron Davis of the New York Knicks, Grant Hill of the LA Clippers, and Vince Carter of the Dallas Mavericks have combined for $84,100 in donations to Barack Obama and the DNC this election cycle. Hill and Carter each contributed the max $35,800.
Added to the money given to Obama and related Democratic committees by NBA owners, the total comes to $299,300. And since WNYC couldn't identify a single active baller who's donated to Romney and the Republicans this year, that's a $20,000 advantage for the President among NBA owners and players.
That's not even counting the contributions from some coaches, former players, and the league commissioner himself.
Carmelo Anthony - New York Knicks - $5,000 to Barack Obama
Vince Carter - Dallas Mavericks - $35,800 - Barack Obama/DNC
Baron Davis - New York Knicks - $7,500 - Barack Obama/DNC
Larry Drew - Atlanta Hawks Asst. Coach - $500 - Barack Obama
Mike Dunlap - Charlotte Bobcats/Asst. Coach - $500 - Barack Obama
Patrick Ewing - Orlando Magic - Asst. Coach - $7,000 - Barack Obama/DNC
Grant Hill - LA Clippers - $35,800 - Barack Obama/DNC
Aaron McKie - Philadelphia 76ers - Asst. Coach -$500 - Barack Obama
Alonzo Mourning - Miami Heat VP Player Programs - $35,800 - Barack Obama/DNC
Gregg Popovich - San Antonio Spurs - Coach - $17,900 - Barack Obama/DNC
Doc Rivers - Boston Celtics Coach -$25,000 - Barack Obama/DNC
David Stern - NBA Commissioner - $30,800 - DSCC
So that player/owner donation total doesn't include the $30,800 David Stern gave to the Democratic Senatorial Campaign Committee. Or the combined $42,900 that came to Obama and the DNC from Celtics coach Doc Rivers and Spurs coach Gregg Popovich. Another $42,800 came from former players like ex-Knick Patrick Ewing and former Heat Center Alonzo Mourning—rivals on the court, but on the same team politically.
Ewing, Mourning, Anthony and Carter are all involved in a NYC fundraiser for President Obama on Wednesday, which includes a "fantasy camp," an autograph signing, and a dinner co-chaired by former NBA great Michael Jordan. The Space Jam star and Charlotte Bobcats owner hasn't contributed any money to Obama's re-election effort yet.
A few NFL players are also active donors, though more divided in their support for Obama or Romney than NBA players. Factoring them in doesn't do much to chip away at the healthy fundraising margin Romney enjoys among league owners, who have contributed more than twice as much to him as to Obama.
Josh Barrett - New England Patriots DB - $250 Barack Obama/DNC
John Beck - Houston Texans QB - $400 - Mitt Romney
Calais Campbell - Arizona Cardinals - DE - $5,000 - Barack Obama
Chris Carr - Minnesota Vikings CB - $751 - Ron Paul/Revolution PAC
Vernon Davis -San Francisco 49ers TE - $7,500 - Barack Obama/DNC
Jahri Evans - New Orleans Saints OG - $10,000 - Barack Obama/DNC
Tony Gonzalez - Atlanta Falcons TE - $1,000 - Barack Obama
Todd Heap - Arizona Cardinals TE - $2,000 - Mitt Romney
Thomas Keiser - Carolina Panthers DE - $201 - Ron Paul
Philip Rivers - San Diego Chargers QB - $2,500 - Rick Santorum
Antrel Rolle - New York Giants S - $10,000- Barack Obama/DNC
Takeo Spikes - San Diego Chargesr - LB - $5,000- Barack Obama
Kellen Winslow, Jr.- Seattle Seahawks TE - $1,500 - Barack Obama/DNC
Of course, there are thousands of pro athletes across the four major sports leagues. We may have missed a few when trying to find them in the campaign finance maze. If you've got a hunch there's one we've overlooked, help us out with a quick search on OpenSecrets and let us know what you find in the comments.
(Correction: We inaccurately listed Bob Johnson as the owner of the Bobcats in our owner-donor map, though Johnson sold the team to Jordan in the middle of Obama's first term. The team changed hands, but it appears not politics.)