Anna in the Swing States: Uneven Economy Leaves Florida Voters Cynical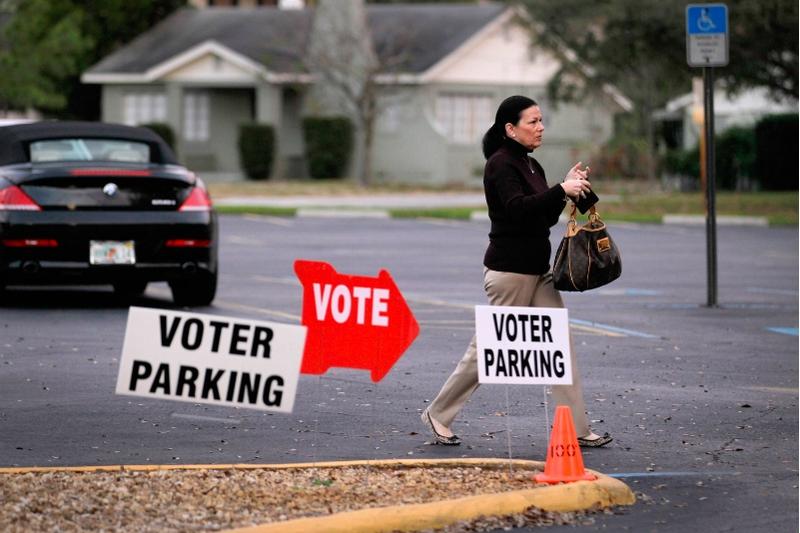 The unemployment rate has rapidly improved in Florida this year, but the overall recovery has been uneven at best. As Florida prepares for the national spotlight of the Republican convention, not even its most strident boosters are suggesting the state has fully recovered from the combined blows of a collapsed construction market, foreclosure crisis and job losses that started here in 2007.
It makes for an electoral paradox. Jobs and the economy is by far the top issue for Florida voters, but after five years of struggle, it is not clear how decisive their experiences will be in the voting booth. As President Barack Obama and Republican Mitt Romney's campaigns hammer on their messages about the economy, those who are still struggling don't have much hope that a single election will offer salvation.
"If you were the king of America I don't think you could necessarily solve the economy," independent voter Larry Scarinci said during his lunch break last week. "I don't know whom to blame. I personally believe the economy is too complex to talk about any one person."
Scarinci, who works construction, sat in the middle of a bustling lunch rush at West Tampa Sandwich Shop, a local favorite that specializes in Cuban sandwiches and garbanzo bean soup. Most of the tables are full, but owner Pedro Barrionuevo said business is still not what it was before the housing market crashed.
"It's a little bit slow," he said. What's missing now is the early-morning rush of construction workers, who used to stop by to pick up sandwiches on their way to work. "All those customers go," he said. "It's not like before."
The rapid bust and slow rise in Florida's economy tracks the national trends, but with steeper extremes on both ends. As the national unemployment rate declined in steady increments over the last year, Florida's improved by two full points. When that improvement leveled off nationally, Florida's ticked up a little more.
It's been more than four years that the state's joblessness rate was better than the national average. It now stands at 8.8 percent, half a point higher than the national rate, but much improved from its high of 11.4 percent during the winter of 2010.
Still for some, particularly construction workers or those already vulnerable, it doesn't feel that things have yet bottomed out.  
"Things haven't gotten any better," said Scarinci, who works for a general contractor. Politicians may be pointing to encouraging signs, he said, but "they certainly don't look at the world through my glasses. Theirs are obviously a little more rose-colored."
For him, work is still unsteady—about three out of every five days, he estimates—and the jobs he does get are much smaller than before.
"You think you're going to get on your feet just to fall back down," he said. "It would be nice if things got better. To be quite frank with you, whether it's a Democrat or a Republican who gets the ball rolling, just so long as it gets rolling, I don't care."
The Wrong Kind of Growth?
Tampa's business boosters are trotting out local business success stories as the GOP convention nears, but they tend not to highlight the fastest-growing sectors across the state. Most of Florida's new jobs this year come from either the restaurant industry or health care. The bad job market is responsible for the fastest-growing sector: "employment services," which includes temp and staffing agencies.
"Despite the fact that economic developers might have wished other parts of the economy that pay better or had a more 21st century feel to it would be improving faster, it's actually tourism that's forming the basis for our rebound," Robert Trigaux, business columnist for the Tampa Bay Times, told me. "Other parts are taking longer."
But the mixed economic indicators offer a storyline for everyone, including Republican Governor Rick Scott who wants to tout improvement under his watch and Republican presidential nominee Mitt Romney who argues progress isn't coming fast enough.
"What I enjoy more than anything is watching the governor of the state Florida say how good things are and the Republican nominee, Governor Romney, say how bad things are in Florida," Tampa's Democratic Mayor Bob Buckhorn said gleefully last week. "I'm going to let them fight among themselves." 
Mayor Buckhorn jokes about the other side jockeying for political advantage, but agrees that the lagging housing market, high rates of homelessness, and the hobbled construction sector are the unfortunate aftermath of pre-recession excesses
"There is a realization that you can't build a sustainable economy based purely on real estate. Florida was a crack addict for real estate. We built subdivisions for people that didn't even exist."
Still, Buckhorn is squarely in the things-are-improving camp.
"Remember, rising tides are going to float all boats eventually," Buckhorn said. "There is an excitement about Tampa, but it does take a while for all of those boats to be affected."
The Drain on Social Services
But Tampa has a lot of lagging boats. The metropolitan area has the highest rate of homelessness in the country, and the local need for emergency housing and food assistance is still on the rise.
"The demand, everyday, it's growing," said Tim Marks, the president of Metropolitan Ministries, a Tampa shelter and food bank. "Even though there may be some statistics that say unemployment's getting better, we're still seeing families that have been coping through the crisis, but now have run out of rope."
At Metropolitan Ministries, which is primarily funded by private donations, requests for housing assistance were up 17 percent over the last year, while requests for food were up six percent.
Dalenny Jimenez is one of those new clients. She moved into an emergency apartment at Metropolitan Ministries this summer with her 1 year-old son this summer. She was laid off in February from her job doing customer service for a Medicare contractor.  Jimenez won't be voting in November—after immigrating from the Dominican Republican, she has a green card, but isn't yet a citizen—but she said she wished spending on social spending was a higher priority for government spending.
"People like me, we have a good background. Some of us need help, and building a different bridge can wait," she said. "We should be able to get the help we need, because it's not going to be something that is forever.
Jimenez is looking for work, but in one of the economic recovery's ironic turns, it's increasingly difficult to find low-wage service jobs even as they're on the rise in Florida.
"Going back five years ago, that was a fairly easy process to get them a job. Now it's a real challenge," said Pastor Tom Atchison, a Pentecostal minister who serves a daily hot meal to homeless Tampa residents. "There's 1,000 people for every job out there."
Along with more competition for jobs, Atchison said. Other programs helped in the past, like free bus passes, have gone by the wayside. So there are more people in the pipeline for help, and it's getting more difficult to move them through it. 
"It's like the Matrix movie where there are two different worlds," he said. "There's a whole system out there of homeless camps and people that are homeless that have finally resigned themselves to the fact that they're not going to get off the street. They feel their situation is hopeless."
But watching all this close up hasn't helped Pastor Atchison decide which way to vote in November.  He told me he typically votes Republican because of religious issues, but he's not sure yet whom he will support in November — or how much any of it will change the reality on the ground in Tampa.
"I think they're both concerned. The problem is there's no magic bullet," he said.  "There's just so much money to go around."
Meanwhile, Foreclosures Keep Coming…
While the rate of foreclosures has declined by ten percent over the last year, Florida's foreclosure rate went up in July, both over the previous month and over a year ago. These homeowners have arguable had the most intimate with the government as Washington and the state of Florida have rolled out and tweaked programs to help.
Tampa resident Candy Gonzalez has been trying to navigate it all since she and her husband ran into trouble with their mortgage payments late last year.
"We started falling behind and tried to seek help," she told me at a foreclosure workshop organized by a local nonprofit at a local hotel. "I was informed it was too new of a program, and nobody could really speak to us. To check back in another month or so."
The emotional and financial toll has been "earth-shattering," she told me. "If you want to keep your home, you've got to keep fighting. But I mean, a true fight. You have to be persistent. You have to be on the phone constantly, holding for an eternity. It's work."
Her family's financial difficulties started after she lost her job at a nonprofit in the spring of 2010. She searched but couldn't find work until she was rehired nearly a year later, and had to dig into savings to cover bills left after her unemployment.
"It gets to the point where you're like, geez, where's our protection from our government?" she said. "You don't have a lot of security in whichever way you turn. You just feel defeated."
In the midst of all the attack ads focused on the economy, Gonzalez said she's not hearing anything from the presidential candidates that speaks to her situation. "I don't feel like they are. The middle class people are carrying a lot of load for the American people."
For now, Gonzalez said she's not sure who she'll vote for, but it will probably come down to party over any particular economic proposal.
"Being Republican, I'll probably vote Republican," she said.