In Monied Conn. Suburb, A Dearth of Affordable Dental Care
Alison Patnick warns that her mouth is especially sensitive today — with a new infection in her cheek, in addition to her year-old toothache and her usual hair-trigger gag reflex.
She grimaces as Dr. Greg Busch prods the area.
"It's an abscess, isn't it?" Patnick asks.
"Yes it is," he says.
Patnick, a British immigrant who lives in nearby Stamford, Conn., is one of several dozen people from around the region who converged on Old Greenwich Dental Associates on Friday for a free exam, extraction or filling.
With a median household income of $161,000, Old Greenwich is among the richest towns in the country. But Busch says the South Bronx and rural Kentucky aren't the only places where people aren't getting adequate oral healthcare.
"There's people everywhere who don't have a job and don't have the insurance," Busch said. "And people end up in pain, and they need to have something done, and some of those people are from Greenwich and Norwalk and Stamford and Bridgeport."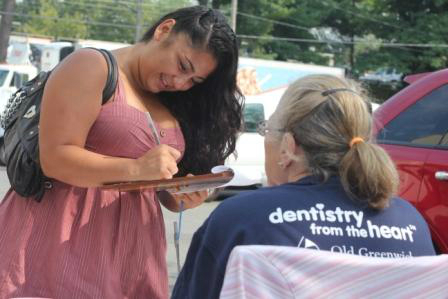 This is true even in a state where almost eight out of 10 adults have seen a dentist in the last year, a higher rate than anywhere else in the country, according to the Centers for Disease Control and Prevention.
(Photo: Stephanie Lagos, 28, from Greenwich, heard about the free dental clinic from a friend. She was recently laid off, when business slowed down at the lawn care company where she was an office assistant. Fred Mogul/WNYC)
Many of those who came for the free clinic previously had good dental coverage, but lost it when they lost their jobs.
Unlike most people here, Patnick actually does have dental insurance, but it's so minimal, that as far as her toothache is concerned, she might as well be one of the more than 100 million Americans without it.
Patnick used to be the office manager for 30-person law firm. She now works for a temp agency and hopes to find something better soon -- before she uses all her money up on two root canals, an extraction and deep periodontal scaling, an estimated $6,500 worth of treatment.
"I'm making 20 percent of what I used to make and paying for these very minimal benefits," Patnick said. "But I'm happy to have something and happy to be back in the workforce, and I hope it springboards me onto the next thing and back to where I was."
Busch is doing the annual free care day for the second year in a row through a program called Dentistry from the Heart.
"It's a good turnout," he said. "I've had a lot of people coming in and just thank us, and that's the most important thing."