Studio 360
Michigan Voters Raise Property Taxes for Art Museum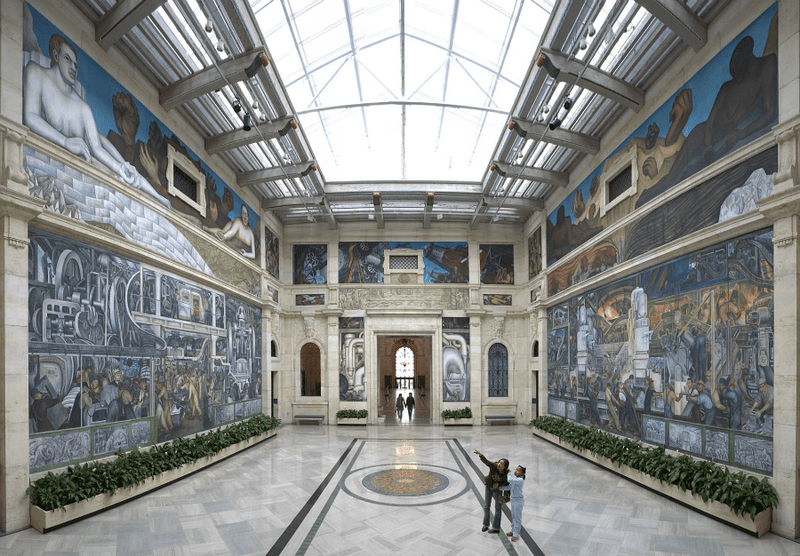 Talking about raising taxes during an election year is considered political suicide. Raising taxes to pay for the arts is beyond the pale.
But that's exactly what three Michigan counties did on August 7. Residents of Macomb, Oakland, and Wayne counties voted to raise their own property taxes a fraction of a percent to help fund the Detroit Institute of Arts. The 127-year-old museum, which is home to work by Vincent Van Gogh and Diego Rivera, has struggled for years to sustain itself with diminishing government funding. (The Detroit Free Press has reported extensively on the DIA's financial situation.)
"We needed to change our financial model," Annmarie Erickson, the DIA's Executive Vice President and Chief Operating Officer, tells Kurt Andersen. The museum has a low endowment (about $100 million) for an institution of its caliber. However, instead of cultivating that funding source, the administration has had to focus its fundraising activities on keeping its doors open. With the estimated $23 million annually from the new .02 percent property tax millage, Erickson says the DIA will get some breathing room and the chance to build its endowment. The tax expires in ten years.
Although the referendum faced its hardest sell in the traditionally working-class Macomb County, it managed to pass there with just 51 percent of the vote. Part of the deal was that residents of counties that approved the measure would receive free admission, and even people who aren't regular museumgoers like a perk. Attendance has already tripled over what it was this time last year, Erickson says, and the referendum was undoubtedly a boost to marketing as well. Maybe talking about taxes isn't always political death after all.
Music Playlist
Detroit 442

Artist: Blondie

Album: Plastic Letters

Label: Capitol