Give Me Shelter: Families Overwhelm Remaining Housing Subsidy
Cruz Santos has her purse on one arm and a folding chair on the other. She's ready for a long wait.
"I left my house at 5:30 in the morning," she said outside the offices of Bronxworks on Jackson Avenue.
Her family is facing eviction. Santos has been at this local non-profit several times trying to apply for the Family Eviction Prevention Supplement, or FEPS, but there's never any appointments left. "Two weeks ago I came. I could've been ahead of the game by now," Santos said. "But they turned me back and I'm here back again."
Santos lives in a one-bedroom apartment in the Bronx with her four kids, who range in age from 12 to 8. The whole family sleeps in one room. She's supporting them on a $9 an hour job at Starbucks.
Bronxworks and other non-profits have been overwhelmed by families facing eviction and seeking the housing subsidy. The government program provides up to $7,000 in back rent and ongoing help with the rent. It's become a lifeline for those trying to avoid ending up in a city homeless shelter.
Santos, herself, has been in and out of shelter three times. In fact, the family moved into the apartment from a shelter in April. She was desperate to leave, so she took her income tax rebate and rented a $1,200 apartment even though she knew she couldn't afford it.
Families trying to find help often shuttle between local non-profits and housing court. Recently, the line to get into Bronx housing court was a block long, according to one worker. Inside, tenants wait on benches or huddle with suited lawyers as restless kids play games on their parent's cell phones. Attorney Jack Newton works for the Legal Aid Society and has a tiny office on the Bronx housing court's 5th floor.  "We started seeing the number of people show up at our door here in housing court double and triple," Newton said. "All of them saying the same thing…'We can't get FEPS. I'm being turned away. They say they're closed.'"
Newton says people are panicking because eviction proceedings move quickly and applications for the FEPS aren't being processed fast enough, if at all.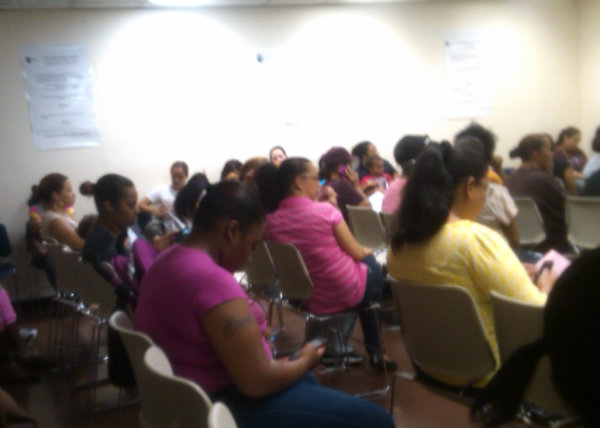 (Photo: People wait inside Bronxworks to apply for FEPS.Cindy Rodriguez/WNYC)
A perfect storm has led to the high demand for the housing subsidy, advocates say. First, there is the lingering effect of the recession. The Bronx has a 14 percent unemployment rate, the highest in the entire state. Next, the federally funded Section 8 housing voucher, which allows families to only pay 30 percent of their income in rent, has been unavailable since 2009. The wait for public housing is also long, exceeding 100,000 households, according to Newton.  And in February, the city and state ended the Advantage Housing program. It helped families move out of shelter into their own private apartments by subsidizing rent for two years.
"FEPS is the only thing you can do," Newton explained.
State budget cuts are also impacting the non-profits hired to process FEPS applications. Carolyn McLaughlin, director of Bronxworks, said a 45 percent cut in funding in October forced her to lay off 10 people.  "Staff has been working really, really hard but they just can't handle the volume of people that need this type of help," McLaughlin said.
Last year, according to Legal Aid, non-profits such as Bronxworks prepared 6,000 FEPS applications. This year's numbers aren't available, but Legal Aid suspects the demand is much higher.
Legal Aid is suing the city and state arguing that government agencies are effectively blocking people from receiving help by not processing applications fast enough. Human Resources Administration Commissioner Robert Doar acknowledged the problem.  "That's something that we've have been talking to the state about — methods that we can use, and they can use, to make it work better" said Doar.    
According to Doar, FEPS is valued by the city, and it has successfully kept people housed and out of shelter — an important goal for the city at a time when shelter numbers are increasing. Nine new shelters have opened in the last two months.
To keep the problem from growing worse, Doar said the city is trying to identify cases where eviction is most imminent so those families can be bumped to the front of the line for the FEPS  subsidy.
Outside of Bronxworks, all the people on line felt their pending eviction was imminent.
Brenda Lewis showed up at 7:30 a.m. with her toddler in tow. She said she could see her eviction coming. Lewis had been working for the city's Parks Department in a temporary position. Now she's waiting on unemployment or another job, as well as a housing subsidy.
"I don't want to be homeless. It's so many homeless people nowadays. When you get on the train, everybody's begging for money," Lewis said emphatically.  "I just don't want to be homeless."
A light rain fell as Lewis and the other women shared umbrellas and continued to wait patiently in line.