Wynton Marsalis in Conversation
This season, Wynton Marsalis marks 25 years at the helm of Jazz at Lincoln Center. To celebrate this milestone, Marsalis sat down with Elliott Forrest, the Peabody Award-winning radio host of WQXR and WNYC.
They talked about the early days of JALC, how the trumpet found Marsalis, the very different roles his parents played in his life, the history of Jazz, music education and in a rare demonstration, Marsalis recreated the playing styles of other trumpeters, including Clark Terry and Miles Davis.
The event from which this special was created was held on June 5, 2012 in The Jerome L. Greene Performance Space and included two performances by Marsalis and members of the Jazz at Lincoln Center Orchestra playing "Comes Love (Nothing Can Be Done)" and "Free To Be."
Performers include:
Wynton Marsalis, trumpet; Walter Blanding, saxophone; Dan Nimmer, piano; Carlos Henriquez, bass; Willy Jones, III, drums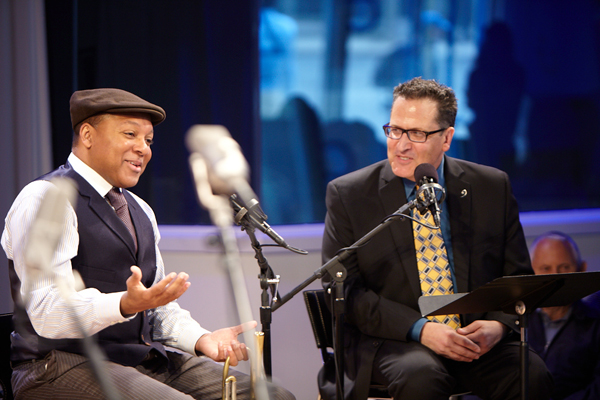 Wynton Marsalis being interviewed by Elliott Forrest in The Jerome L. Greene Performance Space, June 5, 2012.