A Recent Grad Pins Hopes on Deferred Action as Undocumented Youths Prepare to Apply This Week
On a recent sweltering afternoon, Yelky Pérez went to pick up her diploma at Baruch College in Manhattan, where she graduated from in May with high honors.
It is a landmark moment for any college graduate, but it was especially important for the 20-year old who came to the U.S. from the Dominican Republic seven years ago — illegally.
"I feel like I've done it," Pérez said, holding her diploma, "despite all the times that I felt discouraged, all the times I felt in question what was going to happen after college."
This week, Pérez and tens of thousands of other undocumented immigrants in New York state and others from across the nation who came here as children and meet certain requirements will be able to apply for a two-year relief from deportation and a work permit.
The Department of Homeland Security will begin accepting requests for deferred action on August 15. The Obama administration announced the significant change in immigration policy in June.
To qualify, immigrants must have arrived in the U.S. before their 16th birthday, be under the age of 31, and have lived in the U.S. for at least five years. They also need to have a high school diploma or a G.E.D., or currently be in the process of getting them. They also must not have been convicted of a serious crime.
Critics of the deferred action program say President Barack Obama circumvented Congress with the goal of improving his chances of winning the elections, and that the move would lead to delays in processing applications for legal immigrants.
A senior DHS official said processing applications for deferred action could take months, although it is too difficult to determine the exact timeframe. He added other applicants, such as those waiting for green cards, would not experience longer wait periods.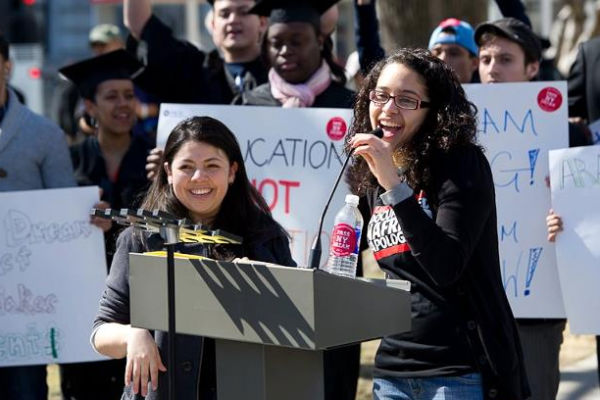 (Photo: Yelky Pérez Speaking at a Rally in Albany. Courtesy of Yelky Pérez)
Pérez, who has an easy smile and long curly hair, came to the U.S. in 2005, when she was 13. Four years earlier, her father Julio came to New York illegally from the Dominican Republic.
He began working as a garbage collector and then worked his way into the construction trades, earning enough to bring his wife and three kids to the Bronx, where they rented the first floor of a privately owned home.
Pérez didn't speak English when she arrived in New York, and struggled at the now-shuttered Adlai Stevenson High School in the Bronx. But 1-1/2 years later, she was in English honors classes, and things changed.
"For me high school became a totally different experience," Pérez said. "Once I learned English, I was able to be part of student government. I became the president of the National Honor Society of my school."
Julio says he watched his daughter graduate as the valedictorian of her high school class and worried.
"It's been tormenting me," he said. "It's kept me from sleeping day and night because I felt at fault."
Julio worried he made a mistake by bringing his daughter to the U.S. and raising her expectations on what would be possible after graduating from college.
"I brought her so she could study, so she could become a professional, so she could have a career, so she could be someone in life," he said.
When he learned in June that there would be a new policy allowing children of illegal immigrants who meet certain criteria to stay in the country, Julio said it was  "the greatest happiness" he has experienced since arriving here.
Pérez said always knew she was undocumented, since she arrived as a teenager, but she cautiously kept her status a secret even as she became an advocate for the failed Dream Act, a bill that would have provided conditional permanent resident status to qualified undocumented young immigrants.
After if failed to pass the Senate in 2010, Pérez said she felt it was the right time to come out.
"I want to be able to tell my own story," Pérez said, recalling what she was thinking at the time. "I don't want to keep on hiding. "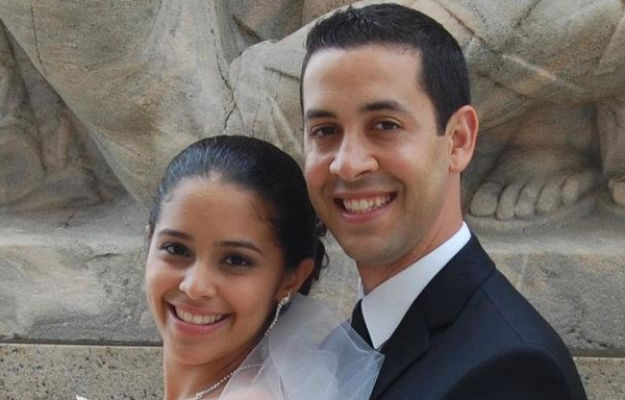 (Photo: Yelky and Melvin Pérez's wedding. Courtesy of Yelky Pérez)
Even her best friend, Yudit Grullon, 23, a student at Baruch College, wasn't aware of her undocumented status, but said situations from the past, like those where she tried to persuade Pérez to find a job with her, or that they travel to the Dominican Republic together and the excuses she used to make now made sense.
"I started making that connection between the things that she used to tell me … and her situation," Grullon said.
Pérez currently has an off-the-books job at a small publishing company in mid-town Manhattan.
"When I started working I was very excited because… I thought it was going to be very difficult to find jobs," Pérez said.                    
She said she felt grateful when this position was offered to her in March. Her responsibilities include preparing manuscripts for publishing to answering phones, but she says the administration's announcement came at the right time for her.
"I'm still just getting paid $300 a week for 45 hours of work," Pérez said. "I need to go somewhere else where there's room for growth."
Pérez said she has a few important things on the list that she'd like to do if she's granted deferred action: getting a legal job, getting a driver's license and traveling the country.
"I'd like to go the Grand Canyon, and I would also like to go to Florida, to California," Pérez said. "I'd like to go to Las Vegas - not for gambling."
The traveling part is something she'd like to do with her husband Melvin Pérez, who's 34, and works in IT. The two usually come home together, cook dinner and watch movies in their Inwood apartment. On weekends, they play board games, like Risk and Cranium, with friends.
Melvin is a U.S. citizen, but Pérez hasn't qualified for a green card through marriage because of the circumstances of her illegal entry. Melvin describes their dreams as those of many couples: raising a family in the suburbs. But trying to plan a future when one half of the couple is undocumented, he says, is fraught with complexities.
"You don't have any papers," Melvin said. "You don't qualify for the mortgage and the loan. You're not going be able to co-sign with me. You're not going to make the money you deserve based on your degree. You may be deported."
Melvin says the deferred action initiative makes the suburban family life seem possible.
In the hallway of Baruch College, after picking up her diploma, Pérez took stock of the other documents she's prepared: school records, passport, immunization cards.
Pérez will use her education, medical and financial documents to prove she satisfies the criteria for deferred action.
If approved, Pérez says she hopes she'll eventually fulfill her long term goal of becoming a surgeon.
"I have everything that I think I need," she said.