Medal-Winning NYC Athlete Returns Home to Cheers
Kids waving tiny American flags and holding paper and tin foil Olympic torches packed into the bleachers surrounding the steamy, sprawling Asphalt Green swimming pool to welcome Olympian Lia Neal back to New York.
Wearing her bronze medal and Team USA jacket, she entered the pool area, where she trains throughout the year, to chants of "USA."
Her parents were by her side, as was Mayor Michael Bloomberg. "Lia was just incredible in London," Bloomberg said to the crowd. "She swam a leg of the 4 x 100 in a spectacular 54.56 seconds."
Neal, a sprinter, has been setting records at this Asphalt Green pool since she was 10 years old.  "This is kind of overwhelming for all the best reasons," the shy 17-year-old athlete said.  "I'm just so lucky to have all of your support and I'm just so happy you guys are here to share this moment with me." 
Brooklyn Borough President Marty Markowitz, who was also at Asphalt Green to welcome her home, said, "Lia you did Brooklyn proud."
Neal, who was swarmed by reporters, said she wasn't nervous before her race. "I was so ready…I had been waiting for so long. This was the time to finally give it everything," she said.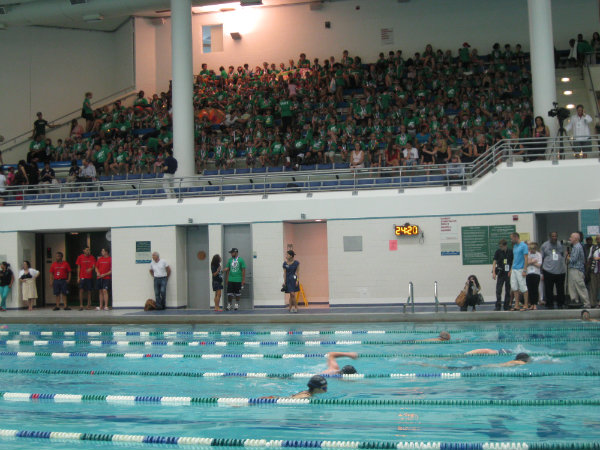 (Photo: Kids packed the bleachers of the pool area to celebrate Lia Neal's Olympic performance. Cindy Rodriguez/WNYC)
She didn't start thinking about her place as only the second African-American female to make the Olympic swim team until recently. "But it is a pretty great honor," she said. "It's kind of like making history."
It wasn't just the politicians and the kids that feted her. Celebrities such as Spike Lee and Mike Tyson have been supporting the swimmer. "All of these teammates of mine on the Olympic team they were like 'did you see Mike Tyson tweeted you, that's pretty awesome,'" said Neal. "And I'm like yeah it is."
But for Neal, the two people she praised where her parents. She broke down when she talked about the support her father, who is black, and her mother, who is Chinese, provided.  "They don't know how much they mean to me," she said through tears.