Well this one had us momentarily scratching our heads. On Wednesday, Beck announced that his next album will come not as a compact disc, nor as a set of downloadable tracks. Not even as platter of 180 gram vinyl. No, the next release from the shape-shifting musician will be his most unlistenable yet. Beck Hansen's Song Reader is a 20-song collection of sheet music -- all unrecorded, unreleased material, and "an experiment in what an album can be at the end of 2012."
Now, it's certainly not the first time Beck has experimented with distribution of his own music. In the four years since Beck's last full length record, Modern Guilt, he's remained especially prolific as a producer, as well as devoted himself to a host of interesting projects: from his web-based Record Club covers project to making music for video games. But the Song Reader (to be released by publishing house McSweeney's) takes his trademark playfulness and experimentation to the next level. 
Set for release in December 2012, (just in time for prime family-gathering season), the collection will look back to the days before recorded sound, when the only way to hear music was to cluster around the piano or take to the porch with a banjo for a group sing. And, that seems to be one of the missions of the project: "bringing [the songs] to life depends on you."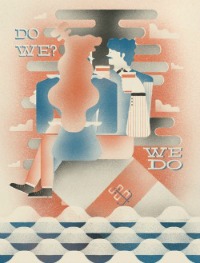 It seems like such a novel (or novelty?) release, complete with hardcover carrying case, and artwork by Marcel Dzama and others. But it's easy to see how something so old-timey could receive a most 21st century update.
To get some perspective, I called up Jonathan Hiam, curator of the American Music Collection and The Rodgers and Hammerstein Archives of Recorded Sound at New York Public Library. He knows his sheet music -- next to the Library of Congress, the NYPL has the largest collection of sheet music in the world (around 500,000 pieces), dating back to the 1750s. The heyday of sheet music in America, he told me, was in the mid to late 19th century, when it was all about parlour music: middle class households gathering around a piano. More than song books, individual sheets of music were a major business -- sold at department store counters, and through periodicals and publications like Ladies Home Journal or Godey's Lady's Book, which included music for popular ballads, waltzes and polkas in every issue.
I asked Hiam if he thought the collection from Beck might inspire a resurgence of parlour-style music making (particularly in light of the recent news that so many upright pianos are turning up in dumps and junkyards). He was doubtful, telling me he expected that the "party would go online."
Once the Song Reader drops, fans and fellow musicians can submit their versions online. Perhaps we'll even hear some of these songs recorded by Beck himself. And who knows, he could even get his own entry in the NYPL sheet music collection.
And then maybe he'll answer the question we've all been asking: When's the next Beck record?