Claressa Shields, 17, Wins Olympic Gold in Women's Boxing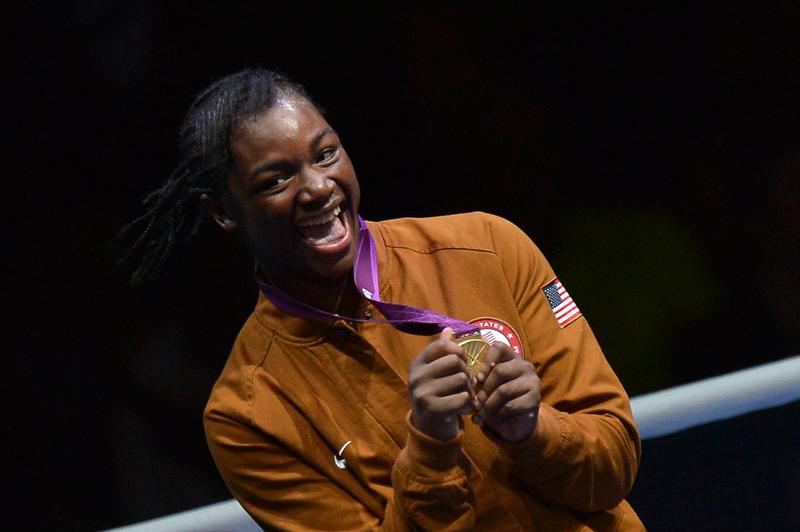 Seventeen-year-old Claressa Shields has dreamed of boxing in the Olympics since the International Olympic Committee voted to include it in 2009. In her head, she could hear the British announcer calling out her name, the crowd exploding in cheers. She's been planning for this moment for a long time.
So when Claressa stepped into the real Olympic ring in London Thursday to face Russia's Nadezda Torlopova, a boxer almost twice her age, she looked calm and confidant. She always does.
(Listen to our documentary following Claressa and the other women who competed for a chance to fight in London, Go For It: Life Lessons From Girl Boxers)
Her first round was imperfect, but she still won it. She took too many punches, and when she returned to the red corner for the one-minute break between rounds, she got a scolding from Coach Gloria Peek. "You're getting hit too much," she said. "I don't want you getting hit."
Throughout the rest of the bout, Claressa showed the best of her skills – jarring, fast punches thrown in quick combinations. In the second and third rounds, Shields increased her lead so much that, before the fourth, Coach Peek told her to go "have some fun."
Overall, Claressa scored 19 points to Torlopova's 12, dominating the bout.
When Claressa came back into the ring for the medal ceremony, her full smile broke into uninhibited laughter. With the medal around her neck, she grabbed the gold and danced with joy, wiggling her body in every direction.
This is the first time women boxers have been allowed to compete in the Olympic Games.
WNYC has been following the women who fought to make history, including the 17-year-old Shields. WNYC contributor Sue Jaye Johnson and Joe Richman of Radio Diaries gave her a recorder and microphone to document her journey.
She started boxing when she was 11, despite the fact that her father, an ex-fighter himself, told her it was 'a man's sport.'

Now she has admirers all over the world, but in downtrodden Flint, Michigan, where Shields first convinced her dad and coach to let her box, her fans are especially ecstatic about her victory. Jason Crutchfield, her coach since she was 11, said Claressa's dream has come true, but that's not all.
"The thing about it is she actually knows that hard work makes dreams come true," he said.
Crutchfield says he's not sure what their next steps might be. Over the phone from London, he said she might go pro if she can make good money doing it, given all the attention focused on her now. But professional women boxers say they sometimes have trouble finding anyone to fight. It's rare they make much money.
Around the world, women boxers hope these Olympic games give their sport a lift.
In February, after Claressa won a spot on the U.S. Olympic team and began training to box in the Olympics, she said, "I always knew I was going to be something. I just didn't know what."
Now she knows — an Olympic gold medal winner. At 17.