The Takeaway
A Victim's Son Reflects on the Sikh Temple Shooting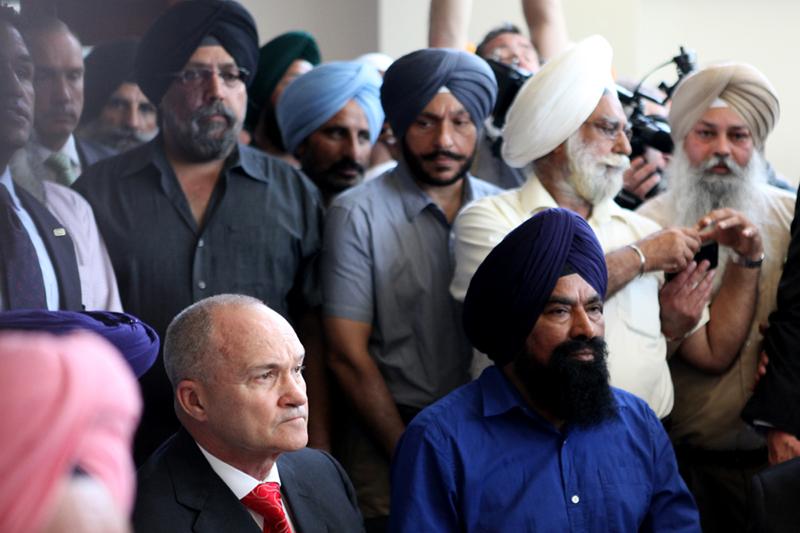 Amardeep Kaleka's father was killed in the horrific shooting at the Wisconsin Sikh temple on Sunday that left seven people dead, including the gunman. His father, Satwant Singh Kaleka, was the temple president. When Wade Michael Page arrived, gun in hand, Satwant Kaleka found the only weapon he could, a butter knife, and challenged the attacker. He sustained gunshot wounds to his hip or upper leg, yet continued to defend his community until his death, buying others time to hide themselves. 
FBI agents embraced his son, telling him, "Your dad's a hero." The man who had put up an American flag in his front yard, and had "lived the American Dream," his son says, died to save lives. 
Amardeep continues the exploration of what the massacre means for the community of Sikhs in the United States.
"I think personally I stand at a crossroads," Kaleka says. "I think the nation stands at a crossroads as well, and we continuously have these struggles or challenges come up in our society."
Kaleka has identified a "unique similarity" between the shooter, Wade Michael Page, and his father. Both men had a connection with music, although it manifested itself antithetically. "In the Sikh tradition, everything we do is based on music and prayer, and that connection with the shooter['s] hate-filled music was there. I believe there was a self-brainwashing of sorts." 
Both the shooter and Satwant Kaleka were members of tightly-knit, insular communities. Kaleka describes his father as "very outgoing", welcoming anyone who wandered into the Sikh temple. "In our temples we have four doors that are open to any sort of person," he says. "He was the first person to walk people through if they showed up and they were of a foreign descent, and talked to them about our traditions and make sure that he was [reaching out]." 
"That, at the end of the day, is the big difference between the two lives." 
Kaleka also touched on the theme of assimilation, and how he has handled his dual roles as a Sikh and as a "cheesehead," a traditional nickname for residents of his native Wisconsin. He chose from a young age not to wear his hair long or grow out his beard. For him, it is a personal choice, and while the Sikh religion suggests and encourages its members to subscribe to the traditions, the final decision is up to the individual.
"In our culture, some of the first words uttered in our holy book are, 'The truth that you find to match your own god-consciousness, the little voice inside of you, that truth is the one you follow versus the external truth that people tell you,'" Kaleka says.