Explainer: What Good Is It to be the Toughest State on Gun Control?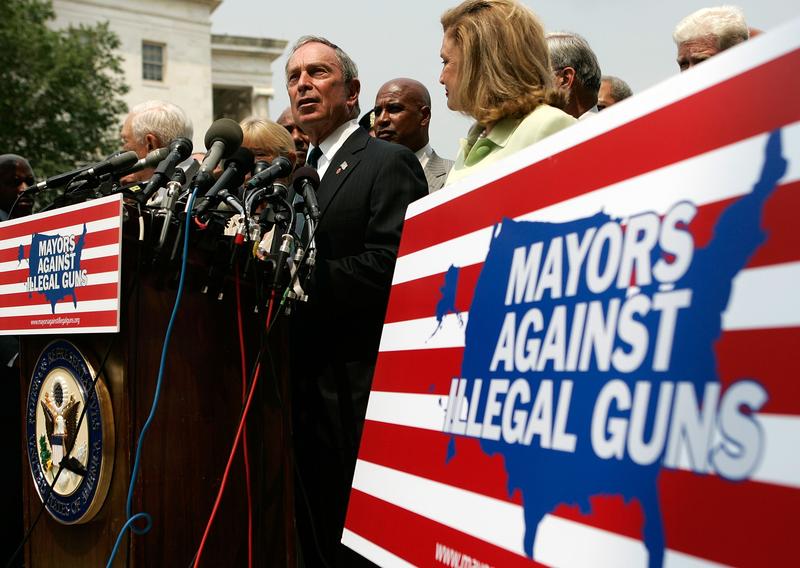 A New York State Senator plans to introduce six new pieces of gun control legislation this week, which if passed would make New York the state with the toughest gun laws in the nation. But gun control advocates caution that lax laws in other states would still pose a threat.
Senator Michael Gianaris, a Democrat from Queens, is proposing a series of restrictive measures that go above and beyond the state's already relatively strong gun laws. Gianaris's bills would:
limit New Yorkers to purchasing only one gun per person per month
mandate a 10-day waiting period for all gun purchases
require background checks for all gun sales, even those between a private seller and buyer
require dealers to report all firearm and ammunition sales within 24 hours to the state Division of Criminal Justice Services, where records would be kept on file for at least a decade
limit ammo sales to permitted dealers
require gun buyers to take a safety course
Gianaris crafted these bills in conjunction with the Brady Campaign to Prevent Gun Violence, a non-profit that lobbies for stricter gun laws and ranks states based on the strength of their gun laws. Currently, New York ranks fourth-best on the list, with a score of 62 out of 100. The state trails California, New Jersey and Massachusetts, which are first, second, and third, respectively.
Going down New York's scorecard, you'll notice the bills introduced by Gianaris specifically address the holes where New York isn't receiving enough or any points. Passage of all six would make New York #1 for gun control in Brady's book, with a perfect score of 100.
"New York should lead the way and this is an effort to make us the toughest state in the nation on guns," Gianaris said.
The Senator has co-sponsored gun control legislation in the past, and previously introduced a bill requiring background checks for certain gun purchases, but he's never put together a package of legislation like this before. Recent events motivated him to reach out to the Brady Campaign and focus more of his energy on gun control.
"It was immediately after Aurora and a number of incidents in New York City," Gianaris explained, referring to July's mass shooting at a movie theater in Colorado, and citing a 12 percent increase in gun violence in New York City since 2011.
The 'iron pipeline'
By a huge margin, law enforcement recovers more guns in New York City than in any other part of the state. According to the Bureau of Alcohol, Tobacco, Firearms and Explosives, 3,980 guns were recovered in New York City in 2011, almost half of the entire state's total.
The vast majority of these guns can be traced to purchases in other states, usually ones with more lax gun laws. In 2011, out-of-state guns recovered in New York accounted for 68 percent of traces in which the source state was identified.
State legislators could succeed in making New York the #1 gun control state in the country, but they can't do much to stem the tide of guns coming up I-95 from places like Virginia and North Carolina.
"What's more sad is that they could have written that report last year, the year before, and in each of the last 10 or 15 years," said Richard Aborn, President of the Citizens Crime Commission of New York City. "It doesn't change. And the reason it doesn't change is that Congress doesn't act."
"It's really a problem for Congress to address," Gianaris said. "We obviously have no control over what other states do with their gun laws. What we're trying to do here is improve the state of affairs in New York and set the example both for the states and the federal government as to what citizens expect in terms of responsible governing as it relates to guns."
Aborn applauded Senator Gianaris' efforts, and advocates for the same measures to be adopted at the national level: licensing and registration, mandatory safety training, universal background checks, and the one-gun-a-month rule.
"The idea behind one-gun-a-month is an economic argument," Aborn said. "Gun traffickers engage in illegal gun trafficking because they make money at it, and the way they make money is buying guns in bulk and selling them on the street. If you limit the number of guns they can buy to one every 30 days it's no longer profitable to engage in illegal running.
In the early 1990s, Virginia became the first state to pass a one-gun-a-month law. Aborn said it was because the state developed a "sense of outrage" that guns purchased in bulk there were being recovered in New York. Earlier this year, Governor Bob McDonnell repealed that law.
"We should always try to do better; what New York does, other progressive states look toward," said Aborn, "But we also need to be very realistic about this. New York cannot totally protect itself against illegal guns. It needs the support of Congress."
Just because other states are more lax about gun control doesn't mean states like New York shouldn't try and do more, said Dan Gross, President of the Brady Campaign. "The perfect is not the enemy of the good. The harder we make it for criminals and other dangerous people to get guns, the greater the potential for lives to be saved."
New York doesn't have a purchase waiting period on the books yet, but it can take up to six months to get a permit to purchase in the state. And while New York already requires background checks for gun purchases from dealerships and gun shows, Gianaris' bill would extend the requirement to private citizens wishing to sell guns to other private citizens; they would have to conduct the transaction at a dealer who could perform the background check.
Only six other states require the kind of safety training Gianaris put forth. After Virginia's repeal, California and Maryland are now the only other states to limit residents to one gun purchase per person per month.
Senator Gianaris hopes to introduce his legislation Tuesday or Wednesday of this week.