Sikhs in NYC Vigilant in Aftermath of Wisconsin Temple Shooting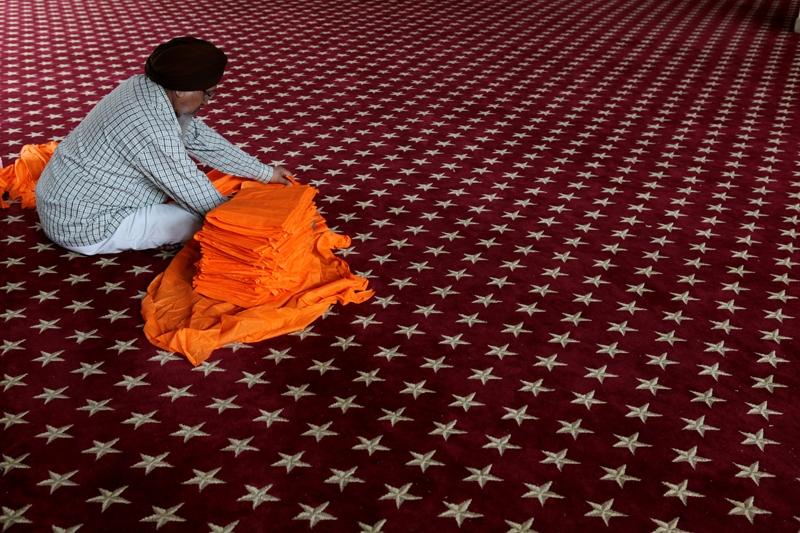 The shootings at a Sikh temple in Wisconsin have caused New York City officials to beef up security at area Sikh temples. WNYC reporter Arun Venugopal examined the local Sikh community response to the shootings, as well as the extent to which such incidents fuel a need for Sikhs to assimilate. Listen to analysis above.
In the wake of the shooting at a Sikh temple in Wisconsin that left seven people dead, including the gunman, the NYPD is increasing its presence at Sikh temples in the area.
Members of the Sikh Cultural Center in Richmond Hill, Queens, welcomed the increased NYPD presence, and said the violence against Sikhs reminded them of the post-9/11 discrimination they faced.
Harbans Singh Dhillion, 60, who emigrated from Punjab 32 years ago, clearly remembers when people yelled at him and called him Bin Laden and threw bottles at his car following the terrorist attacks. He was upset by the ignorance then, and now.
"A lot of people in the U.S. are uneducated and don't know about Sikh religion. I have a very bad feeling when I heard the news," he said.
Nearly everyone at the Sikh Cultural Center expressed shock and surprise at the killings in Wisconsin. Anshdeep Singh, who teaches martial arts at the center, said parents called him with concerns about sending their children to day camp Monday.
"Eight out of ten were telling me we don't even feel safe in our gurdwara anymore," Singh said.
Music played softly in the red carpeted temple, known as the gurdwara, while the hallways were lined with children's drawings.
Mayor Michael Bloomberg and Police Commissioner Ray Kelly on Monday sat down with leaders of the center, as well as the nephew of a man who was killed at the temple in suburban Milwaukee. Bloomberg said there was no indication that the city's sizable Sikh community is being targeted, but he promised continued vigilance.
"No matter who you are, no matter where you're from, no matter what religion you profess, you have a right to be safe in your homes, in your places of worship, and on the streets of New York," Bloomberg said.
Sitting at the table with Bloomberg and Kelly was Mohan Singh Khatra. He lost an uncle, Subed Singh, in the temple attack. Khatra, wearing a dark blue turban, said he'd been planning a trip to Wisconsin to see his uncle and his family.
"Before this incident we are planning to go to Milwaukee for a wedding, but now, within 24-hours we're going to Milwaukee for the funeral with our family," he said. "I feel bad. We are all U.S. citizens."
He was grateful for the attention of the NYPD in Queens, and seemed optimistic that this was an isolated incident. "FBI, law enforcement are doing a great job investigating everything, that's alright," he said.
Members of the temple also noted that the last prayer of Sunday night was dedicated to the police officer who was shot outside the temple in Oak Creek, Wisconsin. Lt. Brian Murphy, 51, remains in critical condition.
Police in Wisconsin said the shooter was identified as 40-year-old army veteran Wade Michael Page. He joined the Army in 1992 and was discharged six years later.
Colby Hamilton contributed reporting.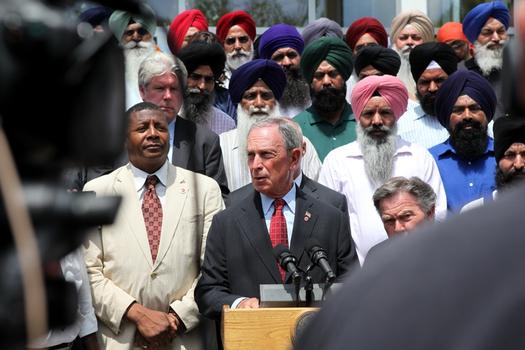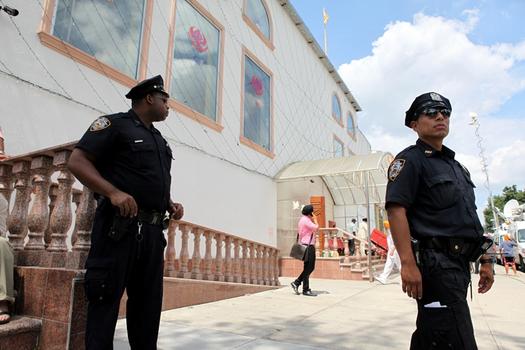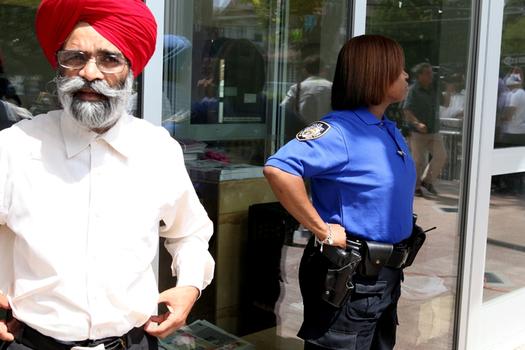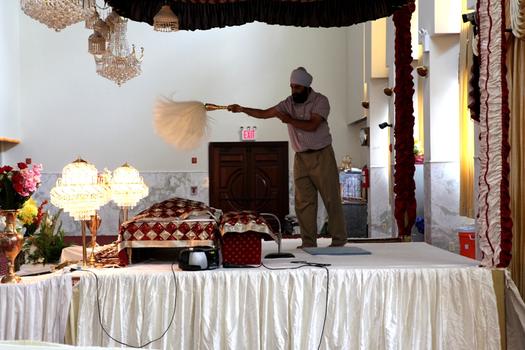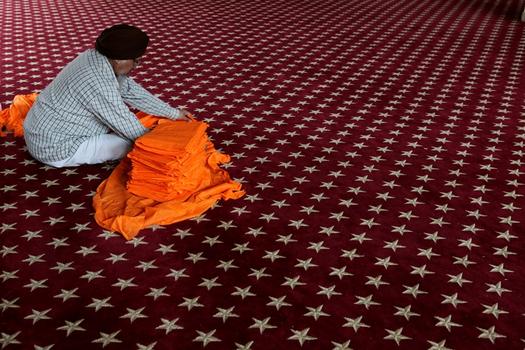 of