We Love People Who Love Brooklyn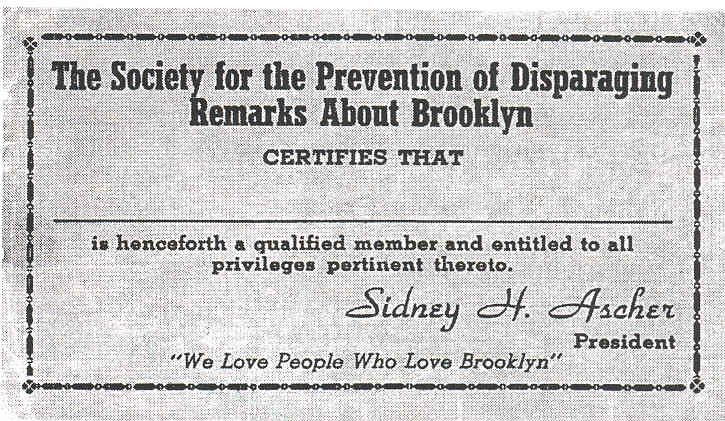 It's a documented fact that in 1942, radio stations, newspapers and magazines maligned the borough of Brooklyn no less than 2,623 times. And that's not even counting movies. Fugheddaboudit!
According to Brooklynite Sidney Ascher, this marked a significant decrease from the 6,457 times it was maligned in 1941, which also happens to be the year he founded "The Society for the Prevention of Disparaging Remarks About Brooklyn."

Prominent members included writers Damon Runyon and Walter Winchell, Borough President John Cashmore, U.S. President Harry Truman, General Dwight D. Eisenhower, at least 10 members of Congress, hundreds of soldiers and sailors, and Betty Smith, author of A Tree Grows in Brooklyn.

Sid kept tabs on how Brooklynites were portrayed in the media and on film, writing editorials and giving radio interviews like this one from 1948. In it, Sid tells WNYC's listeners how they can join the Society and explains why Brooklynites are the friendliest, most God-fearing people in all of New York City. He also insists there's no such thing as "Brooklynese".
This article originally appeared as part of the From the Archives show.
Audio courtesy of the NYC Municipal Archives WNYC Collection.