The Rat, as Art and Food, Takes Center Stage
It all started with a desire to learn survival skills.
Laura Ginn moved back to Michigan, where she was born and raised, and where the economic situation was grim.
"I was looking for ways to cope with the economic anxiety," she explained. And her coping mechanism was trying her hand at different survival skills, like building a shelter, making her own leather and skinning and eating animals.
It also became the central idea of her art exhibit, "Tomorrow We Will Feast on What We Catch," at the Allegra LaViola Gallery, which incorporates video, photographs of Ginn throughout the survival skills process, as well as food, on occasion.
When the 28-year-old artist moved to New York City, the former vegetarian wanted to incorporate animals found in the city. Her choice: the rat.
"I was looking for a way the work could translate to this environment and what kind of wildlife was here," she said. "So I went with the rat. It seemed appropriate to the location."
The idea also involved using as much of the animal as possible. One featured piece involved skinning the rats, making leather out of the skins and sewing it into a dress.
She didn't let the meat go to waste either. That became food. The only thing she didn't do was go out and hunt the rats herself. Instead she got feeder rats, rats that are bred as food for animals.
"I knew if I was going to eat them, I couldn't be eating subway rat, especially if I wanted other people to eat them," she said.
Other people have. When the exhibit first opened, there was a dinner for about 20 people that featured rat meat cooked by Chef Yuri Hart. He admitted it took a bit of convincing to get him involved in the project.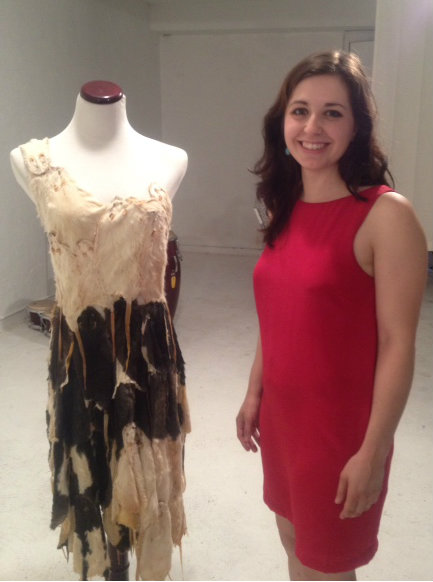 "[Laura] told me she was a vegetarian at the time and she was willing to taste that for the first time. I think after that I said if she's willing to try it, I'll try anything once," Hart said.
He's actually done this more than once. He cooked rat for the dinner, as well as a reception at the gallery on Wednesday night.
(Photo: Laura Ginn showed off her survival skills through a dress made of rat skins on display at the gallery. Caitlyn Kim/WNYC)
While the rat has gotten a lot of the attention, she is aiming to highlight through the art that a lot of these skills are disappearing.
"For me, it's really great to have an opportunity to show [the skills] and pass them on, and to keep them alive," she said.
And in case you were wondering, rat tastes gamey.
"Tomorrow We Will Feat on What We Catch" runs through August 4 at the Allegra LaViola Gallery on 179 East Broadway.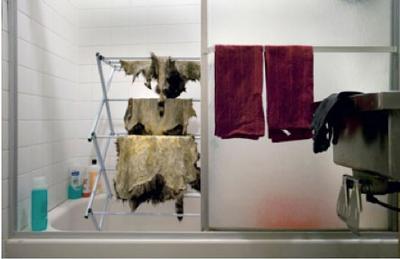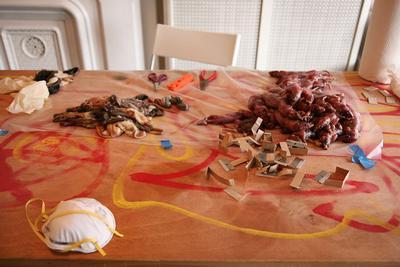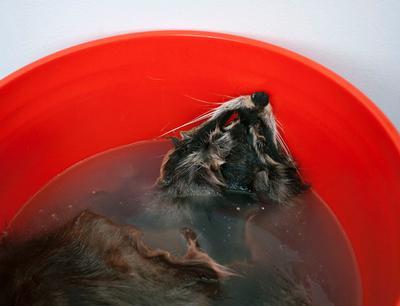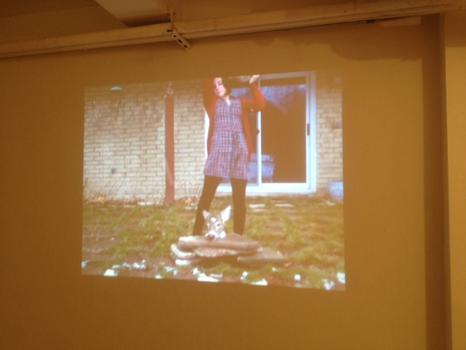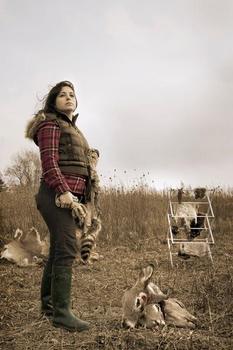 of