Anna in the Swing States: Fighting for Ohio's Narrowest Margins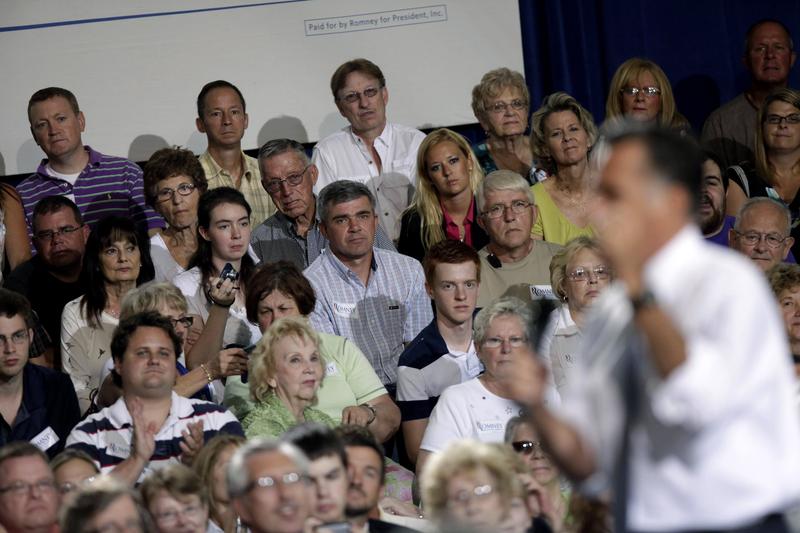 Presidential polls were all over the map in Ohio last month. President Obama led by as many as six points in one, while Romney gained a 3-point lead in another. Gallup said the match-up was a dead heat.
Talking to voters last week, the race felt much less dynamic. Voters who backed Barack Obama in 2008, for the most part, were pretty certain they were going to back him again. Same goes for the 47 percent of voters who didn't back him then.
"Not Obama," Republican Liz Steele told me in Pike County when I asked her who she supported in 2008. And this year, she said, "Not Obama. I'll vote for Romney."
Four years ago, President Obama won Ohio by four points, taking the urban counties and the band of counties along Erie Lake and down its eastern border. He dominated in big and small cities, but he also narrowly won suburbs. Obama lost the white vote to McCain, as he did nationally, but won 97 percent of the black vote, which made up 11 percent of the Ohio electorate.
But he didn't just drive up margins in strong Democratic areas. He won six counties where John Kerry lost in 2004.
Herb Asher, an emeritus political scientist at Ohio State University, said it's essential that the Obama campaign hold on to the advantages it gained outside the state's traditional Democratic strongholds.
"I think Democrats have realized, they may not have to have an 88-county strategy, but they just cannot count upon doing extremely well in the urban counties and thereby carry the state," he said. "Al Gore and John Kerry did very well in the six urban counties, but they still lost they state because they got clobbered elsewhere."
"You Didn't Build That"

One of the Democrats' pickups in 2008 was Lake County, is one of Ohio's many counties where manufacturing makes up more than 15 percent of local jobs.
"Ohio's a manufacturing state, and automobile manufacturing goes on everywhere. I would think that that's going to be an issue that Democrats will hammer." Asher said, pointing a potential policy advantage of Democrats over Mitt "Let Detroit Go Bankrupt" Romney.
As I drove around manufacturing firms last week, though, another four-word phrase had caught voters' attention: "you didn't build that."
Dennis Nadzen, a toolmaker who said he voted for Obama four years ago, pointed to those four words without my bringing them up, and angrily rejected Obama supporters' contention that the president's comments have been mischaracterized.
"They wanted to talk about bridges and roads and that wasn't what he was talking about. He was talking about somebody helps you build your business. And it wasn't the government," Nadzen said while on break outside the shop floor. "The government didn't build the roads. They took the money from the tax payers to build the roads because the government doesn't have any money unless they take it from us!"
It's been a heartening turn in the debate for Rich Wilson, a Republican and owner of Matrix Tool and Machine in Lake County.
"That is going to be the president's downfall, that speech," Wilson told me. "About a year ago I thought Obama couldn't be beat. I think now, I really think he's going to go down."
Swinging Cincinnati
Another part of Ohio where Obama flipped historic patterns was in Hamilton County, home to the city of Cincinnati, which has historically leaned Republican. House Speaker John Boehner's district is just to the north, while Ohio Republican Senator Rob Portman, a potential Romney running mate, hails from the city.
Obama's margin in Hamilton County four years ago was almost exactly what it was statewide. The race here will be as much a turnout battle as a contest to change minds, but for now, the relentless negative campaigning has successfully seeded doubts among voters.
Mark Murphy, a conservative voter in Cincinnati who's registered Republican, told me that for now, he's more likely to back the president this year because Romney strikes him as unprincipled.
"I'm actually leaning towards voting for President Obama this year," Murphy said. "While I may not agree with all of his individual policies, I do feel like more of an upright person. I can trust him more. Mr. Romney's just out for votes to be honest. I think he'll swing whichever way the wind's blowing."
But concerns about spending and debt have had the opposite effect for Jim Niehaus. President Obama got his vote in 2008, but not this year.
Niehaus described himself as fiscally conservative and socially liberal, and he's counting on Romney governing the country in same style as he did as governor in Massachusetts. "I think he must be pandering to a political agenda," he said about Romney distancing himself from his gubernatorial record. "I'm hopeful that somehow that resurfaces."
But Valda Moore, a Democrat in Cincinnati who said she voted for Obama, said she has to wait to make a decision. She's both disappointed by Obama and unimpressed by Romney. "I'm just really undecided," she said.
"I was really all excited about Obama being elected and the changes he planned to make," she said. "But at the same time you always want to see a new spark and something wonderful to happen instead of all the depressive things that are occurring.  So if that means somebody new that is enlightened in some way, it's not that I wouldn't consider voting for someone else."
But so far, she said, Romney's campaign performance has been lackluster. "The thing that disturbs me about him is he seems to get rattled easily," she said. "He doesn't seem to be as confident as I'd like him to be."
Organizing for McCain Counties
Where Republican Liz Steele lives in Pike County, an Appalachian county in southern Ohio, is struggling with rising unemployment rate while job numbers are improving statewide. Obama narrowly lost this county in 2008 with 48 percent of the vote, the same share John Kerry won in 2004.
That's cutting both ways for voters, as Romney runs ads exploiting the president's "didn't build that" line, and President Obama argues he's more closely aligned with the middle class.
For Steele, she said as the economy lags in this county, she said she expects more federal money will likely flow to her community under Obama than under a Romney administration – but that's the point. "It's just sad because there are no jobs or anything for the people here, but we just can't keep handing out stuff without teaching people how to fish so they can catch their own fish," she said. "I think they just throw money to it and that's not always the best thing."
But even in this McCain county, I kept bumping into Democrats ready to support President Obama this year.
"You got to choose the better of two evils. I'll choose Obama over Romney. I don't think he's for me, I don't think he's looking out for me," said Benjamin Keim, a 26 year-old working as a cattle farmer after construction work slowed down during the recession. He voted for Obama and plans to to so again, in large part because he's turned off by Romney. "He just says what he thinks we want to hear. I don't think he's for anyone but himself."
Still, even the Obama supporters in Pike County conceded that they didn't expect Obama to win locally.
That doesn't mean it's out of play, said political scientist Herb Asher, because of Ohio's closely divided politics.
"The magic bullet may only be something that changes one or two percent of the vote," he said. "The entire state is important because gaining an extra vote or losing an extra vote adds up to the grand total."