As Deadline Looms, Obama Hits NYC for Campaign Funds
Both presidential campaigns are touting the importance of Tuesday's July fundraising deadline as the race enters the last 100 days. While Mitt Romney was in Europe, President Barack Obama came to New York City Monday night for a big ticket fundraiser at a boutique hotel in the Flatiron District.  The well-heeled attendees arrived expressing enthusiasm, as well as urgency.
Noel Hankin, 66, a consultant for the top-shelf brand Moet-Hennessy said the room was filled with enthusiastic Democratic rainmakers.
"I saw some friends from the Hamptons," Hankin said with a chuckle, before explaining he has been a supporter of the president since 2008 and how he believes, as Obama reminded him at the reception, "you have two very clear and different visions for the United States and I certainly embrace whole-heartedly President Obama's vision."
Others approached the event with more urgency.  Celia Felsher, chief operating officer and general counsel of an investment management firm said she and her husband have decided to step up their support for Obama because she's concerned big money is shifting fundraising momentum towards the Romney campaign.
"We obviously can't do something like what Adelson can do, but we can help," Felsher said, referencing the Las Vegas billionaire Sheldon Adelson who is emerging as one of the biggest campaign contributors to presumed GOP nominee Mitt Romney.
For some, the evening was short — a brief cocktail reception, and 2-3 minutes of remarks before pictures with the president.
"They did family photos," said Gavin Sword, an entrepreneur who stood with his 6-year-old daughter Savilla outside the hotel after the event, as other members of his family walked along the sidewalk on W. 27th Street.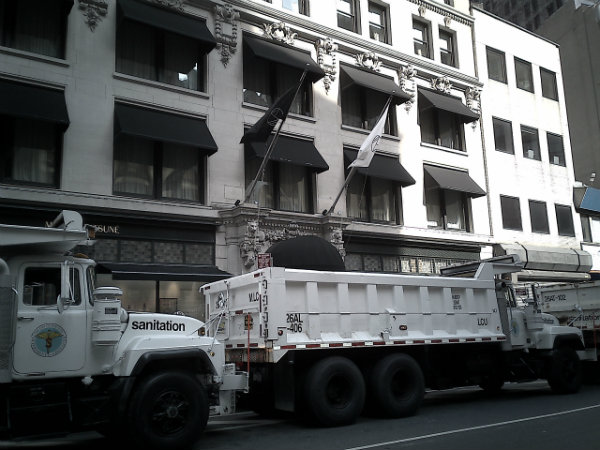 Also an enthusiastic Obama supporter, Sword said he hopes the economy gets better in time for the election.  Since "change" is no longer the catchphrase, he hopes voters will "believe."
"I think you have to really believe, believe this is the right person and believe we're on the right path.  I don't think things change really quickly," Sword said.  "I think particularly deep economic malaise, takes time to fix."
(Photo: Sanitation trucks block an entrance to the NoMad Hotel during a fundraiser for President Obama. Brigid Bergin/WNYC)