Last Chance Foods: Amaranth's Ancient History
Amaranth has a long and somewhat bloody history. The Aztecs mixed the plant's grain-like seeds with blood, formed the mixture into cakes shaped like gods, and then ate them in religious rituals. The Spanish conquistadors considered the practice to be barbaric and an offensive interpretation of Christian communion. They stopped the tradition by making it a deadly offense to grow or possess amaranth.
Fortunately, the conquistadors never made it to Brooklyn, where different varieties of amaranth have also been cultivated at the Brooklyn Botanic Garden for about a century. Those plants are thriving in the hot weather. They are also at the peak of their season right now. 
"I would describe [amaranth] as a survivor," said Caleb Leech, the herb gardener at Brooklyn Botanic Garden. "It comes up very readily in the garden. It's a really beautiful plant, and it's kind of a show stopper at the botanic garden."
Amaranth is also making a comeback as a popular superfood. The seed, commonly referred to as grain, is gluten-free and a good source of protein. It may also have a political advantage over quinoa, another healthy grain that is growing in popularity. 
Quinoa has drawn some controversy recently because the price of the grain has increased so dramatically that the indigenous populations in Bolivia, Ecuador, and Peru (where the grain is grown) can no longer afford to eat it. Some argue that the increased demand creates income for otherwise impoverished areas. Amaranth, on the other hand, is inexpensive in comparison to quinoa, and easily cultivated in a wider variety of conditions. It can survive in arid climates and is currently grown everywhere from Long Island and Iowa to India and Fiji.
As a bonus, the plant's stems and leaves are also edible and vitamin-rich. In Caribbean cultures, certain varieties of amaranth leaves are known as callaloo.
Ariel Nadelberg, the chef at the Brooklyn Botanic Garden's Terrace Café, had cooked with the grain but only recently discovered the bounty that the rest of the plant had to offer. "I actually didn't know that [the leaves were] something to use," she said. "I was introduced to it by my Bangladeshi coworkers." Knowing that Ariel often coordinated with Caleb on using plants from the herb garden, they asked her if the garden might have amaranth to spare.
(Photo: Caleb Leech and Ariel Nadelberg among the amaranth in the Brooklyn Botanic Garden's herb garden./Photo by Brooklyn Botanic Garden)
"They like to use it with fish, in particular, and with daal lentils," she explained. "The leaves [are] mixed in as a green, much like we would use spinach in any of those dishes."
Leech noticed that some of the garden's East Asian visitors were particularly drawn to the red and crimson varieties of amaranth. "Different cultures value different varieties in particular," he said.
While the Brooklyn Botanic Garden doesn't produce enough amaranth seed to use in the Terrace Café, Nadelberg said that they do use it for cooking demonstrations in the children's garden. For that, they pop the amaranth seeds like popcorn and make alegria, a Mexican snack similar to rice cakes. 
Fortunately, there's a copious amount of the leaves, so Nadelberg is able to incorporate the greens into her menu. "The smaller the leaves, the more tender, so those are good raw," she said. " The larger leaves [are] best steamed or sauteed."
Below, try her recipe that uses both amaranth seeds and leaves. 
Amaranth Two Ways with Miso, Sautéed King Oyster Mushrooms and Summer Squash
by Ariel Nadelberg, chef of the Terrace Café at Brooklyn Botanic Garden 
Serves 2
1 T high heat oil (canola, coconut or grapeseed)
3 small or 1 medium shallot, thinly sliced
1 cup amaranth grain
3 cups vegetable stock or water
1 T miso (I like to use chickpea miso but any type will work fine)
salt to taste
2 king oyster mushrooms, cleaned and sliced into ¼ inch thick circles
Splash of white wine or sake (optional)
1 summer squash, sliced
4 loose cups of callaloo or amaranth, using the leaf & tender stem, cleaned and dried
1 T high-heat oil
1 clove garlic, minced or pressed
1 hot chile pepper, finely chopped
1 lime
salt and freshly ground pepper to taste
Bring the vegetable stock or water to a boil and then remove from heat. Heat some oil in a medium saucepan and cook the shallots until translucent and beginning to brown.  Add the amaranth. Stir constantly for a few minutes, allowing a slightly nutty aroma to develop and being careful not to let the grain burn. Add 1cup stock, and stir.
Mix the miso into the remainder of stock and add slowly to the amaranth mixture ½ cup at a time, then turn down the heat and simmer gently, stirring occasionally and adding more liquid as needed.  After about 30 minutes, the liquid should be absorbed and the amaranth will be creamy and porridge-like.  Stir while still cooking, until your desired thickness is reached.
Meanwhile, heat oil in sauté pan, and add the mushrooms and a generous pinch of salt.  Sauté until the juices have released and the mushrooms are beginning to brown. Add wine or sake (if using). When liquid has cooked out and the mushrooms are well-seared, remove mushrooms from pan.
Add a touch more oil to pan, and begin to sauté the squash. Once it begins to brown, add the garlic and chile pepper, followed by the greens. Do not stir immediately in order to allow the greens to wilt and more color to build on the other veggies.
At this time check the amaranth grain—it should be ready. Stir the vegetable mixture and add salt and pepper.  To serve, ladle amaranth grain into a wide, shallow bowl and top with both the sautéed mushrooms and vegetables.  Sprinkle with some fresh herbs and a squeeze of lime.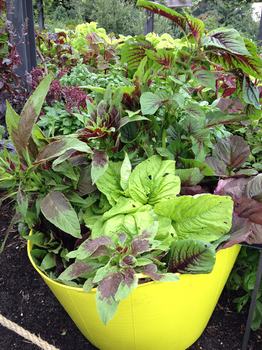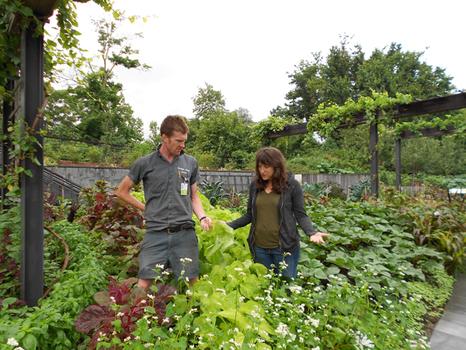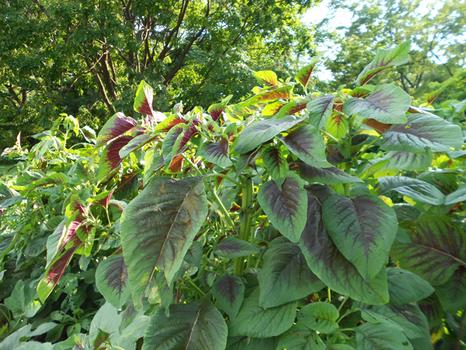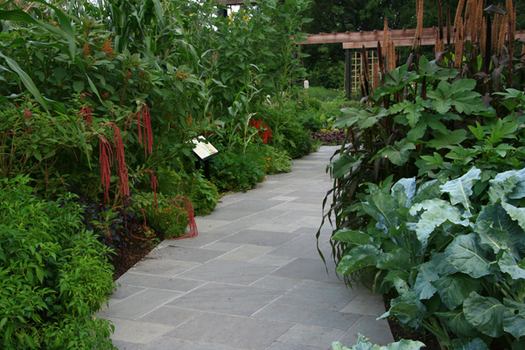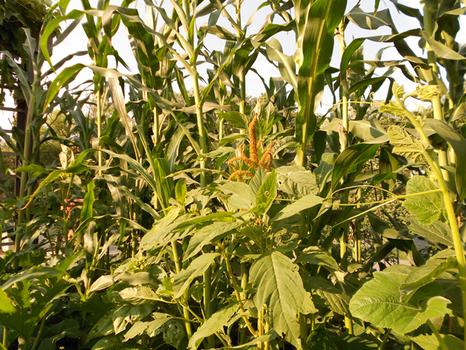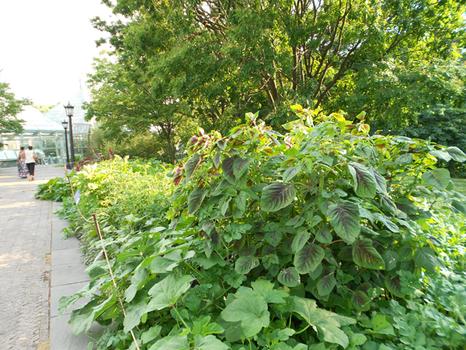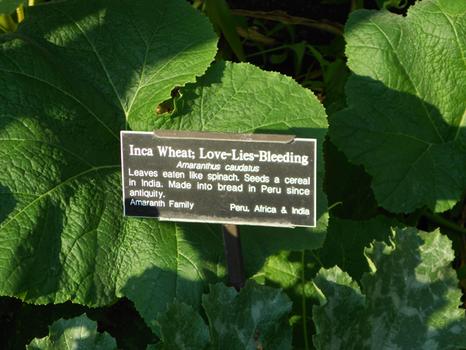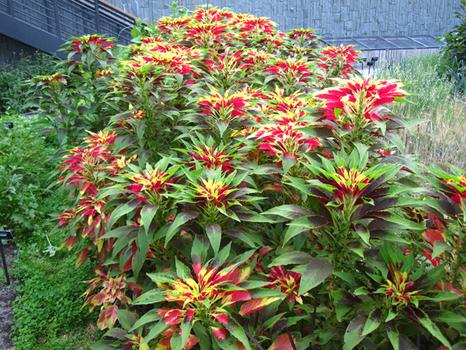 of