State Official Killed After Lightning Strikes Brooklyn Church
A New York state official was killed by falling debris and collapsing construction scaffolding after lightning struck the rooftop of a Brooklyn church on Thursday.
Assistant Attorney General Richard Schwartz, 61, was walking underneath the scaffolding at Christ Church when it collapsed on him, police said. He was pronounced dead shortly after the accident.
Schwartz has worked at the Attornery General's office for more than 25 years as an antitrust lawyer in the economic justice division. He was 61 years old.
Cobble Hill resident Nicola Wheir said she watched from her bedroom window when the lightning struck the church around 8 p.m., and saw large blocks of stone and scaffolding fall onto the street.
"I realized there was something like dust rolling down on top of the building. And then as my eye went down, I realized there was a man crossing underneath where the scaffolding ha been and that everything was collapsing on top of him," she said.

She said she called 911 while her husband stayed with the man.
A spokeswoman from the department of buildings says permits to build the scaffolding were approved in June. The church has been ordered to repair the damaged scaffolding while engineers continue to survey the damage.
Meanwhile, on Long Island, Suffolk County police say an 18-year-old man received a shock while inside his Middle Island house. They say the house may have been struck by lightning. He was hospitalized with non-life threatening injuries.
Thursday evening's severe thunderstorm caused some power outages in the area; most power was restored by Friday morning.
With the Associated Press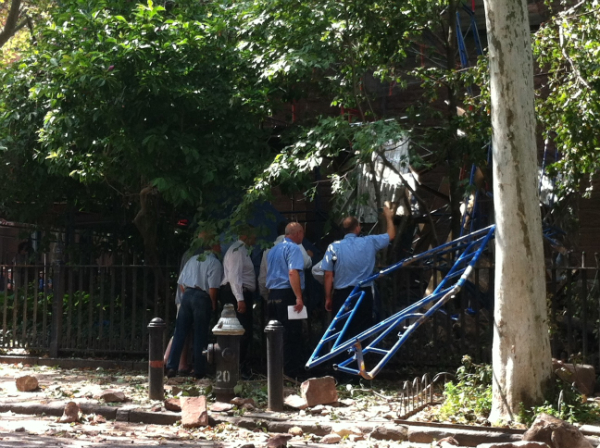 (A man was killed after lightning struck the Christ Church in Cobble Hill, Brooklyn. Guia Del Prado for WNYC)