For Grown-Ups, the Field of Dreams is One With Lighting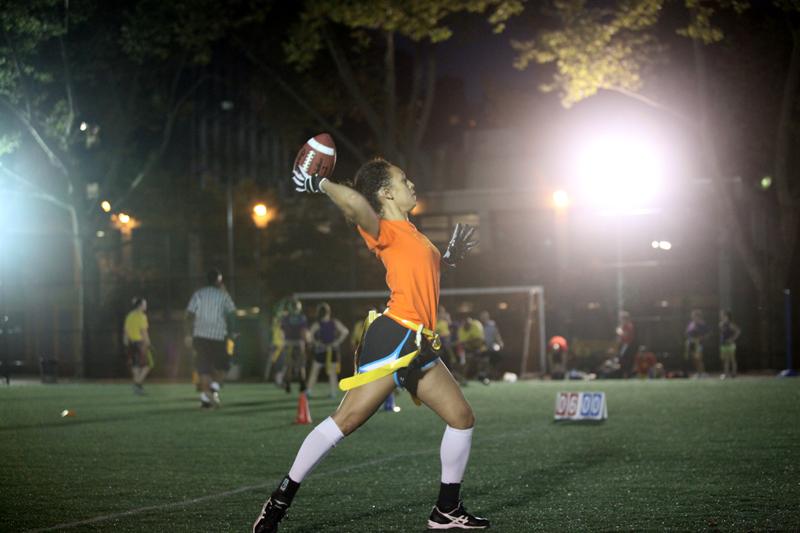 During the summer, it seems like every field in the city is occupied by a softball or soccer game, no matter the hour. The demand is especially strong at night when working adults have time to play. But the city has a limited number of fields with lighting.
There are only about 20 lit fields in all of Manhattan, even though the Parks Department says its built or renovated 600 parks in the past decade. WNYC spent a recent night catching up with some New Yorkers who were able to carve out time to play after the sun set in Manhattan.
8:15 p.m., Chelsea Park, W. 28th Street and Tenth Avenue
A softball game has just finished. Some guys on a team called the Wild Boars pack up their gear, and their drinks, and celebrate a win over their rivals, The Syndicate, As the softball players exit into the sunset, dozens of men and women in brightly colored T-shirts are ready to claim the field. They've been waiting with volleyball nets – which they now carry onto the astro turf.  Referees stretch out tape and position two nets on the softball field. On an adjacent soccer field, flag football teams divvy up yellow and orange ribbons as they prepare to play.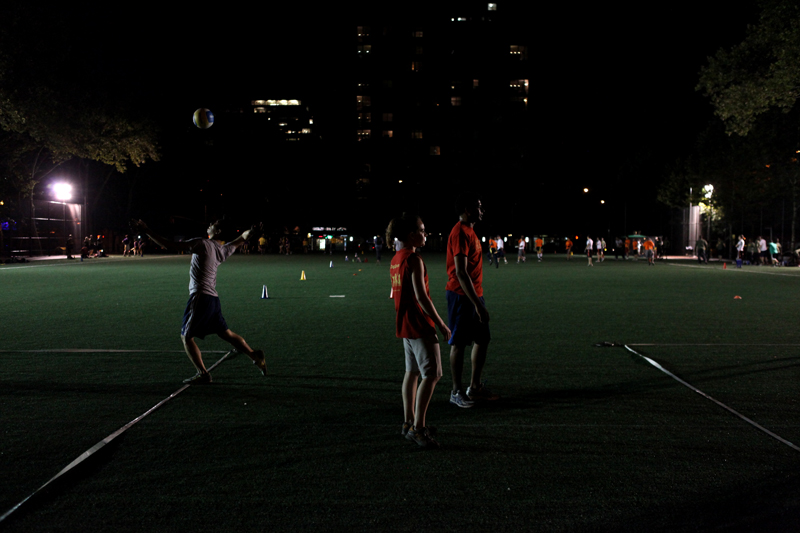 As everyone scrambles into place, Kevin Gibbs begins turning on six different light towers. They're parked along the perimeter of the park, attached to bright yellow diesel-powered engines. They roar to life when Gibbs turns their keys. Soon, the field is completely lit and players warm up for co-ed flag football and volleyball.
Gibbs works for the New York City Social Sports Club, which runs co-ed leagues for ten different sports year-round. Its founder, Amy Short, was frustrated by how hard it was to get an evening permit when she moved here from Baltimore eight years ago.
"The fields that are lit that we knew about are full and people had those permits," she said, during a visit to Chelsea Park.
The Parks Department gives priority to youth groups and to leagues that have gotten permits before.
So Short figured there was room for a new player if she rented her own lights at city parks that are normally dark. It costs $3,000 a month to brighten Chelsea Park. If she had gotten a lit field from the Parks Department it would only cost her $25 per hour (about twice the price of unlit fields). But she can afford it because her members pay $125 dollars a season for field time and equipment. And there's obviously a demand, because Short claims her membership doubled in the last year to 20,000.
"People want to play after work and they want to play in a place that's convenient to them after work," she explained. "Many of our players don't necessarily live in Manhattan, perhaps they live in an outer borough or even Jersey City but with the way work schedules are these days people don't generally get out of the office until about 7 o'clock."
The departing softball players seem amused by the young professionals who take over the field at 8:30 p.m. "It's changed for the better," Willie Esco said, as he and his buddies drink their beer and listen to music. Esco, 45, lives in the neighborhood and works as an alcohol and substance abuse counselor. He says his team, the Wild Boars, is part of a league that's been using the ball field at Chelsea Park for more than 20 years. They play at 6:30 p.m. on Thursdays, and he says the place feels safer for adults and kids now that another group is lighting the park at night.  
9:45 p.m., Nike Field on Forsyth and Rivington Streets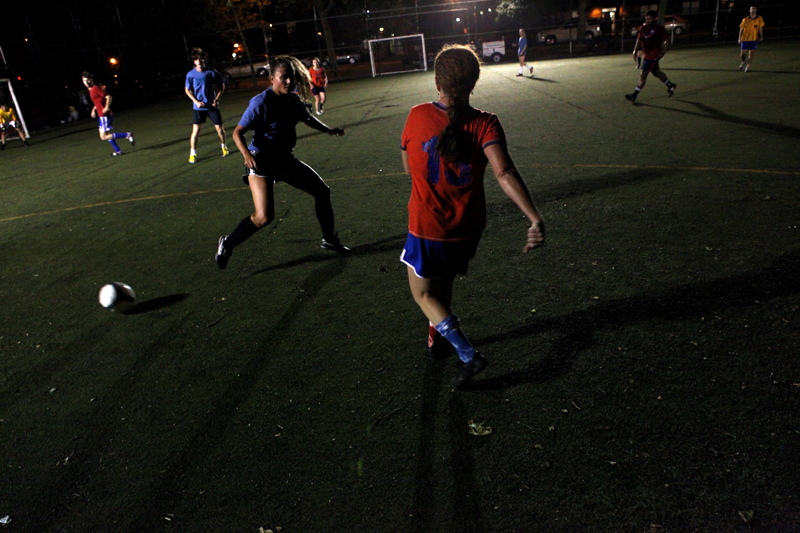 About three miles away from Chelsea Park, a co-ed soccer game kicks-off under rented lights south of Houston Street. Nike field is on a strip of land in Sara Roosevelt Park next to a basketball court. Its lights are provided by the New York City Soccer Collective. 
The group was founded seven years ago by one of the players, Dana Dimon, whose long red hair is pulled back with a scarf. The "40-plus" actress and singer says she grew up playing co-ed soccer in California and had trouble finding places to play when she moved to New York City.
"I kept going past fields that were completely empty at night but they weren't lit," she recalled. "And I went to the city and I said, 'Listen, I will rent lights. Can I have the permits at night for these fields?' And they said 'Well, we'll try it, we'll see what the neighborhoods think' because it does mean there's noise ... later than these neighborhoods are accustomed to."
The city and neighbors eventually gave permission. "So far so good. Although the cops do come and make us quit early sometimes if there are neighborhood complaints," she said.
The Parks Department says any group can rent lights with permission from the agency and the affected community board, and the idea has apparently taken off. There are now five groups renting lights in various Manhattan parks.
But this has created another layer of competition. The groups with their own lights and permits are able to lease out time to other teams and leagues when their lighted fields aren't in use. "The group that has the authority or control of the lights, they get put in an awkward position and it's only because the city doesn't want to deal with it," said Susanna Thornton, co-founder of Pickup Soccer NYC. "Some of these groups will abuse that privilege and start charging an exorbitant amount of money for re-rental of the lights." 
Players in the Soccer Collective tend to be young professionals and students. Rob Frawley, 23, is a student in biophysics at Weill Cornell Medical College who plays on a team called The Blues, after the French national team. "There's a lot of people in all different fields," he said. "Finance, banking, I'm a graduate student…we all have various soccer backgrounds, too. I think we just like to run around and play."
Kate Nicholson, a 26 year old who works in video production, says she joined the soccer collective after college. The native New Yorker enjoys being able to use the parks at night. "I'll get home as late as anywhere from 11 'til 3 in the morning," she said. "From my schedule as a freelancer it's okay, but if I had to get up at 6 in the morning it would wear me down a bit. But I love it, it's just an escape from my every day, and my friends here are as diverse and different from my friends outside the soccer league."
Dimon, whose group also lights a city park on East 6th Street and the FDR Drive, wishes there were more places to play at night. "I'm going to win the lottery and I'm going to start building fields on top of car park garages!"
10:30 p.m., Pier 40 Courtyard
Dimon's idea isn't so far fetched. Over on the West Side Highway at Houston Street, two soccer games are still going strong on Pier 40 at 10:30 p.m. The three-acre field is in the open courtyard of a parking garage. It looks big and bright enough to host an Olympic match.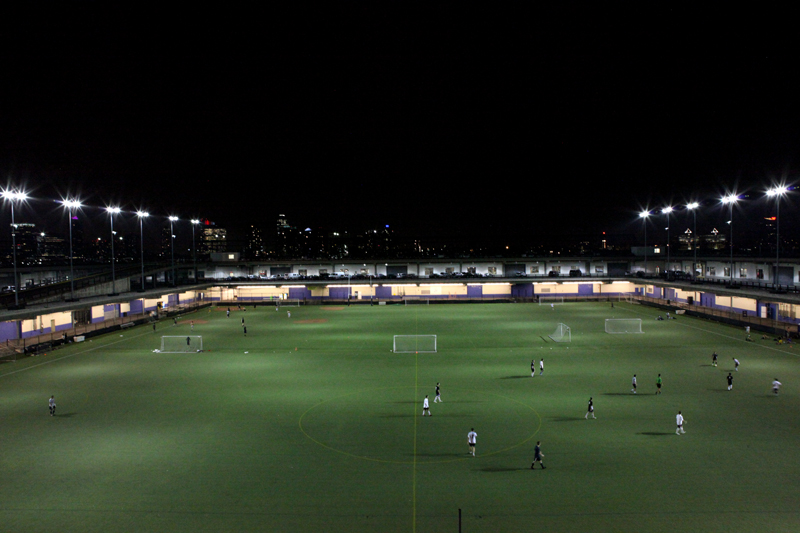 As a tall player kicks a ball into a perfect arch, it's clear this crowd is serious about soccer. The all male players tonight belong to Urban Soccer.
Antonio Gomez Tembleque says some of his teammates used to be professional players in Spain. "Victor, Gabby, Arturo until he got injured," he said, nodding at his pal. "Now he's a professional coach."
The Hudson River Park Trust runs two fields at Pier 40, the courtyard field and one that sits on top of the roof; it also manages Chelsea Waterside Park. A spokeswoman says the fields get three to four times as many requests as they can accommodate.
Peter Flint, 43, and his friends just finished a game. He says he's been playing soccer here for more than a decade and now plays at night because the game has gotten so popular in New York that it's hard getting field time, even with more places to play. "We'd play earlier if we could," he says. "Some of us are parents, later games aren't so bad. You put the kids to bed, come out and play for an hour."
He worries about the future of Pier 40, though, which is in dire need of repairs. Neither the state nor city have the funds to keep it afloat and it's being eyed by developers.
"They always talk about the kids playing here, but the adults that play here get a little overlooked," Flint said. "And there's thousands of adults that use it every week, too."
11:15 p.m., Rooftop at Pier 40
Follow the signs up a few flights of stairs and then zig-zag across the roof of Pier 40 and you'll find a second soccer field bathed in lights. The rooftop field is smaller than the one below in the courtyard, but its views are breathtaking. The new World Trade Center tower glitters to the south, and the office towers of Jersey City line the other side of the Hudson.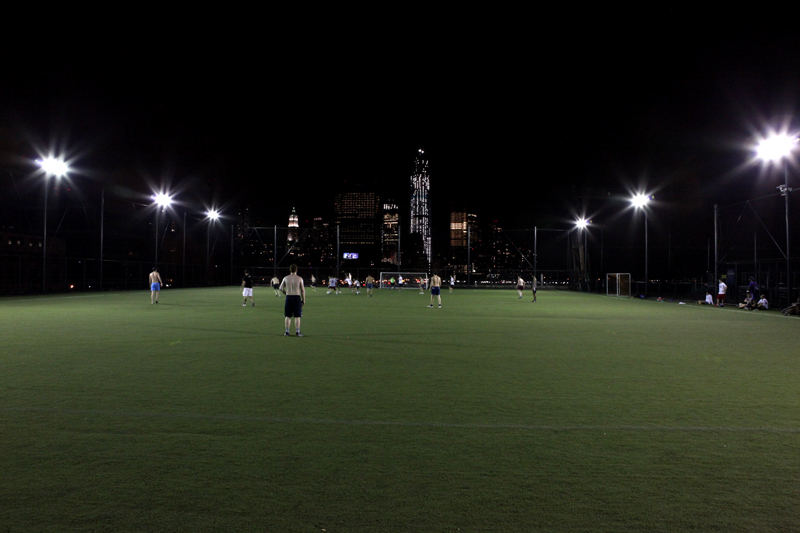 A few guys from Mount Vernon, New York, have driven in for a pickup soccer match. Matt Rodney, 21, says there aren't many lit fields where they live and they love playing at Pier 40. They wait until the permitted fields free up late at night and squeeze in a game or two before the park closes at 12:30 a.m.
"Most of the guys have work early in the morning, so whoever can come, we just fill the car and come down here to play," said his friend, Jerome Marshall, 24. "You want to play, you love the game, you gotta do what you gotta do."
The friends from Mount Vernon find enough other players for a game of "shirts vs. skins." They take off their tops and run out to the field, enveloped by the Manhattan skyline. The night air is cool and fresh. Perfect weather for a game.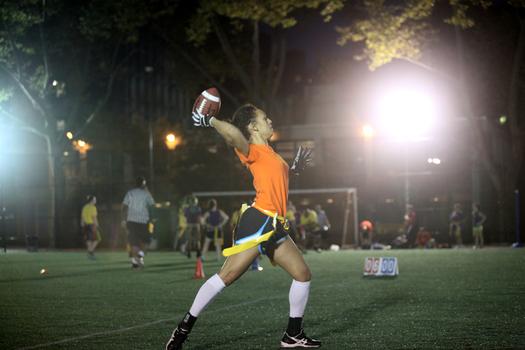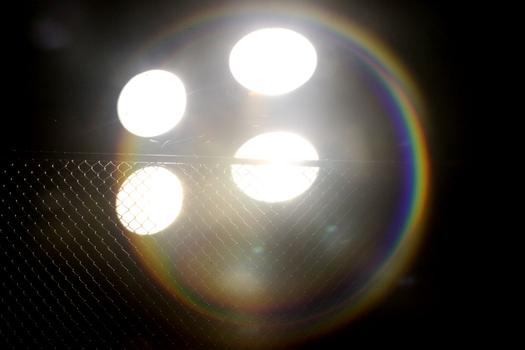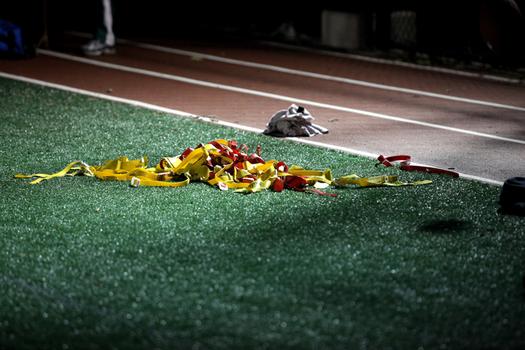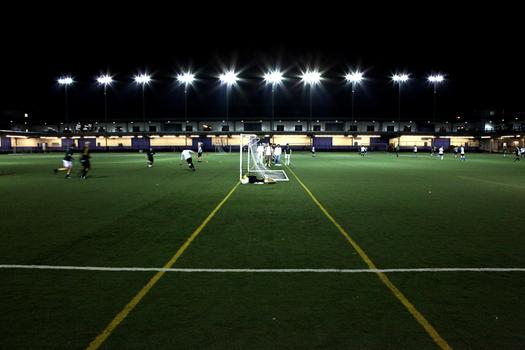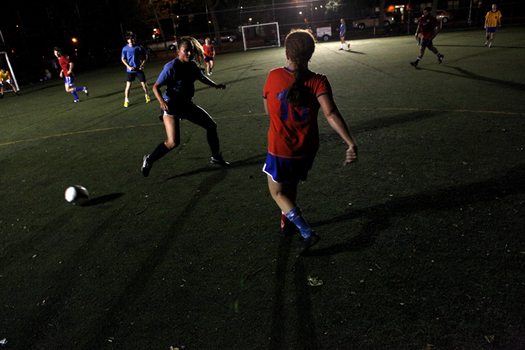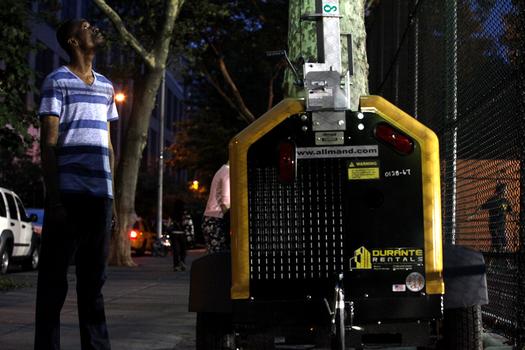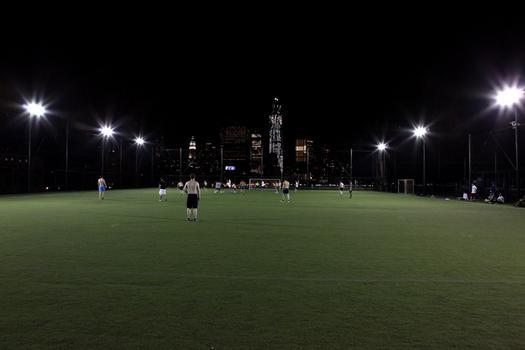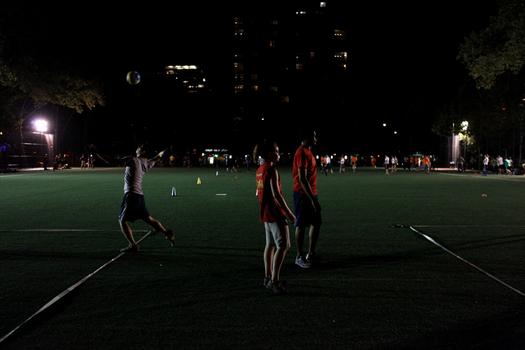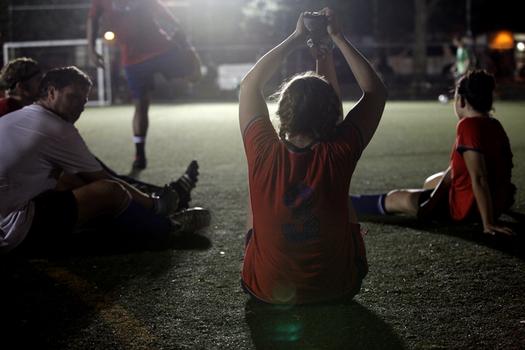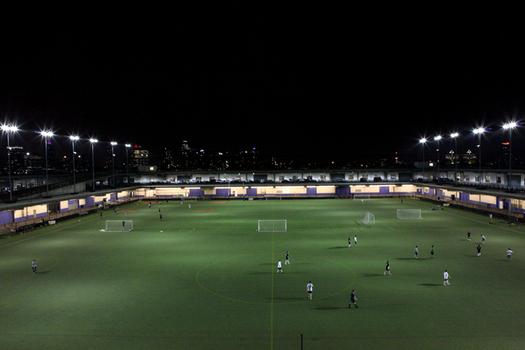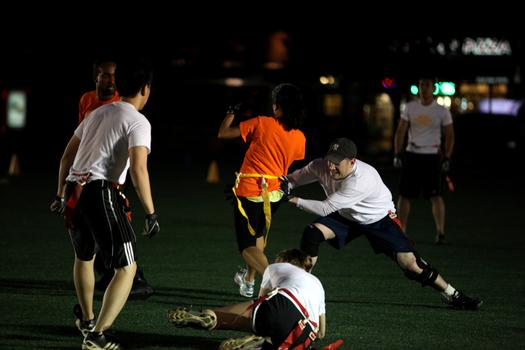 of