Hilary Hahn is a heavy hitter in classical music, a violinist who debuted at 12 and recorded the Bach partitas at 18. She's powered through the repertoire, mastering Paganini, the Mozart sonatas, the Brahms concerto, Schoenberg, Ives. In her ripe old 20s, she began stretching beyond classical music, playing alongside singer-songwriters like Josh Ritter. Her new project goes even further outside the box.
Silfra is a collaboration between Hahn and Volker Bertelmann, a German musician who performs as Hauschka. (They met through Tom Brosseau, a singer-songwriter and mutual friend.) Hauschka's instrument is a "prepared" piano, its insides carefully altered with duct tape, felt mutes, bottle caps, and bits of junk so that the keys produce radically different timbres and rhythmic elements. At times he may play the strings with guitar devices like the E-bow. The music Hahn and Hauschka make is completely improvised. They'll take a melodic fragment or texture and play with it as a composition emerges spontaneously. "To be quite honest, I think it's a very spontaneous way of living," says Hauschka. "I love that a lot, to just go into a situation and think about it quickly, not having too much fuss about it."
The music might sound disconcerting to Hahn's legion of classical fans. It's sometimes disarmingly simple, even folksy; sometimes abrasive; sometimes ambient. But Hahn maintains, "I learned to play the violin by playing classical music, and there's so much variety in classical music that even the unusual techniques I use to get sound out of the instrument at various times, various environments, those also come from classical music."
The duo is experimenting in other ways as well. Before joining us in the studio, we reached out on Twitter to get examples of tone rows (a particular type of melodic pattern well known to composers) for Hahn and Hauschka to improvise on. They chose one submitted to us by William Jeffery (@WJComposer), whom they had never met.
They also performed a version of "Stillness," one of the pieces on Silfra, and a new untitled improvisation.
Bonus Track: "Stillness," live in Studio 360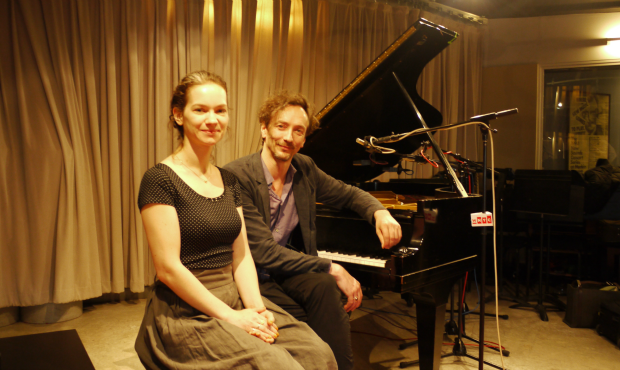 Hilary Hahn and Hauschka in the studio (Mooj Zadie)
Music Playlist
Concerto in E minor, op 64: I Allegro molto

Artist: Hilary Hahn

Album: Spectacular

Label: SONY MASTERWORKS

Bounce Bounce

Artist: Hilary Hahn, Hauschka

Album: Silfra

Label: Deutsche Grammophon

North Atlantic

Artist: Hilary Hahn, Hauschka

Album: Silfra

Label: Deutsche Grammophon

Improvisation

Artist: Hilary Hahn, Hauschka

Album: LIVE in Studio 360

"Tone Row" Improvisation

Artist: Hilary Hahn, Hauschka

Album: LIVE in Studio 360