DIY Food Mash-Up: Hot Dogs, Bacon and Donuts
This Associated Press story caught my eye last week.  How could it not?
Hot dog, bacon and doughnut lovers can get all three foods in one cholesterol-boosting item at this summer's New York State Fair. The Big Kahuna Donut Dog tops the list of unusual items at this year's fair. The offering consists of a maple-glazed doughnut around a bacon-wrapped hot dog.
Maybe it was the Last Chance Foods episode on amaranth that I had finished last week, and the two foot-long stalks of green and burgundy amaranth leaves that were starting to wilt in my fridge. Maybe it was the piles of leafy green produce and stacks of donut peaches at the farmers' market this weekend. Maybe I had one too many kale and avocado smoothies for breakfast.  Something snapped, and I had to have a Big Kahuna Donut Dog.
In the DIY-spirit that defines the Brooklyn zeitgeist, I decided to make one myself. With locally-sourced ingredients, of course.  To do otherwise would get me kicked out of the borough. Bedford-Stuyvesant donut maker Dough has a stall at the Brooklyn Flea near my apartment. They don't make long johns, but their light, fluffy yeast donuts are as big as a saucer. I thought I could cut one in half, then split those halves into crescent-shaped buns. Dough doesn't have maple glazed donuts, either, but their dulce de leche and almond donut was close enough. For kicks, I also picked up a crème brûlée and a plain sugar donut.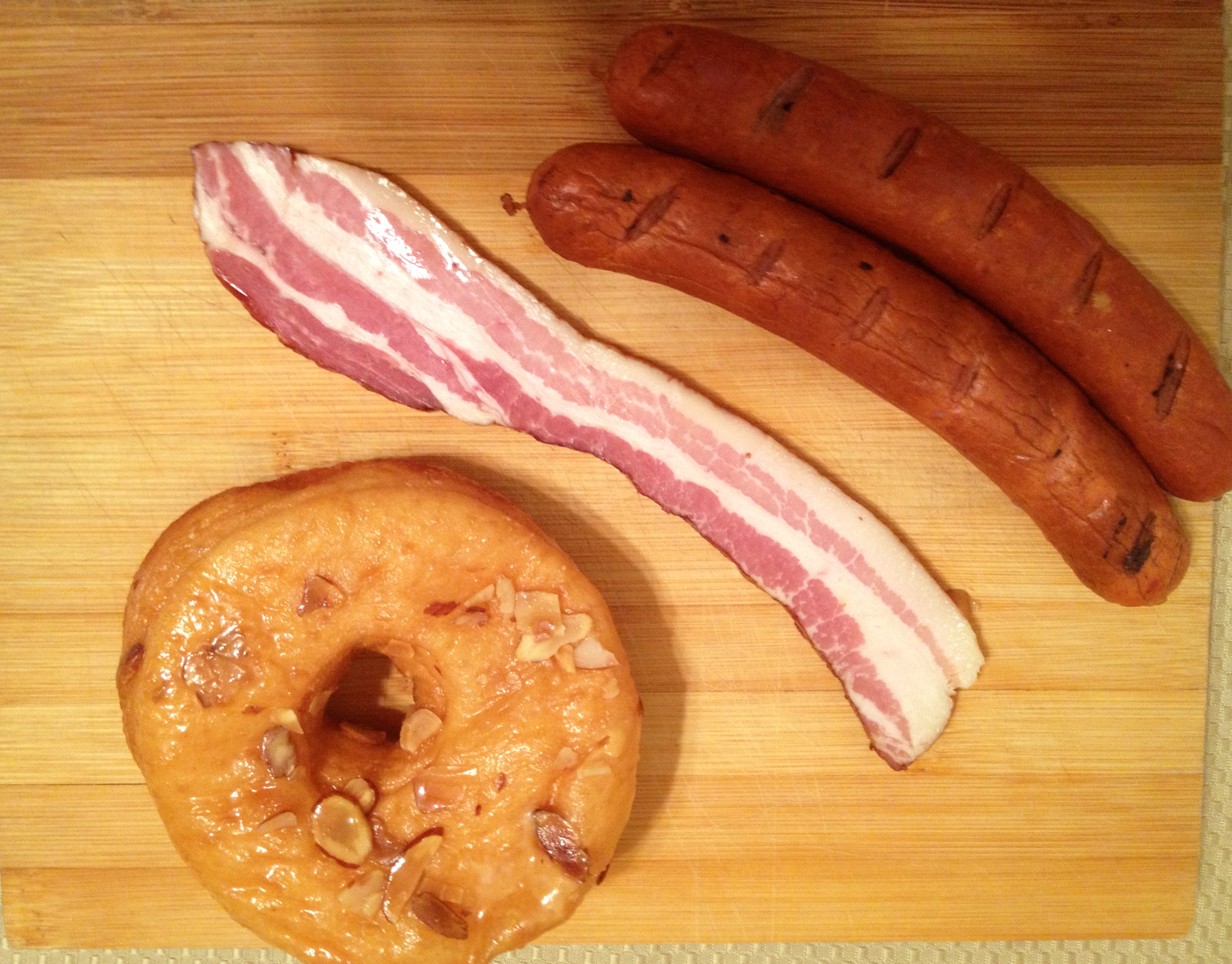 I already had a package of Schaller & Weber double smoked bacon. (It's made in Manhattan — that's still local, right?) Originally, the bacon was going to be united with this season's first heirloom tomatoes, lettuce and mayo. How pedestrian that BLT sandwich now seemed next to the creative genius that is a Big Kahuna!  I realized I had set my sights too low.
For hot dogs, I went to The Meat Hook in Greenpoint/Williamsburg, for their smokey, garlicky, peppery dogs. I also secured a commitment from butchers Ben Turley and Brent Young to eat my locavore version of the Big Kahuna.
I had the main ingredients. What about condiments? The classic hot dog is dressed with mustard, ketchup and relish, sometimes raw onions or sauerkraut, or lettuce and tomato, if you're crazy or come from Chicago (or both). I ruled out mustard.  I thought it would overwhelm the sweetness of the donut.  I decided to try, in different combinations, a spicy relish chutney, ketchup, mayonnaise and onions sautéed in olive oil.  I also picked up a jar of fig jam, figuring it would be a good foil for the smokey bacon and the onions.  And if anything seemed in danger of becoming either too sweet or too savory, I had my ace in the hole, sweet/salty/tangy white miso paste, to keep all the flavors in line.
I made three varieties:
Big Kahuna #1 had a creme brûlée donut bun with creamy, zingy yuzu chili mayonnaise from Empire Mayo and sautéed onions.  
Big Kahuna #2 was my attempt at normal, with ketchup and relish and a dulce de leche donut bun.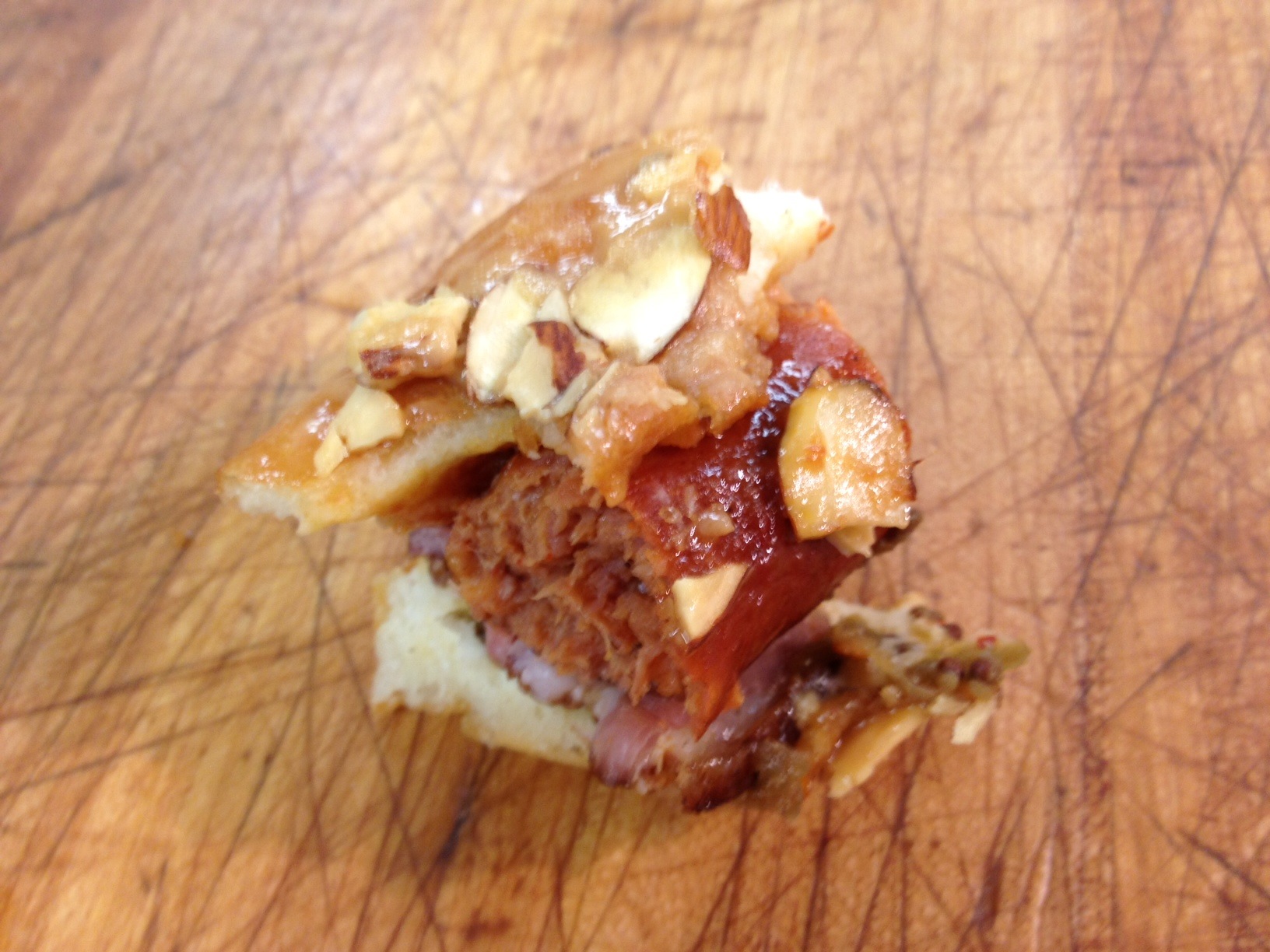 With Big Kahuna #3, I broke all the rules. I made a hot dog hamburger, butterflying the hot dog, splitting the sugar donut in half like a hamburger bun, and slathering the halves with white miso paste, fig jam and sautéed onions.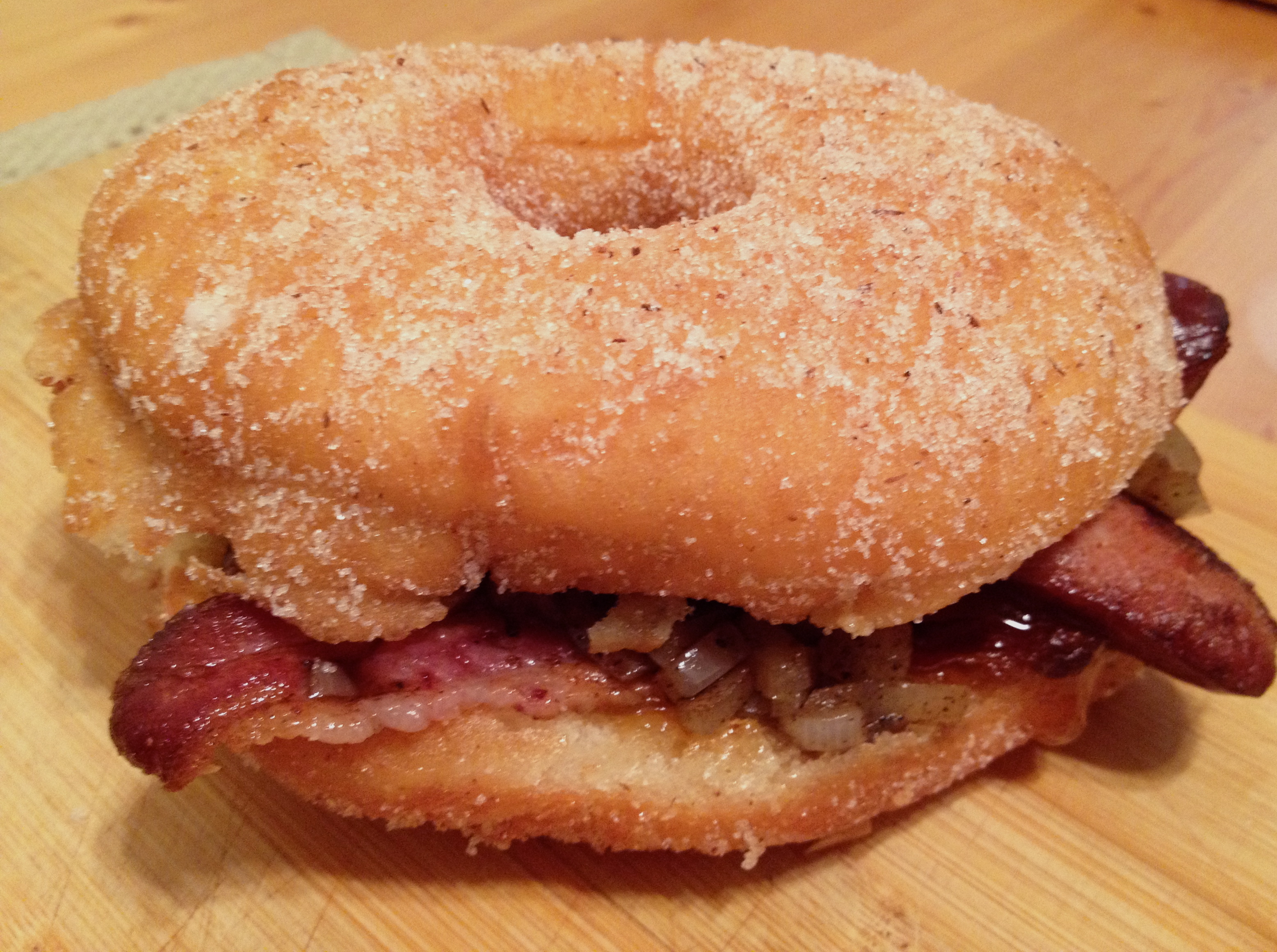 I put my creations in a glass baking dish and drove to The Meat Hook, where Ben Turley said he'd have a defibrillator and a priest standing by.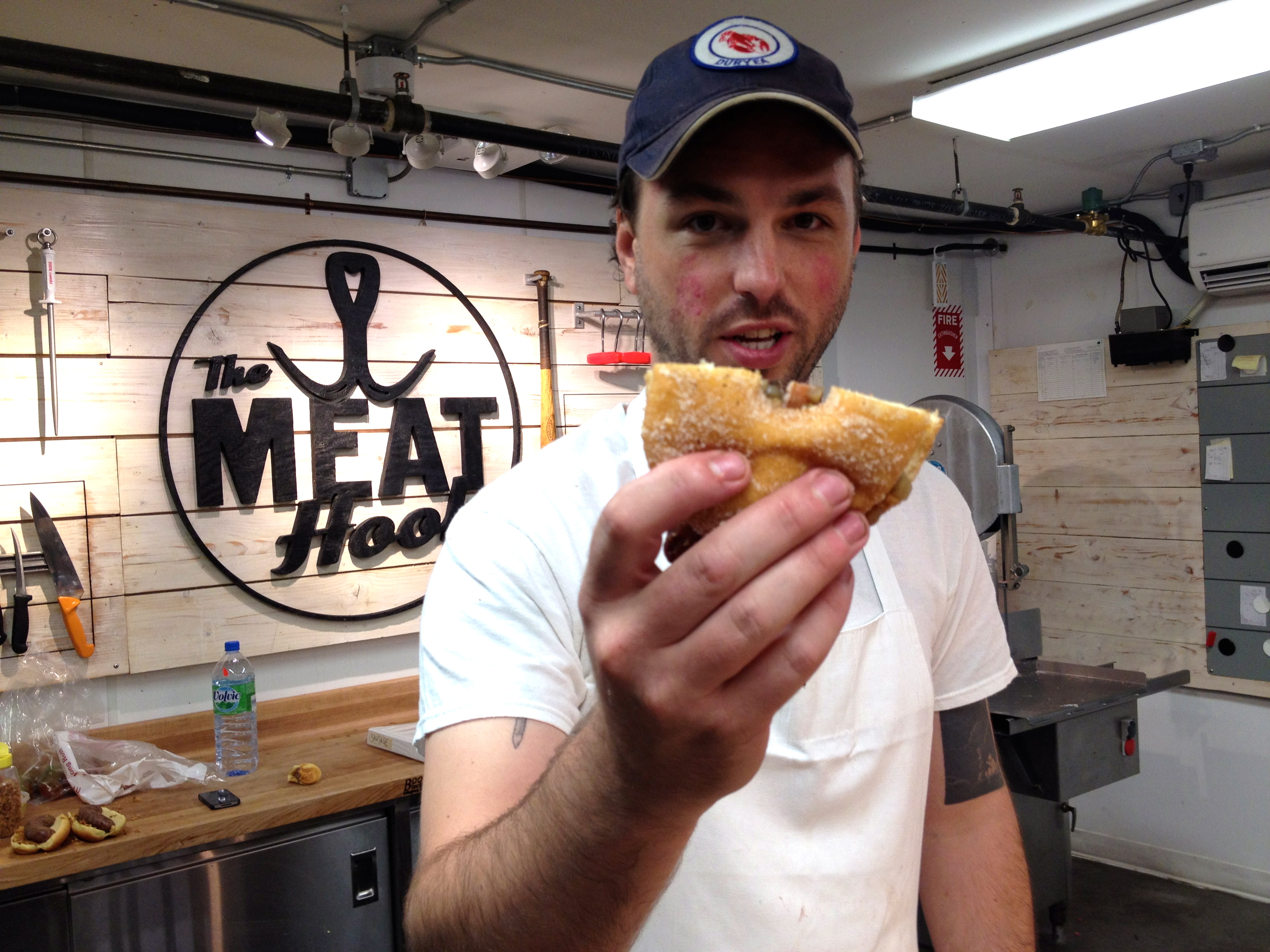 He picked up Big Kahuna #1, took a bite, and smiled. "That's awesome!" But he liked #2 even more. "With the first one, everything melds all together.  This one, you get the different flavors of the donut and the hot dog."
Butcher James Lum was wary about trying #2. "I have to warn you, I don't like ketchup. It may color my opinion."
"You don't like ketchup?" Turley said.
Lum summoned up his courage and took a bite. "Oh, man, that's really good."  I beamed. The Big Kahuna Donut Dog #2: It Doesn't Create Food Aversions, It Cures Them.  
Butcher Cara Nicoletti liked #2, too. "It's not overly sweet.  You can taste everything in it," she sighed.  "And I had brought a salad to work today for lunch!"
"I was going to get an apricot," Michelle Warner muttered. Warner, the director of cooking classes at The Brooklyn Kitchen next door, had joined us, passing by at just the right (or was it wrong?) moment.
The devilish draw of the donut dog reached its summit, though, with Brent Young. It was his day off, and he had been shopping. As he rummaged around inside his backpack, I saw boxes of herbal tea and a huge bunch of kale.
"All I had to eat so far today was a huge glass of green juice," he said as I handed him a slice of Big Kahuna #3, which, in case you lost track, was the "hamburger" made out of a split sugar donut and a butterflied hot dog.
Goodbye, detox. Hello, toxins.    
Young and Nicoletti favored the classic flavors of hot dog, bacon, dulce de leche donut, ketchup and relish. Numero 3 was good enough to win over Turley and Lum from their previous allegiances. Warner also liked #3, but wanted more acidity.
"When I eat a hot dog, I get that with the mustard. Next time, try adding a little apple cider vinegar to the onions when you're sautéing them," advised the cooking class director.
Next time?  There's going to be a next time?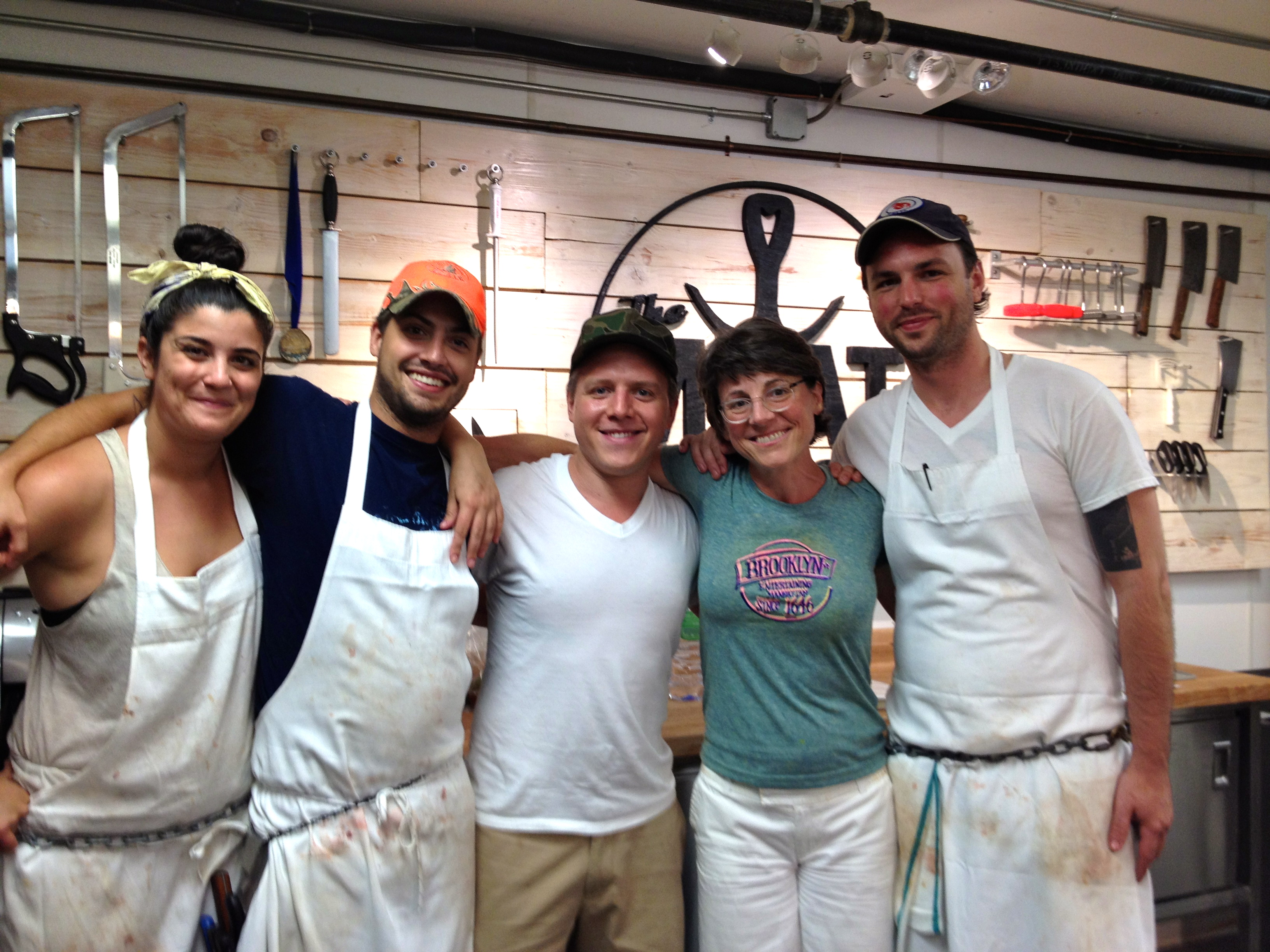 The Big Kahuna Donut Dog tasters, from left: Cara Nicoletti, James Lum, Brent Young, Amy Eddings, Ben Turley.