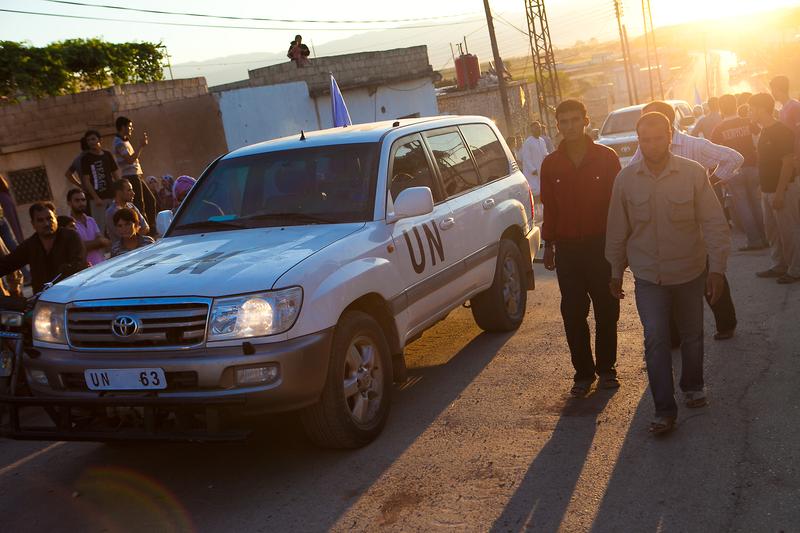 Over the weekend, clashes continued across Syria with reports of violence reported from Aleppo to Damascus. As the conflict drags on, the toll of war has been increasingly carried by Syria's youngest citizens.
In a new report out today, UK-based human rights advocacy group War Child says it believes as many as 1,300 children have been killed in the conflict. Kate Adams is a policy and advocacy officer at War Child. 
"There's a whole host of abuses, and this report is a dossier of these abuses," Adams says. "The risk to children is increasing in terms of both direct and indirect impacts of war." She lists the denial of access to aid, attacks on school and hospitals, and the recruitment of child soldiers as just a few of the dangers that young Syrians have been facing since the conflict began. Now that the fighting has spread to highly populated areas like Aleppo and Damascus, the risk is growing even more severe. 
"The Free Syrian Army have used child soldiers, and also the government forces have used children as young as eight years old," Adams says. 
The impact of this war, she says, will be intergenerational. "These impacts are going to last for years and years," she says. Lack of adequate funding for groups like War Child make it impossible to fully address the longterm repercussions of the trauma that children are experiencing. Pressure has increased on these agencies to provide relief for 1.5 million homeless Syrians. 
"The inaction at the moment is a difficult one, and everyone seems to be floundering," Adams says. "Obviously, the Security Council and the dichotomist position between the U.S. and Russia is proving very difficult, and we'd be hoping that that is brokered, but definitely in the longer term, [the] most important thing is that the [intervention team members] are actually trained in child protection, and have some expertise in child psychology, so that when there is entrance into the country, they're actually trained in order to deal with the effects on children in the immediate and the long term."