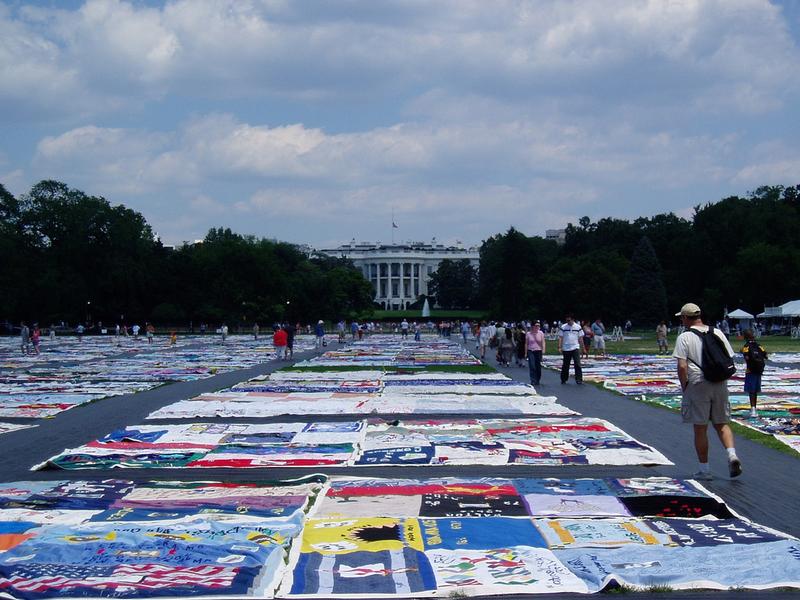 The United States has come a long way since 1982, when after 600 diagnosed cases, a spokesperson for President Reagan asked, "What's AIDS?" Since that time, America has become the global pioneer for AIDS activism and research, leading in AIDS-related funding worldwide, and spearheading the President's Emergency Plan for AIDS Relief (PEPFAR) in 2003.
But as AIDS activism has taken a more global turn, it is important to ask: What is the current status of AIDS in America? The 19th International AIDS Conference kicked off yesterday in Washington, D.C. Among conference participants are Daniel Tietz, the executive director of the AIDS Community Research Initiative, and author John-Manuel Andriote.
"The good news is, where there's access to treatment, HIV has become a chronic, manageable disease," Tietz says. "In developed nations, certainly in the U.S., folks are living much, much longer — nearly a normal lifespan if they're in treatment early." 
The director also points out the class issue of AIDS. "H.I.V. and poverty have gone hand-in-hand, and so class has always been a piece of this," Tietz says. The director recently wrote about the declining contributions to AIDS research and relief by wealthy gay donors, and thinks that it is a sign that the disease is no longer as high of a priority in the minds of many of those donors as it once was. 
"For folks who have got resources — financial resources, insurance coverage, access to Medicaid — [they] can get into care and treatment," Tietz says. "For those who don't, this is a much more troubling disease." 
"The recession has made that experience far more common for many more people," Andriote says. He recalls how H.I.V.-positive professionals in the 1980s lost their jobs and subsequently their health insurance, then descended into poverty to try to qualify for Medicaid and Social Security disability. 
One of the most important barriers to surmount is access, Andriote says. "When you have people who aren't privately ensured, and whose life experience doesn't include regular visits to their doctors for checkups and maintenance, those people tend to put off seeking medical care for anything that goes wrong with them," he says. "Put HIV into that category." 
"If you don't have that foundation [of periodic checkups], you put things off as long as possible, and as a result, people who are infected with HIV don't get tested and don't know they have H.I.V. infection until, à la the 1980s, they show up in the emergency room with an AIDS-defining and life-threatening illness."