In Iowa, Undecided Voters Are Disappointed in Obama But Can't Commit to Romney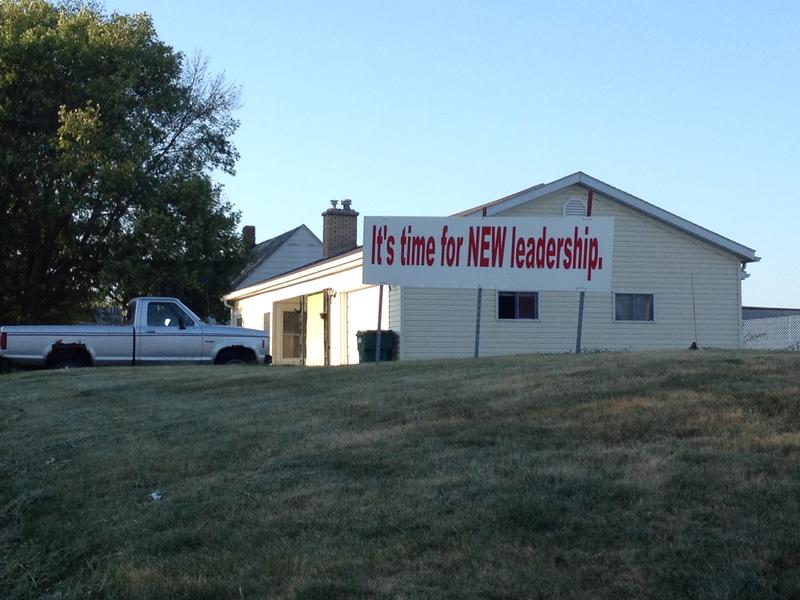 President Barack Obama won Iowa in 2008 by nine percentage points, but his support here is softening as his approval rating and favor with independent voters has dipped. 
The disappointed Iowa voters I met, though, aren't convinced that Mitt Romney is a viable alternative, particularly because of his wealth and his failure in their eyes to adequately address the struggling middle class.
"Either way the middle class is going to lose," independent voter Jennifer Erickson told me at the Adams County Fair. "You've got one, the president now is for the lower-class, poor, those that don't have anything, and to me they're not trying to have anything. And then you have Mitt Romney, who's for the ultra-rich. And then, we're still stuck.
Four years ago, Erickson voted for Obama. This year, she said she doesn't know what she's going to do.'
The current tug-of-war of negative ads in Iowa is aimed squarely at voters like Erickson. 
A new Republican National Committee ad ran on Iowa television stations tries to make that exact case. It lists a series of negative economic indicators and headlines over shots of Obama, and its tagline is aimed right at that sense of disappointment among voters. "He tried. You tried. It's okay to make a change," the narrator concludes.
"That's very Iowa," Republican Party chairman A. J. Striker said of the tone of the ad, which is running in other swing states as well. Based on where I saw it, women voters are a primary target. It ran in Iowa on the Food Network, and a few days later, I saw the same ad running on during Project Runway reruns on Lifetime. 
Meanwhile, the Obama campaign's ad featuring Mitt Romney singing "America the Beautiful" over damaging headlines about outsourcing and off-shore bank accounts is trying to keep Iowa voters from seeing Romney as a panacea to their concerns about the direction of the country. "Mitt Romney's not the solution. He's the problem.
But the back and forth isn't answering the question Erickson wants answered most.
"I go to work every day, put in 40 hours a week or more. So does my husband. He puts in 60 hours a week, and we still can't make it Why?" she asked. "That's what I want those two to explain to me. Why can I not make it?"
Complaints about the Economy in Iowa's Healthy Economy
Worries like this about the economy top the list of Iowa voters concerns, even though the state boasts a relatively enviable unemployment rate just over five percent.
I encountered a similar paradox when I asked farmers about the economy in Adams County, they mentioned how prosperous the last few years had been, even as news headlines were dominated by the threat of drought to an increasing percentage of this year's corn crop. 
"Farming, agriculture is probably the bright spot in the economy right now. We're kind of in a drought right now," farmer Mark Boswell told me. "But it's really been good the last three, four years. They're actually letting us make some money. And back in the 80s and early 90s, it was not that way."
Boswell called himself a liberal, because he said social programs are important to him. He's planning to vote for the president again. His county is the smallest in Iowa, and it swung from George W Bush in 2004 to Obama in 2008.
Farmers sipping their coffee a few feet over at Kay's Kafe, however, offered a completely different take. "We're not Obama men," farmer Lindy Stargell said to describe the group of men gathered around his table. He voted Republican four years ago, and plans to support Romney this year. "He's made a lot of money, we know that, and I don't care how much money's he's got. But he surely can't do as bad as Obama has on everything else."
Across the street, opinions were just as divided – and fixed. Barber Dale Carmichael was preparing to cut Jim Findley's hair at Mr. C's Barber Shop. "I really don't like Mitt Romney a lot. I think he's a phoney. And Barack Obama, I voted for him last time. I'll probably vote for him again," Carmichael said. He's said he's been disappointed during Obama's presidency, but he blames Congress. "I think we need to get rid of all of them. Barack Obama hasn't had a fair shot, and Mitt Romney is totally for the rich."
Findley, a registered Republican from neighboring Montgomery County, waited his turn to talk – then disagreed mightily. "I think President Obama has tried, but I think that for the majority of the country, he is far too liberal," he said. "He's a cheerleader for spending."
Iowa's Religious Voters in the General Election
Iowa legalized same-sex marriage in 2009, and three of the judges who were part of that ruling were thrown off the bench a year later. Still, same-sex marriage was not an issue at the forefront of most voters' minds. 
Sue Renfrow, a Protestant, is a Democrat from Des Moines whose daughter is married to a woman. She said Obama's stance on gay marriage could be a determining factor at the polls. 
"I think with President Obama coming out and speaking what he feels at this moment will probably be a motivator on which way they're going to vote," Renfrow said. But, she added, "I know everyone's looking at more than just this issue."
Evangelical voters I met didn't bring up same-sex marriage explicitly. Instead, I heard lingering discomfort about Romney as the Republican nominee.
"It's the lesser of the two evils, I guess," Michael Holan of Fontanelle, Iowa told me. He's an independent who's voted Republican in the last few presidential elections. He attends a nondenominational church, and says honesty and moral character are top concerns for him. At this point, he's leaning towards Romney, but he says he'd still prefers Rick Santorum over all the candidates. "On moral issues, I think he would've made a better, wiser leader than Obama or Romney."
But the religious demographic positioned to be most decisive are Catholic voters in Iowa. They made up 26 percent of the electorate in 2008, when they swung back towards the Democratic side after George W. Bush narrowly won among Iowa Catholics when he won the state in 2004.
And one issue that could be decisive is the simmering controversy ignited earlier this year when the Obama administration mandated that employers, including Catholic-affiliated organizations, offer health insurance coverage for contraception.
The Obama administration tweaked the policy after the initial outcry in February, but Catholic bishops in Iowa have continued to criticize the administration's policy religious liberty issue. The diocese in Des Moines organized a prayer walk for religious liberty in early July that attracted thousands of people, including Republican Gov. Terry Branstad, himself a Catholic.
For Lori Chesser, it's an issue that will likely decide her vote. She's a registered Democrat, but told me she largely thinks of herself as a Catholic voter. She an immigration attorney in Des Moines, and she said she usually backs the presidential candidate who has the best chance of getting immigration reform through usually gets her vote. This year, though, she's torn. 
"It's really hard this year. It's very, very difficult. I can't say for sure what I'll do in the voting booth," Chesser said. "I'm very pleased with President Obama doing the deferred action for the Dream Act kids. I think he's taken the right direction on that, but I'm very, concerned about the encroachment into religious liberty. I think it's really serious, and for me, that will probably outweigh the other things that he's done.
Wildcard: The Ron Paul Factor
Ron Paul came in third in the Iowa caucuses, just behind Rick Santorum and Mitt Romney. And their organizing and political power in the state didn't stop there. Just look to the state Republican Party. The new GOP chairman, A. J. Striker, was one of Ron Paul's Iowa campaign co-chairman. And 21 of the 25 delegates Iowa is sending to the Republican convention back Ron Paul.
David Fisher, another Paul campaign co-chairman, said he's not ready to line up lockstep behind Romney. He said for him, a lot depends on how the party treats Paul supporters in Tampa.
"It's up to Romney to make that case," said David Fischer, a co-chair of Ron Paul's Iowa campaign who will be at the convention in Tampa in August. "It's not up to Ron Paul supporters to make the case that the Paul supporters should back Romney."
Paul supporters could be crucial swing voters in a close race here. Independents made up about a quarter of GOP caucus participants, and 41 percent of them backed Paul. He also won among caucus-goers who described themselves as "moderate or liberal."
Tara DeGrotte of West Des Moines was one of those Paul supporters this year. She voted for Barack Obama four years ago, and at this point, she said she doesn't know what she'll do. "I don't see good in either of the candidates," she said. She doesn't feel like Obama has delivered on his promises, and Mitt Romney doesn't seem like an appeal alternative. "I just don't trust him. There's something about him I don't trust" 
"If there ends up being someone on the Independent ticket like Ron Paul, it might be something where we vote for him still," DeGrotte said. "I don't know."