Security Up at Area Theaters Following Colo. Shooting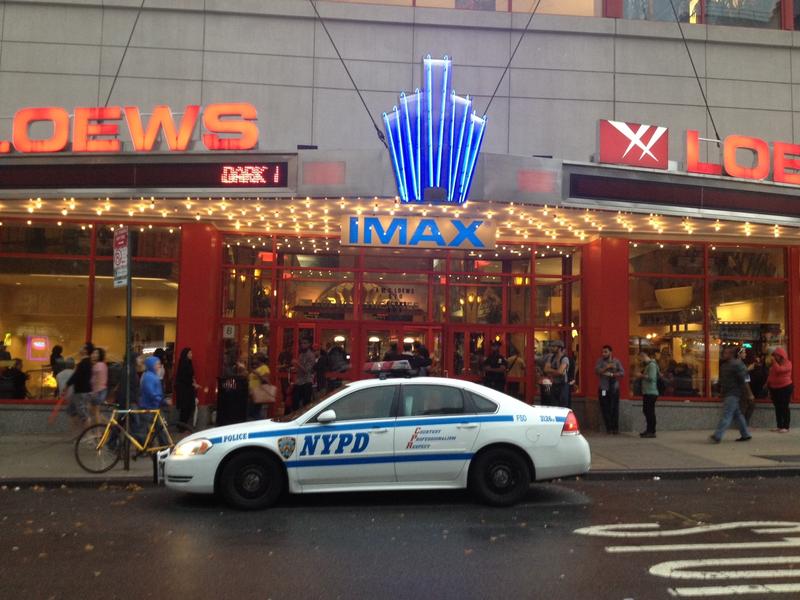 The NYPD will continue to beef up security at area movie theaters this weekend after a gunman killed at least 12 at a midnight premiere of the new Batman movie in a Denver suburb Friday.
Police Commissioner Ray Kelly said security at area movie theaters would be boosted "as a precaution against copycats" and to "raise the comfort level of people who are going to the movies."
"We're just concerned that someone perhaps seeking notoriety will attempt to do something similar. That is the general public concern," Kelly said.
At the AMC Theatre on 34th Street, patient ticket holders waited outside the theater Friday afternoon for staff to check their tickets before entering. Some had been waiting since 1 p.m. for an evening screening. Two police officers stood nearby.
In a message on its website, AMC Theatres says moviegoers should leave their costumes at home this weekend: "We will not permit face-covering masks or fake weapons inside our buildings," the company wrote in a statement.
George Shara, 31, from the Bronx was sporting a plaid Batman hat as he waited in line outside the Midtown Manhattan theater where several wore Batman T-shirts, but no one donned costumes.
He said he was really sorry about what happened but thinks "people should just come out and relax and enjoy themselves."
At 5 p.m. Shani Bess, 27, from the Bronx blamed an "aggressive friend" for forcing her to wait in line for a 9 p.m. screening. Glancing at the NYPD, she said she's not really concerned about anything happening in the city this weekend.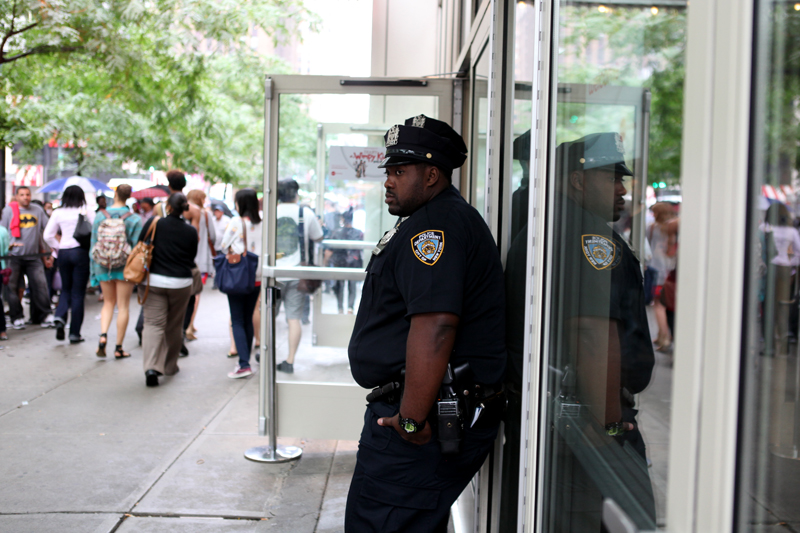 "I saw they beefed things up after the incident, so I think it'll be pretty safe," she said.
(Photo: An NYPD officer stands outside the AMC Theatre on 34th Street. Stephen Nessen/WNYC)
Michael Goldfarb, Chief of Police in suburban Eatontown, N.J, said there will be a ban on costumes at the Monmouth Mall. They will also turn away duffel bags and backpacks from its theaters.
"People are going to wear capes or any covers or anything—we're going to ask them to let us see what's underneath," said Goldfarb.
Goldfarb said the Monmouth Mall in northern New Jersey will have three private security guards at the mall and AMC Theatre there, in addition to two police officers and an increase in regular police walk-throughs. Officers will now walk into theaters.
The increased police presence will continue for at least two weeks.
Richard Goldring, the executive vice president of Strike Force Protective Services, a private security firm, says he's seen an increase in inquires for theater security Friday, following the shooting. "We make sure everyone that enters is ticketed and that there are no people in theater that are trying to get in to the theater that aren't ticketed patrons—and no one is opening and fire entry doors," he said
His company provides security at public venues, including movie theaters in New York and New Jersey. He said he has not received any requests for armed services or metal detectors Friday.
A 24-year-old suspect, James Holmes, was arrested shortly after the shooting in Aurora, Colorado.
The FBI says there is no indication the incident is tied to any terrorist groups.
Mayor Michael Bloomberg said "soothing words are nice," but called on the two presidential candidates to speak out about their positions on gun control.
"No matter where you stand on the Second Amendment, no matter where you stand on guns, we have a right to hear from both of them concretely, not just in generalities – specifically what are they going to do about guns?" he said, speaking on his weekly WOR-AM radio show.
Meanwhile, it became evident that a New York City musician and a recent graduate of Syracuse University were among those shot, wounded and recovering, their relatives and associates said.
Christopher Rapoza was shot the morning before his band was to play a show at a noted Manhattan club. Stephen Barton was wounded while on a post-graduation cross-country bicycling trip.
Rapoza plays bass in The Toothaches, a New York-based dance-punk band. He was on a trip to Colorado but set to return for the band's headlining spot Friday at The Bitter End, a Greenwich Village venue that dates to 1961.
The club's weekend booking manager, Pete Fogel, said he awoke Friday to a startling message from the band' s manager: The bass player had been shot amid the massacre at a midnight showing of the new Batman movie, "The Dark Knight Rises," in Aurora, Colo.
The band said on its Facebook page later Friday that Rapoza had "a super close call but is totally OK." Efforts to reach him were unsuccessful.
Barton, 22, gave the student address at his May graduation from Syracuse University, then headed off on a cross-country cycling trip with a friend from his days at Pomperaug High School in Southbury, Conn., according to The Post-Standard of Syracuse. They found themselves in the Denver area Friday and decided to catch "The Dark Knight Rises" on its opening day - Barton even tweeted a photo of his hand holding his ticket to the movie.
Then 24-year-old gunman James Holmes threw gas canisters that filled the theater with smoke and stalked through it firing a semi-automatic rifle, a shotgun and a pistol, police said. At least 12 people were killed and 58 wounded.
Shotgun pellets hit Barton in the neck and chest, his brother, David Barton, told the newspaper.
Stephen Barton had surgery to remove the pellets and was "in high spirits" afterward, his brother said. "He's feeling great."
An international relations, economics and Russian language major, Stephen Barton plans to teach English in Russia this fall, his college academic adviser, Francine D'Amico, told The Post-Standard.