Olympic Sponsorship 101: How a NY Yogurt Maker Signed an LA Hurdler
Thousands of athletes from around the world will soon converge on the Olympic Games. And it's not just gold they're after, but green. Sponsorships will earn swimmer Ryan Lochte almost $2 million this year, according to an estimate from Forbes. And even athletes who aren't yet superstars have a chance to pick up some cash.
One of these is Lashinda Demus, currently the fastest 400-meter woman hurdler in the world, and a 29-year-old mother of twins. One reason Demus is not more widely known is that she missed the 2008 Olympics in Beijing, having just given birth.
Four years later, Demus is aiming for gold at the London Games. And Chobani, a New York-based maker of Greek-style yogurt, is her sponsor.
Sponsorship deals are how many Olympic athletes support themselves. It's been that way since long before Mary Lou Retton
But how exactly do athletes and their sponsors find each other? Demus says in her case, it's actually a funny story: a few months ago Demus happened to mention in a magazine interview that she gives Chobani to her boys, Donte and Duane.
A short time later, the yogurt people contacted her.
"It was kind of like, 'Oh, they seen my article, really?'" Demus said. "I didn't know they were sponsoring people, or that they were an Olympic sponsor either. So it was kind of like it was meant to be."
The Behind-the-Scenes Hard Sell
The deal-making was a little bit different to Demus' agent, Amy Stanton. From the moment she signed Demus in late 2011, Stanton was reaching out to potential sponsors. One of these was Chobani, a South Edmeston, NY-based yogurt maker, and a first-time sponsor of the US Olympic Committee (it's the official packaged yogurt supplier to Team USA).
"One thing that's really cool about the Chobani sponsorship is they were looking for some up and comers and athletes that weren't necessarily at the last Olympics," Stanton said.
But as always, competition for sponsors' attention was intense.
"There's only a handful of Olympic sponsors, so it's the same few spots that everybody's vying for," Stanton said.
The sponsorship landscape is vast and complex. When an individual athlete signs a sponsorship deal, their corporate patron has often already become a sponsor of either the International Olympic Committee, the U.S. Olympic Committee, or the relevant governing body (like USA Track & Field). Each sponsorship deal brings its own perks (like use of the Olympic rings), and is negotiated individually. Sponsors that do a deal with an individual athlete but not an Olympic organization face  one restriction – they cannot use the athlete's image close to the Olympics Games, like Subway is doing in its deal with Michael Phelps.
And while the Phelpses and Lochtes will always command top dollar, the more interesting sponsorship game is in trying to sign unknowns who could become media phenoms.
"Athlete selection comes down to two things," said Tripp Mickle, a reporter for Sports Business Journal who covers Olympic sponsorship deals. "One: potential performance on the field of play and the chance to medal and be on a podium and get a lot of attention from NBC. And two: storyline."
Stanton felt her client has something special: not only is she a mom, juggling a career and family, she's also coached by her mother.
"So strategically, playing the mom card…in this case it's such an authentic part of her story that it doesn't feel like a marketing tool," Stanton said.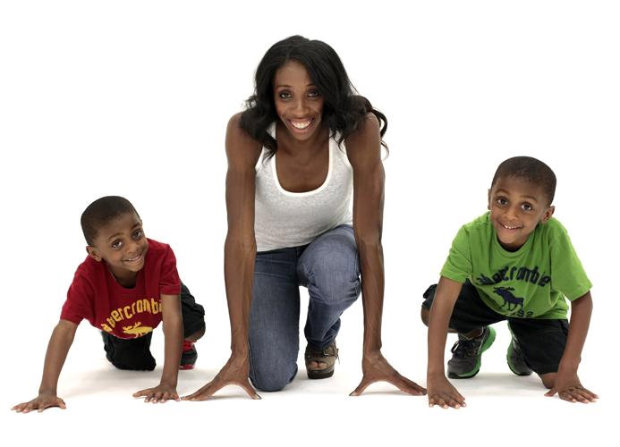 (Photo: Demus and her sons./Courtesy of Pure Perception Public Relations)
The Cost vs. Value of Sponsorship
The pitch worked. With the help of IMG, a worldwide media business with a large sports division, Chobani decided to sponsor Demus and five other athletes. Chobani isn't saying what it all cost, but Mickle believes each sponsored athlete is making $10,000 at minimum, and it could be much more if the athlete medals, or is willing to do extensive promotions.
As a rule, Mickle said, corporate sponsors tend to spend approximately three times as much on associated advertising as they pay to become an official sponsor in the first place. 
While food and drink businesses like Coca Cola and McDonald's are longtime supporters of the games, Dan Carey, director of business development for action sports and Olympics at Wasserman Media Group, said a yogurt maker is a surprising new player. "It's going to be interesting for all of us to see how the category does and how Chobani's campaign works," Carey said.
Doron Stern, vice president of marketing for Chobani, said the Olympics offer the fast-growing brand a chance to reach even more people in a short time. Dairy aisle shoppers are already seeing the USOC logo on Chobani products, and the company is planning to run TV spots during the games.
"Right now only half of the folks in the U.S. are even aware of Chobani. So it just offers us an efficient way of spreading the word." he explained.
Demus winning gold in London would be the metaphoric fruit at the bottom of the cup.
The women's 400 meter hurdles final is on August 8. If Lashinda Demus is on the track, her agent Amy Stanton will be in the stands. And if Demus crosses the finish line first, Stanton will be cheering. Then, she says, she'll wipe away a tear, pull out her blackberry, and get to work.
"If Lashinda wins a gold medal, we're gonna want to send that news out to as many people as possible. Sponsors media etc and figure out what we can do to take advantage of it."
Because the spotlight does not stay on the podium for long.